Make a Wish!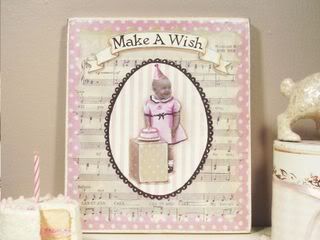 Not only is Aaron a day away from being a full fledged zombie...our camera seems to have a cold as well!! Totally impossible to take a decent photo today!! blurry! blurry! blurry!
Despite feeling so YUCK! We finished our newest piece...We are both quite pleased! To begin with, the photo was too sweet for words!! Early 1940's..tiny lil' girl on her first bday,...with her mini cake with one candle atop a CARDBOARD box!! Now was that the thing back then? I have come across soooo many photos from all different families, areas, states, years...why on earth were these children posing for photos with their cakes on cardboard boxes outdoors where bugs could be landing on them....or worse yet...they could be dropped or smooshed!!
I myself am a nervous wreck on any "cake day". I carry my cakes as if I have bomb squad training! I just do not get the cardboard box in the yard thing! ....obviously though..in a strange way I find it sweet, and old fashioned, and story book like! I am drawn to "old time" things and behaviors that make me wonder "why on earth?"
We decided to call this one.."Make a Wish"...(why over think it)..simple and sweet!..She has painted rosy cheeks, a painted on party hat...a newly painted dress, socks and mini mary janes, the cardboard box is now a pretty tan with pink polka dots...(maybe a gift...maybe a table cloth?)...we went with a cameo style setting for our lil' girl...atop the sweetest vintage sheet music... "Candy and Cake"...it is framed by a pink with cream polka dot scallop, and crowned with our hand painted title banner! Oh!! and of course!...our signature fine hand glittering in all the right spots, and distressed antique washed edges finish it off!
I cannot wait to have at least 6 in the collection!! Things feel "real" when you have a group of them! ...Like most runway shows during fashion week....single out a model from any given show...and you wonder how on earth the designer/stylists thought this look would work....but once you see a tribe of gals with perfect make up and hair all in the same styling and vibe...you say "Ohhh yeahhh..now I see ...fabbbbulous"!
yep..so we gotta get cracken! Hope to list more Art Squared tonight or tomorrow as well!!
Our lil' sweetie above is now listed on
eBay
!
(If she happens to be sold by the time you get there...another will be listed right away!!)
Hope you all have a fabulous weekend!! The chilly nights are here!! time for Netflix, and a blanket!!!
xoxo Jenny