Another altered cutie and Pie on my mind!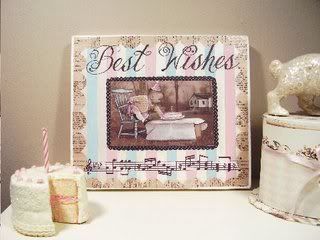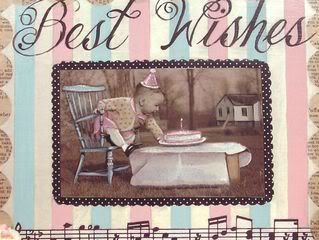 Good Evening everyone!! Hope you all had a great day! It was another super chilly day here in N.J. We had a bunch of work to finish today... some orders, as well as new creations!
We received such incredible feedback yesterday from our emailing!! Lots of sales! We are so excited to know that our Art Squared pieces are a part of so many fabulous homes!! My goodness!! Thank you so so much!! We are hard at work on lots more!! Holiday 4x4s will be dazzling! We promise!!
We finished another altered photo collage piece and listed it last night. It is super sweet...I am loving the color palette! Pink/turquoise/cream/and the sepia of the darling photo and vintage baking book pages...with a touch of black!
Another birthday celebration consisting of a sweet child...a tiny cake, and a CARDBOARD box! At least this cutie had a sweet little chair!!....I'm loving the simple little house in back! Is that her house? I wonder!
Tonight we are putting the finishing touches on our Large Halloween Haunted House cake!!! FINALLY!! We have gotten sooo many emails!! Sorry everyone...we have been such slow pokes!! Look for it within the next day or so!! It's a fun one!!
I am hoping to bake a pie..maybe tomorrow....The
oh so fabulous
Alicia
has a sour cream apple pie recipe she raves about.....and when
very pleased with it!! (having it for breakfast the next morn!) Two ladies that darn fabulous can't be wrong!...it has to be deelish!! I'll be sure to tell you all about it..and take pics if it is a go!!
Anyways...lots to do...gotta clean this place up...it looks like a tornado hit...supplies all over!!!
Have a great night everyone!! thanks for stopping by!!
xoxo Jenny