Birthday Love!!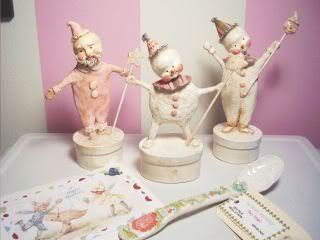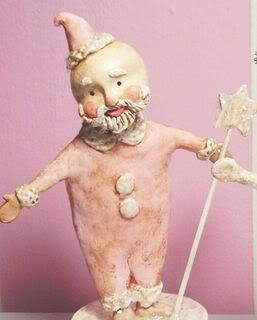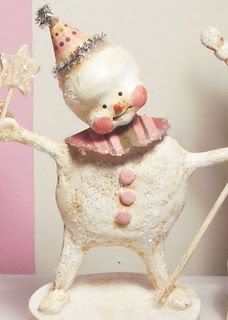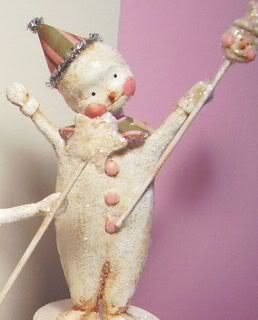 What a super duper birthday I had!! My goodness!! Before I even get into my family fun...I must must tell you about some incredibly sweet online friends of mine!! My gosh!!
My new sweet as candy friend
Jenny
Hernandez of The Polka Dot Pixie....sent me the most incredible package of goodies!! ...I am now the super proud owner of those amazing creations I showed you a few weeks ago!! They are just perfect in person!! So much detail!! Just beyond sweet!! I adore them!! Two darling snowmen..and a fun fun fun pink santa!! You must check out her things!! Not only did I get to unwrap those amazing fellas.....she had also included a super cute and thoughtful handmade card, and a beautiful hand sculpted, painted, and fired spoon by her super talented neighbor!! ... to me ..it is a fairy spoon!!I justthink of flower fairies scooping sugar!! I love it! What an incredibly kind kind gal!! Thank you SO SO much Jenny!! You truly contributed to one of the best birthdays ever!! I cannot wait for the Holidays now!!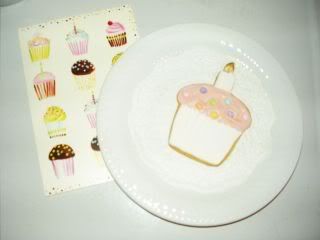 Just when I thought a birthday couldn't get any better.... an unexpected box arrived at my door, from one of the sweetest gals on the planet...my amazingly talented friend Marion Ferrer...of
(the most GORGEOUS, and delicious cakes, pastries, cookies ...you will ever see & taste!!) I could not believe my eyes when I opened the carefully packaged box of goodies!! The most adorable and PERFECT looking "cupcake" cookies I had ever seen!! Gorgeous! The most deeelish all butter cookies in the shape of cupcakes with one candle in each...complete with edible gold leaf flame, rolled fondant "wrappers", chocolate and white chocolate "frosting"..and a happy mix of sprinkles! Amazing!!! It was sooo hard to save one for a photo!! (My apologies...this photo does NOT do these works of art justice!!)
Also, in this fun fun package was a tiny white box tied with string, inside....three little peaches!! ....well, sandwich cookies in the shape of peaches!! Sugar paste leaves, peach colored sugars and airbrushing, as well as a chocolate "pit" made these the most unique and creative cookies I had ever seen!! They didn't last more than 5 mins!!! I had to share the fun with Aaron, and my parents!! The most deelish treats ever!! If you ever ever need a special gift...Call Marion!! She rules!! Thank you so so much Marion!! I cannot tell you how amazing you are!! You truly made my birthday Sincredible!!
I am just blown away by the kindness!! I cannot thank you ladies enough!! I also have to thank all of you who sent emails and e-cards!! boy oh boy!! what Love! Thanks bunches!! I really had a perfect birthday! I will be sure to return the love!
Thanks so so much!! xoxo Jenny
p.s I will be back with another bday post/pics this evening!