Birthday planning with the crew!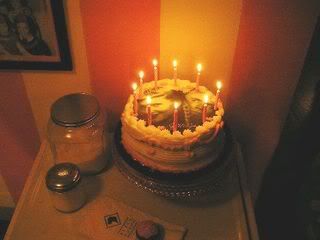 I am finally getting caught up with all my favorite bloggeroos!! So many fabulous recipes...projects, and PHOTOS!! Ohh the eye candy!! My goodness!! Can you even believe how much fun this all is? Like oh my gosh...how lucky are we all? All these new friends...and new favorite things...at first you think to yourself..where was I living..under a rock?....like how on earth was I missing out on all of this...why didn't I know of these things, sites, products, people, places,....like geez I had no idea the world was sooooo big!!!....but then...as weeks pass...and then months...it is all second nature...and now you say "small world!" almost daily!
Everyone somehow knows everyone....and it isn't crazy to think that you are spending a Saturday thrifting and antiquing for a gal you have not met (on the opposite coast) for a "vintage Christmas swap"!! ..........a SWAP!!..yes ..a SWAP!! (how great is that!)
I cannot imagine a day without all of this now! When you decide on a meal..you think ohh I should be having more fun here.....What would
Posie
do?....or when you do your laundry you say...Ohh..
Amy just posted about a fab new detergent!
You know what I am saying...don't you? Of course you do!!
My birthday is this Sunday....our "crew" (Aaron, my sister Missy, brother Walt, and myself) always spend the entire day together....We usually pick some far off town, full of cute little antique/decor shops...eateries...etc. We like to do Fallish things. The last 2 years I chose to go to
Lambertville
N.J./New Hope P.A. right on the Delaware river...it is such an amazing place to spend a Fall day! Endless shops, galleries, coffee houses. You walk from Lambertville NJ over a bridge into New Hope PA...it is just amazing!! Endless shopping!! (Country Living has featured both towns many times.)
I'm not sure if it will be 3 years in a row..or NYC this year? We are in the city allll the time. There is always something incredible to see..do..or EAT!! We still have yet to see our Cake Art hanging at the newest/hippest cupcakery in the city...Burgers and Cupcakes. It is still up in the air. I have to decide!!!! Geez!!
Tomorrow is another XCountry meet. Cannot wait! We have a bunch to do tonight if we want to make it there! We have some Holiday Pieces ready to list tonight! Including the house ornaments!
I hope everyone has a fabulous weekend!! Get out there!!! do something FUNNN!!
xoxo Jenny