Pink Mohair and a candy colored Holiday!
My goodness!! It seems like forever since I last posted!! We have been so incredibly busy!! Walt had his first cross country race!! It was SOO exciting!! He was Amazing!!! Especially for his first time! His coach was mega impressed!! We were going nuts! I took a bunch of pics (of course!) He had smooshed gnats all over his face when he crossed the finish line! He said he had eaten a bunch as well!! Geeeez!!!
Also very happy to tell you that we are close to launching our brand new website!! YAY!!..We are sooo excited!! It has been a few years since we had a site. The fabulous Missy Ballance..(the creative force behind
glitterandgrunge.com
) is working her magic for us!! She is amazing...works lightening fast...and "gets it"....she is always on our page!!Love her!!!
Speaking of Missy.....do you see the perfect lil' sweetie (seated at our favorite vintage toy piano) above??? "Miss Bearamerica" 100% handmade.....PINK mohair!!...complete with vintagey paper sash..with a clock face button...and a darling tiara!! I almost fainted when I unwrapped her!! She is a
MohairCircus
by Missy Ballance creation!! So incredible!! I adore her!! I was never a bear gal...way more the bunny type...but this lil' sweetie has sooo changed me forever!!...She is one of my absolute favorite things!! (Amazing work Missy!!...we promise she has come to a great home!)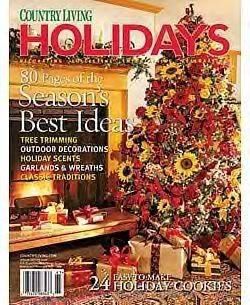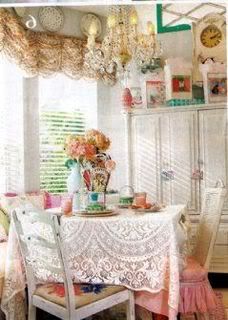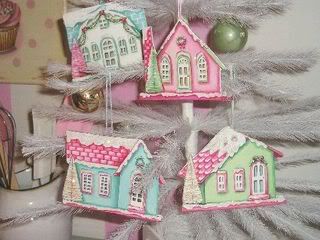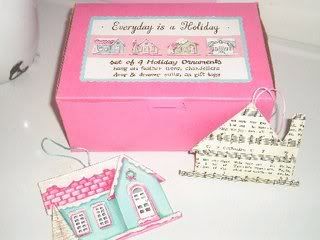 We have some other super fun news.....Our vintage inspired "cardboard house" ornaments are currently featured in the "Country Living Holidays" magazine!! (not the December issue...a special holidays issue)
At the request of a darling editor friend of ours at C.L., they were shipped off to a photo shoot this past summer!! We were very excited to hear that they did in fact make it into a shot!! (We have had a few bittersweet experiences where one or more of our pieces were borrowed and photographed...but in the end ..ended up on the "cutting room" floor). They are indeed tiny in the photo....but they look super fun...and we love the color palette used in the shoot!! (We are also credited in the back of the issue) Both Aaron, and I are so happy to be a part of the shoot! Country Living is just so so fabulous to work with!! Mainly our outrageously talented..and gorgeous friend Jane!!!
We were lucky enough to host a holiday photo shoot with Country Living at our store back in 2001....it was mid July....no lemonade..or seashells were in sight..... we were busy wrapping gifts, tying bows, sifting through vintage holiday cards, and tags, and arranging ornaments!! It was hot and sticky, and we were covered in mica flakes and glitter!! We will remember those few days forever!! It was so much fun!!
Ohh...also in the holiday issue...
Our super duper sweet and talented friend Jennifer Paganelli..of "
Sis-Boom
" fame...is also a part of the spread......you have to check out her fabulous bauble bouquets!! They are "to die for"!!! Trust me!!! I am lucky enough to own one!! I cannot tell you how magical her work is!! Be sure to visit her site!!
Now that we have our minds on holiday ornaments ...I am even more excited for the holidays..and the decor! I am still putting together the new color scheme! The walls are a big big change....but I think we will be really happy with it!!
There are still a few days to sign up for the vintage Christmas swap!!! Glad to see more gals have joined!! I can't wait!! Gonna be soo fun!!
Well, I have sooo many of my favorite blogs to catch up on!! I can't wait to visit and say hi!! Hope everyone is enjoying the fall weather!!
xoxo Jenny