sweet treats!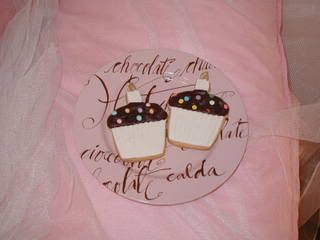 I was lucky enough to get this photo from my super sweet and talented friend Marion ...yes! the gal that sent me the incredible cupcake cookies as a birthday surprise!! She snapped a shot before packing them up!! Aren't they fabulous!! Incredibly deelish too!!
She has been very busy getting her new kitchen ready and doing custom cakes, and other Sincredible sweets!! How fun are these Halloween/Fall cookies? Love them!!
Aaron and I cannot wait to get up to Marion's to see her fab new space!! ..well actually to MEET her!! We are online friends!! So that would be the best part!! Hopefully this spring! I love hearing all of the fabulous stories of blogger friends meeting up! For flea marketing, baking pies, sewing, or dinners! It is just so much fun!
Aside from drooling over Marion's fab sweets, we have been working like crazy on orders!! One special order in particular had us very excited this week!!
We were asked to create two custom altered photo pieces for a very very sweet client named Rosanna...from Italy! Her adorable daughter Nicole will be celebrating her birthday this coming week!! She is an incredibly sweet person! Her home if brimming with all kinds of sweets, cakes, candies, and dolls!!It is a mixture of Shabby Chic, Willy Wonka's factory, and the ultimate doll house bakery!! To die for!! I hope to post pics of our work hanging in her amazing kitchen very soon!!
For now...here are photos of the two custom pieces we created for her and Nicole!!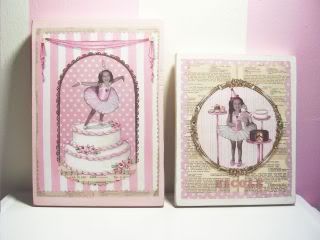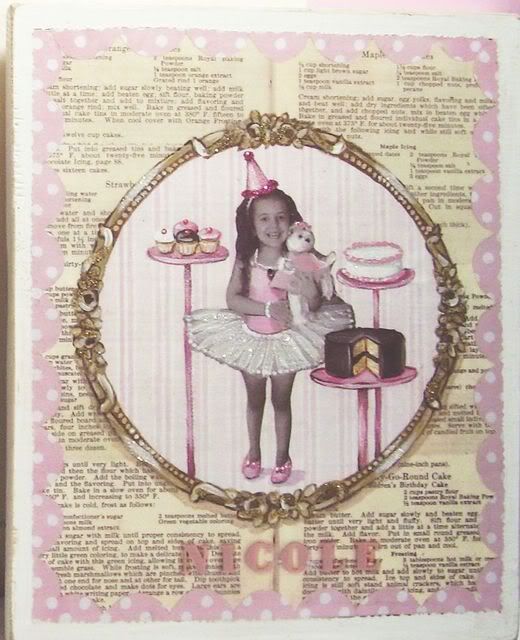 I hope everyone has a super fun Halloween!!!
xoxo Jenny