Treasure your trees!!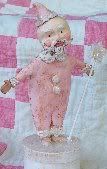 I can't explain how excited I get when I find a new artist to LOVE and collect!!...and then to find out they are a total sweetheart...and you could talk for hours with them...and you wish they could live next door!....My goodness!!
I was thrilled to find..and trade emails with the super sweet and talented
Jenny
Hernandez of The Polka Dot Pixie!!!
Her work is just so so fun!! She is a fellow artist over at the fabulous Glitter and Grunge! (Have a peek at her super cute Fall/Halloween designs!!)
I was lucky enough to get a preview of her Winter/Christmas 06' collection!!
So whimsical and sweet!! I cannot wait to own her work!! The two incredibly darling pieces above are on their way to me!! I am soo excited!!
She is currently working on a brand new website!!! I will be sure to post about it soon!!
Another incredible site you may or may not know of is, the super SWEET
Pancake Meow
!! Scrumptious realistic looking necklaces that look & smell delicious! Inspired by everyday desserts and breakfast treats!! What's not to love!! you have to check out the amazing selection!! There are sooo many pieces I would love to see in my jewelry box each morning!! Be sure to check out the incredible cupcakes..and Banana cream pie necklaces!! Amazing!!
My birthday is coming up..(Oct 22)..gonna be 31!! Wow! I remember when my parents were in their 30s!! Incredible!! 31 Christmas trees already!! We do not get enough Christmas trees!! I say it all the time!! Treasure your trees!!
Anyways...I hope to get some casharooni...I will definitely be doing some shopping at pancake meow!!
Hope everyone is having a fab weekend!! Why not join the vintage Christmas swap?!!!
xoxo Jenny