Holiday glitter and glitz!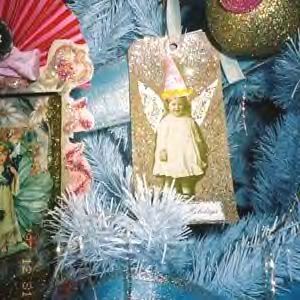 Hey there everyone! Finally a moment to visit! I have been catching up on my favorite bloggeroos!! My my my...I am still drooling over all of the incredible eye candy posted by all of the
Silver Bella
gals! My gosh you lucky lucky ducks! Aaron and I vow to be there next year!! Along with our mega sweet and talented friend
Jennifer
Paganelli..of Sis Boom fame! (more on her in a bit)
The amount of eye candy is almost overwhelming! you must have a peek at what we missed! The dazzling Goddess that is
Pam
Garrison has a few kits from her "Two Turtle Doves" swag class for sale in her
Etsy
store!!! Amazing!!
Another great place to visit is my new sweet and super creative friend Kari's
blog
! She was lucky enough to take some of Pam's classes...and has posted photos of her incredible creations!! Loving everything!!
Now for SIS BOOM!! Where do I begin? Well, Aaron and I met Jennifer through Country Living magazine! We had been in the same issues with back toback spreads..as well as used in the same shoots on many occasions. We adored her creations, and style beyond belief! We soon found out that every holiday season...She transforms her home into the most magical glittery wonderland you have ever seen!! Open to the public I might add!! Every room on the first floor of her gorgeous home is filled to the brim with the most dazzling over the top handmade holiday treasures you could ever imagine! She is famous for her wreaths...covered in clusters and clusters of vintage ornaments, glass balls, reindeer, baubles and bits! Amazing!! One of her wreaths actually hung in the
This year's Sis boom event will be happening from December 8th -9th!! If you are anywhere near Conn....you must take the trip!! We will be there with bells on!!
Jennifer
is hard at work putting the finishing touches on her "to die for" offerings!! Everything is looking AMAZING I might add!
She was just introduced to the work and style of Pam Garrison, and I think she would make Pam incredibly proud!...have a peek at Jennifer's take on the Famous flag banners that Pam showed us on HGTV!! Jennifer incorporated her Sis Boom
fabrics!! Aren't they soo fun!? They are bound to sell FAST! If you are lucky..you may be able to shop on her site!!
Above are some incredible photos from last year's event!! Can you even stand it?? I cannot wait for this year!! I will be sure to post tons of pics!!
I love her world!
I will be back again later today with another post...more pics too!!
Hope you are all having agreat Sunday!
xoxo Jenny