Last Hurrah!!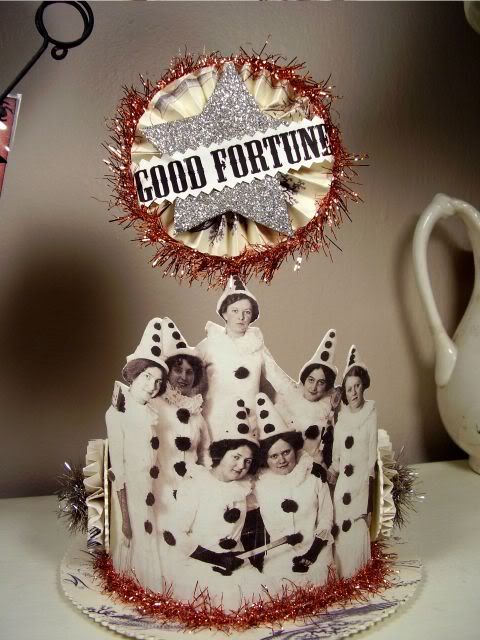 Yes, Yes, I know! I know!...Halloween has passed.....and we have all moved on to candy colored ornaments, glittery tinsel, and bright ideas for dazzling gift wrap!! Yes..me too!!! But I just HAD to show you these amazing pieces that I received as belated birthday gifts!! (before they were wrapped up and put away for 360+ days!)
The first has been on my WISH list for 2 years!!! "Charm Boy" he is a licensed reproduction of a Dee Foust piece!! I am sooo in love with him! He has become incredibly hard to find!! My sister surprised me on my bday with a handmade card featuring this sweet fella.....with a note saying he was on his way!! I am soo thrilled! He is just a perfect piece don't you think? Just Perfect!!
The second incredible pieces is another licensed reproduction ..also by the incredible Dee Foust!! How Amazing is this? An antique photo of costumed gals made into the most magical of Halloween Crowns!! Does it get any better?? Look at all the detail!! ...it is open in back ...to hold your Halloween treats!! ......this was purchased with a portion of my eBay gift certificate from Barb & Skip...Aaron's super sweet parents!!
Such a shame that they will have to go away till' next year! I vow that when I do finally own a home...I will have a tiny space devoted to all year round Halloween!! I have never ever been an orange person...but Halloween is an entirely different thing!! Don't you think?
Anyhoo.....I know I have been the worst with my posting! It has been so so busy over here!! The house ornaments have been keeping us very very busy!! Cannot complain!! Loving it!!
We have a bunch in the works for the holiday...OOAK pieces too!! I owe you all a few posts!! ....I hope to get a few more up tonight!!
Hope you all are great!!
Happy Fall!!
xoxo Jenny