Swappy fun!!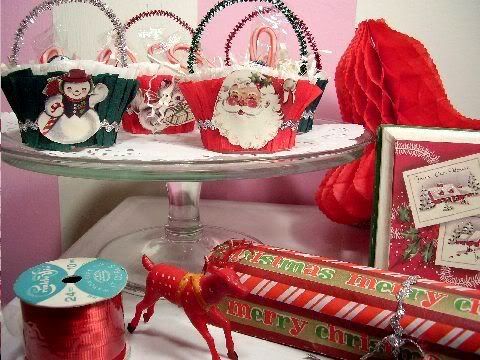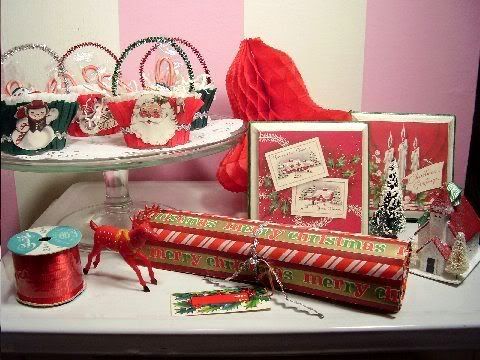 My Goodness!...Why can't there be more hours in the day?? We have been running around like crazy over here! And if all goes well..things will get even crazier closer to the holiday!! : )
As promised I have lots of photos for you....I think I may have to post a few times today. Above is a shot of the goodies I gathered up and made for my Vintage Christmas swap recipient. I hope she likes everything. I wasn't as lucky as I thought I'd be while out antiquing and junking. But I did find some sweet treasures...such as the vintage 1950's paper bell, the classic 50's bottle brush tree, the plastic reindeer....60s wrapping paper and the spool of paper ribbon (love the turquoisey print on it). The antique dealers didn't seem to have their heads on the holiday yet.
I went ahead and crafted one of my favorite things....vintage inspired crepe paper nut cups! I cannot get enough of these!! I am lucky enough to own a few vintage gems of my own....scored on eBay. I have seen some incredible versions over the years. Some went as high as 200.00!! (pink, cream, green, flower girls!) They were amazing!
I went with a classic/retro palette of red and green..and kept it fun and kitschy. On the front of each nutcup is a vintage holiday label from the late 40s early 50s.
Also pictured ...are two little holiday plaques that I made, using vintage Christmas cards....my favorite is the houses! I glittered the snow covered roof on both! I hope my gal "gets is". What I may drool over, could be truly silly to another. Well, fingers are crossed!!
I really did have a great time putting it all together. I think I may have to do all of this in my own color palette now! Little pink, cream and turquoise nut cups!! ooohh!! And a little more sepia/age to it all...yes!!
Ohh almost forgot....I did in fact include something brand new....the adorable glittery house ornament! It is from Target! (have you seen some of their incredible goodies this year?....more on that later today!) I just had to get it! It was so sweet...and had enough of a vintage feel to it!
I received an email from the gal that will be sending to me. She is from Vancouver! I will be sure to take pics as soon as it arrives!
Aaron is in the city today...so I have a large to-do list. Hopefully I will get at least 3/4 of it done....ok 1/2..lol!!
Thank you so so much for all of the super sweet emails, and comments!! It means the world to me!!
Hope you all have a great day!
Happy Blogging!!
xoxo Jenny