Winter Wonderland ornaments!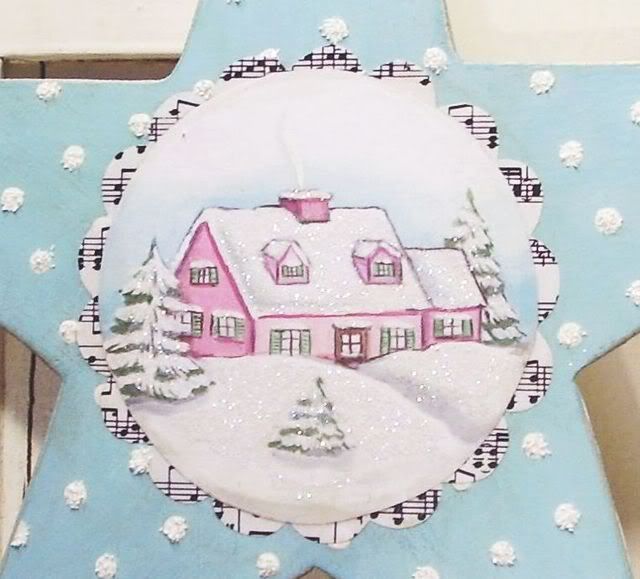 Hello Everyone! Taking a tiny break from days and days of filling holiday orders!. At this point I feel as if we should be adding our local post office staff to our holiday gift list! We spend more time with them than with any of our friends and family! I know many of you can relate this time of year!
We have been dying to make some LARGE ornaments for the holiday, so we took most of yesterday to create! As many of you know...we absolutely adore vintage holiday houses!....from the cardboard cuties, to the sweet imagery of vintage Christmas cards and gift wrap! We cannot get enough!
We are quite happy with how they turned out! They are quite large! I am loving that! We tried to capture the little winter wonderlands of pastel colored cottages and pine trees blanketed with billowy snow, and faint curls of smoke rising from chimneys in these little paintings. They measures 11" point to point and are made of thin wood, painted the perfect vintagey pink, and aqua! They are lightweight enough to hang from a chandelier over your family table, or from a cupboard door!
I may tuck one in our tree! (no...we did not find one yet!...boo hoo...still looking! )
These sweet stars are now available in our
eBay
store! For anyone interested!
I have lots more to show you...including some fabulous mail from this week!! I hope to be back later tonight with some more eye candy! We are cramming to ship a bunch out tomorrow. So it may be a late night!
I am loving all of your holidays pics....especially those lovely trees! Keep posting!
oooh...almost forgot!
Today Miss Posie herself,
Alicia
will be updating her
website
!! So get ready for all kinds of goodies! I cannot wait!!
Hope you all are off to a great week! Best Wishes! Happy Holiday Decorating!
xoxo Jenny