Whirlwind day!!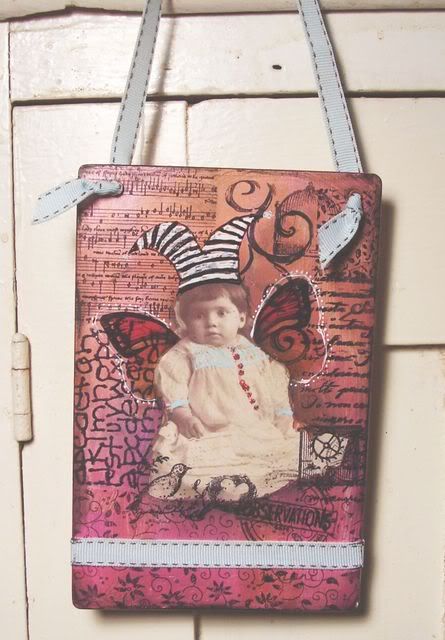 What a whirlwind day today was!! Playing beat the clock..packing lots and lots of orders to ship by 5 pm, and baking my Dad's absolute favorite cake in the whole wide world...for his B-day dinner! It is a Brown Derby. I have searched all over the web and it is near impossible to find a real deal recipe for it. I keep finding a Brown Derby grapefruit cake....weird! The Brown Derby that we know in my family is comprised of layers of rich, moist devil's food cake, layers of whipped cream, peaches, strawberries, and bananas...all finished in more whipped cream and a dusting of cake crumbs! I used a fabulous old fashioned buttermilk devil's food cake recipe, sweetened vanilla whipped cream, and oreo cookie crumbs. It was really really fab! Everyone had 2+ slices! My dad's real birthday was the 11th, but the weekend is much better for us all to get together. My mom cooked his absolute favorite meal....Sauerbraten, potato dumplings, red cabbage, and the most to die for gingersnap gravy! You can smell it from the driveway!! She makes it once a year...for his special day!
Tomorrow is Barb's b-day (Aaron's mom) We are going to brunch with her and Skip! Should be a great time!! It is so funny...My Dad and Aaron's mom celebrate birthdays within 3 days of each other, and my mom and Aaron's dad celebrate birthdays within one day!!
My apologies on the terrible last minute photo of my dad's cake....I cannot tell you how down to the wire all of today was! : ) ...You get the idea though!
I have gotten a bunch of emails requesting the recipe for my homemade Hostess cupcakes from our New Year's Eve celebration! Well here it is!! I'd love to see pics..and hear some reviews!! : )
Homemade Hostess Cupcakes
1/2 cup plus 2 tablespoons cake flour
1/3 cup unsweetened Dutch-process cocoa
1/2 teaspoon baking powder
1/4 teaspoon baking soda
Pinch of salt
2 large eggs, separated
1/3 cup canola oil
1/2 cup plus 2 tablespoons sugar
2 tablespoons water

FILLING
6 tablespoons unsalted butter, softened
1 1/2 cups confectioners sugar
3/4 cup Marshmallow Fluff
1 1/2 tablespoons plus 1 teaspoon heavy cream

FROSTING
1/4 cup heavy cream
4 ounces bittersweet chocolate, finely chopped
1 tablespoon unsalted butter, softened


DIRECTIONS
1. MAKE THE CUPCAKES: Preheat the oven to 350°. Spray a 12-cup nonstick muffin pan with vegetable oil spray. In a medium bowl, sift the flour and cocoa with the baking powder, baking soda and salt. In another bowl, using an electric mixer, beat the egg yolks with the canola oil, 1/2 cup of the sugar and the water. Beat in the dry ingredients at low speed until smooth.

2. In a clean bowl, using clean beaters, beat the egg whites at high speed until soft peaks form. Add the remaining 2 tablespoons of sugar and beat until stiff and glossy. Beat one-fourth of the whites into the batter, then fold in the remaining whites until no streaks remain. Spoon the batter into the muffin cups, filling them halfway. Bake for 15 minutes, or until the cupcakes are springy when touched. Let the cupcakes cool for 5 minutes, then turn them out onto a wire rack to cool completely.

3. MAKE THE FILLING: In a medium bowl, beat the butter with the confectioners sugar, Marshmallow Fluff and 1 1/2 tablespoons of the heavy cream at medium speed until fluffy. Transfer all but 1/2 cup of the filling to a pastry bag fitted with a 1/4-inch plain round tip. Beat the remaining 1 teaspoon of cream into the remaining 1/2 cup of filling and reserve.

4. Line a large baking sheet with wax paper. Insert the tip of the pastry bag about 1/2 inch deep into the bottom of each cupcake; squeeze lightly to fill with cream. Set the cupcakes on the sheet.

5. MAKE THE FROSTING: Heat the cream in a small saucepan until steaming. Add the chocolate and let stand for 5 minutes. Add the butter and stir until smooth. Spread the top ofeach cupcake with the frosting. Spoon the reserved filling into a pastry bag fitted with a very small plain tip and pipe decorative swirls on each cupcake. Refrigerate the cupcakes for at least 10 minutes to set the frosting.

TOTAL TIME: 1 HR 40 MIN
MAKES 1 DOZEN CUPCAKES
And now.....I was Tagged by my sweet and funny friend
Missy
Ballance

of Glitter and Grunge fame!
The Rules: Each player of this game starts with "6 weird things about you". Each person who gets tagged needs to write a blog post of their own 6 weird things as well as clearly state this rule. After you state your 6 weird things, you need to choose 6 people to be tagged and list their names. Don't forget to leave a comment that says "you're tagged" in their comments and tell them to read your blog for information as to what it means.
1. I have worn some form of camoflauge print clothing or accessories every single day for the past 5 years with the exceptions of some holidays...weddings...etc
2. I have not left the house..gone to the mailbox, etc. without braids in 10 years! lol..not kidding!
3. I draw my eyebrows on....and I guess the eyebrows go hand in hand with the braids!
4. I adore Billie Holiday and Ella Fitzgerald just as much as Led Zeppelin and Black Sabbath.
5. One of my biggest dreams in life is to try to bake a "sawdust cake" This sounds absolutely crazy...I know...but everything in the recipe would be normal...save for the flour...my dad is a cabinet maker..and my whole life I was around sawdust...some of the finest sawdust you can ever imagine..super, super fine..flour like! I always compared it to flour and thought about the way it might bake up. I would love to see what happens!...would it rise...? would the texture be cakelike? Yes..I am NUTS! ohh....and along those same lines..I often wonder about picking out all of the cookie dough balls from my Haagen Dazs cookie dough ice cream..and baking them as a batch!
6. I do not drive and never plan to!
Ok so now I have to tag 6 people...I tag:
And Oh my goodness....I just have to thank the super sweet and lovely
Maija
!! These incredibly darling creations arrived at my door yesterday!! What a super sweet surprise!! Thank you so so much! I ADORE them! you nailed my color palette on the tin!! So so fabulous!! And ohhh how fab is this cabinet card!! My goodness!! We are thrilled to own some of your work! They will be treasured!! Your goodies are on the way!! Hope you love them to bits!
Well my dears....It is crazy crazy late...so I must get to bed! Hope you all have a Great Sunday!!