Happy little cliches!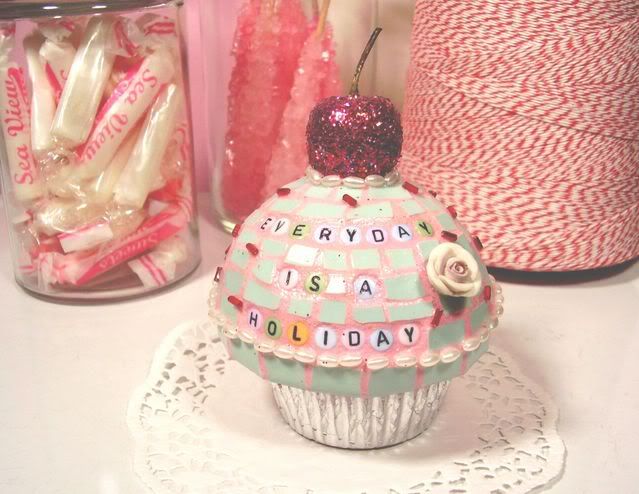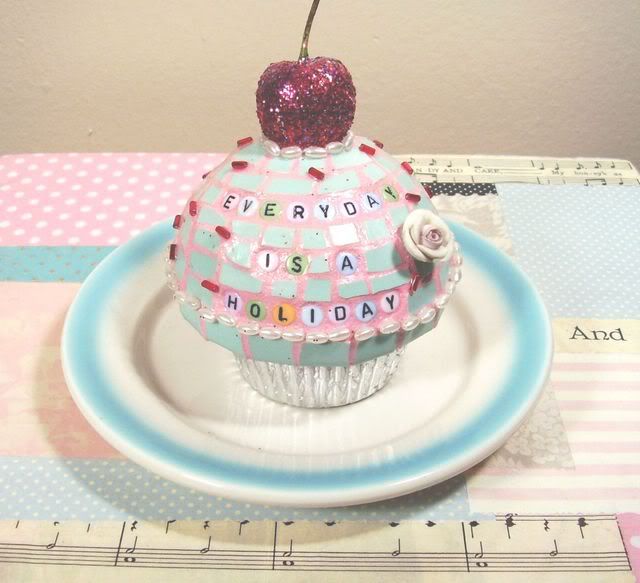 Cliches are cliches for a reason...meaning: "good things really do come in small packages."And I just received TWO small packages. First, I found squeezed in my mail slot a little white cube of a box containing this
out of this world
mosaic cupcake by the uber talented
Michelle
Legler!! This was her end of a little one on one swap we did and I think I was by far the bigger beneficiary. It's totally handmade in my color palette and it's dazzling in every way! (Thank you so so so much Michelle!!) You all must check out her
site
for more of these incredible cupcake creations!!
Next came another little cube of a box inhabited by the two sweetest little mohair bears in the world...for real, they won the title, that's what the crowns are for! And these are sooooo tiny. I was tempted to pose them next to some coins or a soda can like I've seen on so many hilarious ebay auctions. These little cuties are two members of Missy Ballance's
Mohair
Circus. Besides being artist extraordinaire
Missy
Ballance is the girl behind
www.GlitterandGrunge.com
!
Of course I never take things like this for granted but I feel like there could never be enough said about an individual's art and the purest joy it brings to us collectors. Opening packages such as these is a near perfect experience, second only to the feeling you get when you look around the room on an otherwise gray day and your eyes fall upon all of the handmade wonders you've acquired from the super sweet souls you've met along the way. Huge thanks to Michelle and Missy!!
Wow, the response to our paper dolls has been great and very much appreciated. We promise that a set will be available asap. We'll definitely include some brunettes in the collection!
Well, this is the nitty gritty part of the hockey season for Walt. His team just clinched a seed in the states and Walt has really picked up his personal game. Two weeks ago his coach moved him over to second line. This is the line we call the Rockstar line. Besides Walt, the line holds the team captain and the league's leading scorer. They have been unstoppable and Walt's talent is showing in a big way. On Friday he scored the winning goal in one of their toughest games to date. We loved hearing the crowd yell his name. He even got interviewed by the paper afterwards.
For away games the team parents all chip in and get the kids sandwiches for the ride home. For my part I baked up 48 red velvet cupcakes with some killer cream cheese frosting. We had to go out and buy a Martha Stewart under the bed storage container just to transport them safely. All seventeen players plus their coach had at least two. So sorry for the lack of photos...I was down to the very last second piping and sprinkling away! I promise next time!
So that's all for today. We just watched the Superbowl, the one and only time we watch sports on TV all year (even though Aaron was Mr. Jock back in the day...captain of the football team, captain of the wrestling team, Lombardi award winner...now he listensto NPR and paints things pink and turquoise) .
The production, the budget, and the attention to detail are unsurpassed. We love all the hubbub surrounding it. The lines at the grocery store and insane sales on chips and soda etc... Football is great but we just can't find enough hours in the day to really be fans. And Our sympathies for
Andy
and all Bears fans the world over.
Hope you all had a fab weekend!!
xoxo Jenny
ps..I added another photo of Michelle's fabulous creation....just to show how the different colors pop depending on what it is near in the apt.!! I love it so much! : )