Here's to future archives!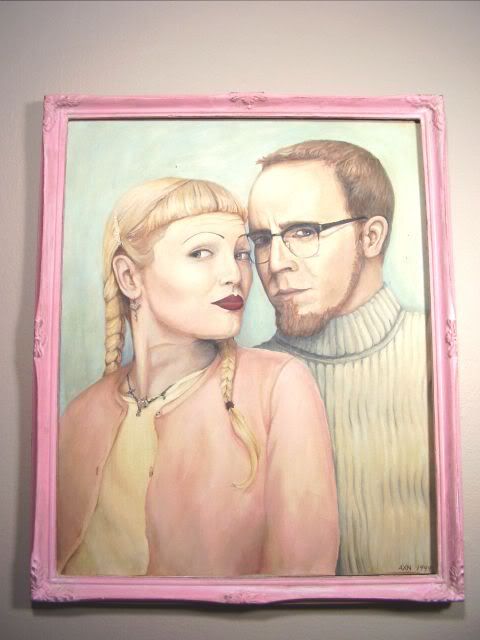 I've always had this feeling that I've been the same exact person for all my life. I know...that sounds like a very "duh...oh really?" statement on it's own so let me explain: Other people that I know a.k.a. Aaron, my sister Missy, my parents, brothers, friends...they'll talk about times in their pasts when they were "different people"...you know...young, dumb, reckless, wild, intense, dedicated, carefree, etc... They can look back with a comfortable detachment from their former selves. They possess a little thing called Perspective and have feelings of nostalgia when they remember that person they once were. I TOTALLLLY CAN'T relate. If I think back to five years old I think I had the same worry, care, caution, likes and dislikes that I have now. I've been in a lifelong state of complete and comprehensive awareness. The upside is a crystal clear memory...also an unflinching sense of self...The downside is a crystal clear memory and an unflinching sense of self.
And by that I mean...there has never really been a break. I find myself feeling guilty about accidentally knocking my grandma's dentures off the sink when I was 9. I'll recall tiny conversations I had as an early or late teen and think " why did I say that when I know I meant to say this?"
I've just always felt so utterly Responsible.
Well I'm learning to drop that a bit now.
Above is a painting of me and Aaron. He painted it in 1999 and I believe in either January or February. I can guess the month because I know he was referencing a fairly freshly taken photo booth pic and if Aaron's in a turtle neck it was probably Christmas or New Years at the movies and our fave photobooth was in the theater lobby. I love it. He used a tiny black and white photo as reference material and set out to do a "vintagey, cottagey, folk arty, pastel colored fun portrait." I think he succeeded on all counts. And we look almost EXACTLY the same now! (well except that Aaron no longer has hair.) Well, I can look at the painting which is now eight years old and I can feel an inkling of Perspective. In the painting we had already been together for six years so it in no way marks our beginnings as a couple, or as artists. We were knee deep in our creative career. At that time we were probably spending more time creating than we ever will again. We BURNED the midnight oil, we lit up the phonelines trying to make contacts, we drove thousands of miles in search of cool towns, antique stores, junkshops, etc... We were naive in all the good ways. We didn't second guess too much. And we never looked over our shoulders.
Well now I can look back at the eight years between then and now and depending on my mood it can feel like a million years or a minute. There have definitely been some extremely rocky and devastating times between then and now but I'm starting to feel less bound by those times. I used to let the past weigh me down. I used to think I'd some day have to rehash those roads I never fully finished walking. I've always described it as feeling heavy.
Well as quaint as it sounds, I may be starting to lighten up. I'm even a bit secure in knowing that I really have always been the same person. I mean, the color palette of the painting can't be coincidental. Over the years we have gone through full blown decor overhauls and now, right when I feel I'm pulling together a totally true decor identity I pull this painting out of storage and it's nearly an exact color match to my living room, dining room, current crafty creations etc...
And I have to say once again that I owe so much to this beautiful world of blogs. Being an artist is a day in day out process. It's like being in a constant state of reevaluation. The whole idea of: ' today's gotta beat yesterday, tomorrow's gotta beat today.' Well not necessarily "beat" but I hope that yesterday's experiences make today's better and today's make tomorrow's better. And blogs are this wonderful living illustration of that. There is nothing cooler than visiting your favorite blog and going way back into the archives. Have you guy's ever gone through all of
Alicia's
...it's awe inspiring how much she has accomplished creatively in that short span of time. So myblog here is just an infant and I dream of a day when I can scroll back and be
wowed
by all the stuff we've made and the people we met along the way...well I'm already
wowed
by the sweethearts I've met. So I just wanted to share this painting with youall and all that it conjures in my head. Here's to future archives!!
Got some great new pics on the way!!
XOXO Jenny