Keep it Pretty!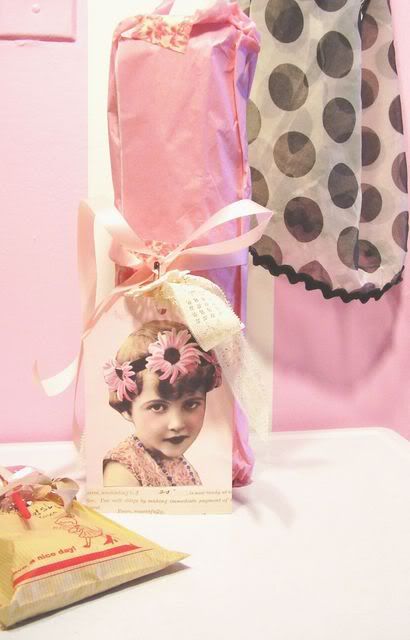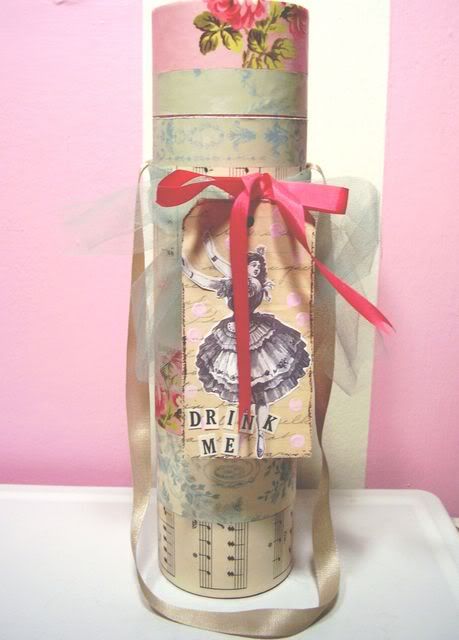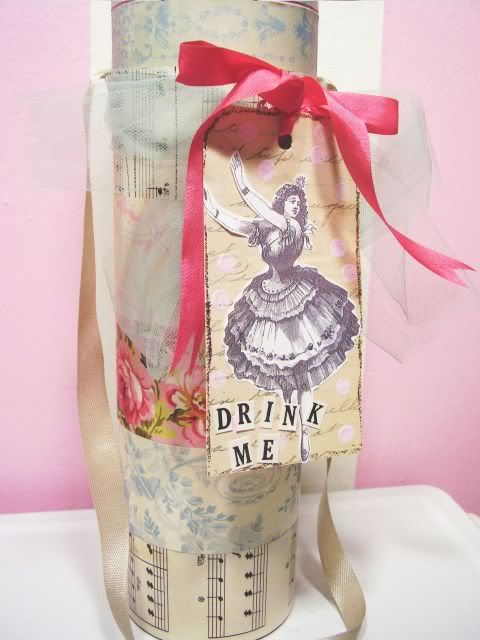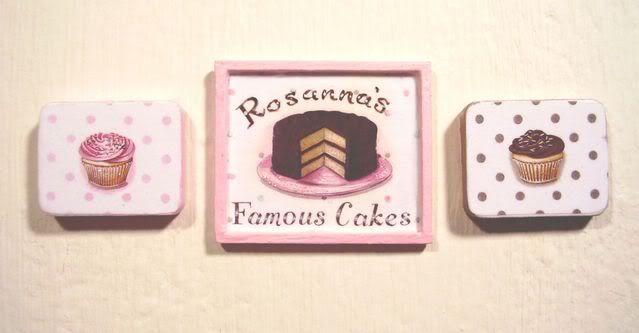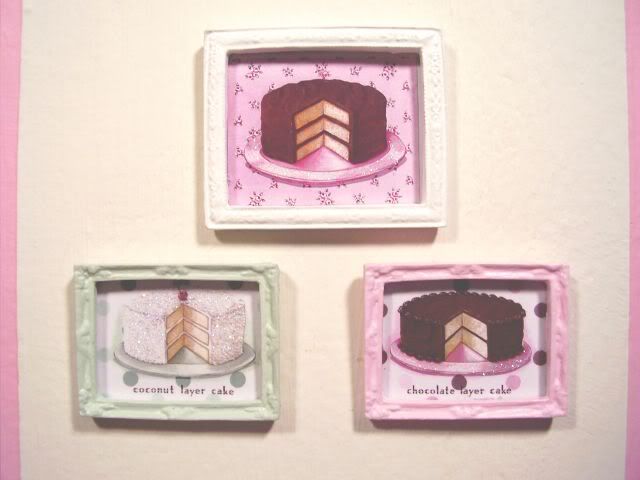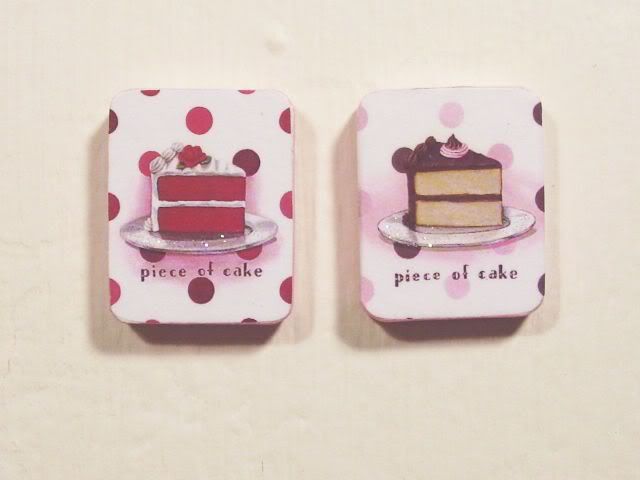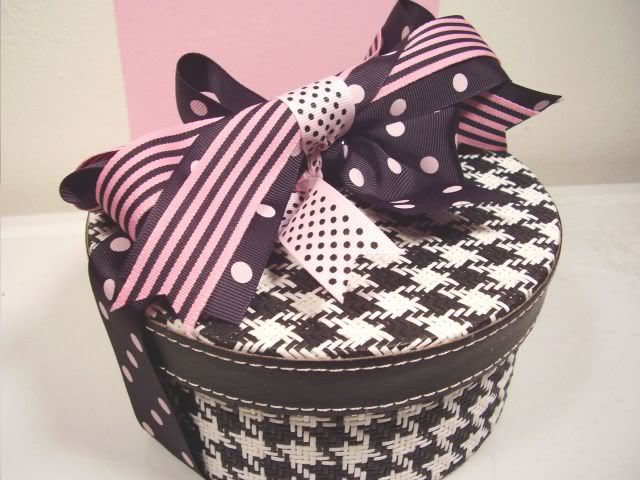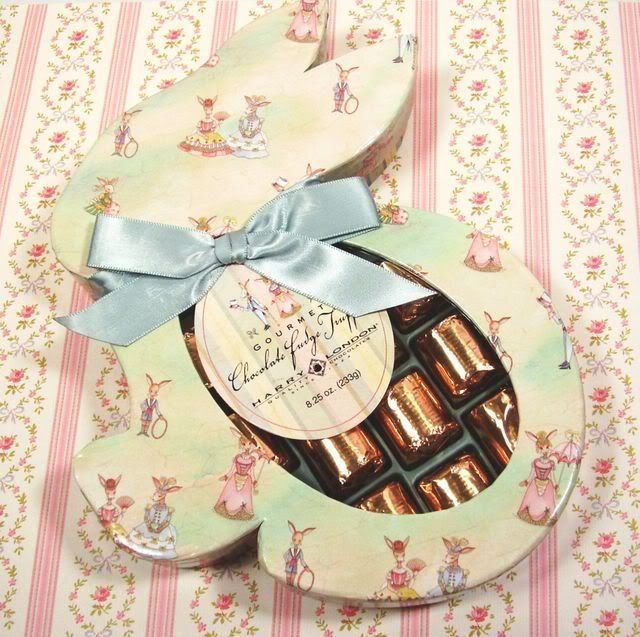 There is a specific feeling associated with individualism...and then there is a ten times better feeling that goes along with creative solidarity. I LOVED reading your comments concerning the last post and I'm thrilled to know how many like minded "peeps" are with me. This post pays tribute to just a handful of you that "keep it pretty."...
OK, you know the whole bit about midwinter depression? The whole Emily Dickinson thing? Well poor Emily didn't have access to the internet. While I'm snowbound (not really, Jersey's accumulation is melting away) The US mail surely and steadily delivers blasts of sunshine! First there's the lovely
Lilia
! Another color palette queen...sent along this drop dead gorgeous collaged wine tote. The mixture of elements, color, and pattern is unsurpassed. And as if that's not enough...an abundance of extras were in attendance...vintage rick-rack...hand made bird stickers...some ready to decorate/embellish postcards...and one of her fabulous, handmade, french inspired mending kits! The first pic demonstrates just how darn good the wrap job was. She's, as they say...da bomb.
Now, check out these next items. They're for the fabulous Rosanna in Italy (one of the places we may take a boat to, being that we refuse to fly.) These are miniatures we did on special request. We thought about posing them next to quarters or a pepsi can like so many hilarious ebay veterans do...but we figured you'd take our word for it. The smaller pieces like "piece of cake" or our original cupcakes are only slightly bigger than a scrabble letter. And the "bigger" pieces like "coconut layer cake" and "chocolate layer cake" are just about matchbook sized. We did these along with some custom paper doll ornaments. We can't wait to see pics of the doll house walls!!
Just for the record...aliens don't scare us. But today, on our doorstep, stood a package from Roswell, New Mexico. Aaron carried it in and acted like it was straight from hangar 18, area 51. Well aliens may be capable of breaking the time/space continuum, but they can't make a bracelet like this.
Melissa
is otherworldly to say the least! Just look at those charms!...the polka dots, the mini record, the soda cap, the domino, the gold! WOW...and this close encounter of the awesome kind didn't stop there! Check out that hounds tooth box with all those ribbons! and oh yeah, those Easter chocolates were out of hand...I'm slightly ashamed to admit that they were mostly consumed at 2:am...I'll let you know tomorrow if my dreams were as sweet as chocolate.
And lastly, don't let yourself be the last to know that:
Angelina's Beautiful Cards
is the first and last stop to make when looking for drop dead imagery and vintage style! Right now she's having a huge 50% off sale and it would be a shame to miss out. Now I'm so stocked with fantastic cards that I may even have to send some to strangers! Totally kidding, it'll be hard to let any of these go!! Oh...and she happens to be an absolute sweetheart!! : )
OK, I've got more for tomorrow! We would love to do a big sale for the end of February. It's such a short month, and we'd like to offset it with a discount of some sort! If you are on our mailing list...you will be the first to know! If not...just email us to be added..or keep watch here at the blog!
Again,...thanks so much to all of you lovely visitors..old and new!! You make the world go 'round!!
Enjoy your weekend!
xoxo Jenny