candy candy everywhere!!
I just love the Eye Candy on
Flickr
!! Now most of you have been Flickrheads for years, I'm fairly new, maybe a half of a year. For those of you that have not yet fallen under the hypnotic spell of Flickr let me explain how easy, how necessary, and how inspirational the Flickr community can be. Pictured above is a mosaic of my Flickr favorites. These are images I've borrowed from fellow Flickr users and have appropriated into my own inspiration board. Gone are the days of magazine tear sheets, cork board, and thumbtacks. Now I can cull eye candy from thousands of other Flickr members, put it in my favorites and stare, stare, stare until the images are burned into the surfaces of my corneas. Fresh visuals are soooo important when designing your artwork or your decor. With decorating you'll constantly second guess yourself and say "can I do that?, is it ok to hang two little things above that chair? should I pull the drape back or let it hang straight?..." You know... Well, in these moments of doubt you can just ask the Flickr gods. And by that I mean, everyday people like you and me, doing what they do and graciously sharing their results with the rest of us. And it's a give and take thing. Because Flickr is a share community you get to upload your pics and let other Flickr friends check out your stuff. Whether it's a pic of the pie you just baked, your pet budgie, or your kitchen!!! Which reminds me, The Flickr
group
for the Vintage Kitchen Swap is growing but still only about 50% of swappers have joined in. Maybe a lot of you are waiting on the packages to arrive before you sign up but if any of you are scared off by the technical aspect please do not fret. I am computerly challenged and I find Flickr a cinch...oh yeah, and it's free. Also, it's very cool when another Flickr member marks one of your images as a favorite. It's a tiny little affirmation that either your subject or your photography skills were up to snuff in the eyes of someone else. And don't get me started on how cool Moo cards are. I'll say no more ok, end of Flickr sermon.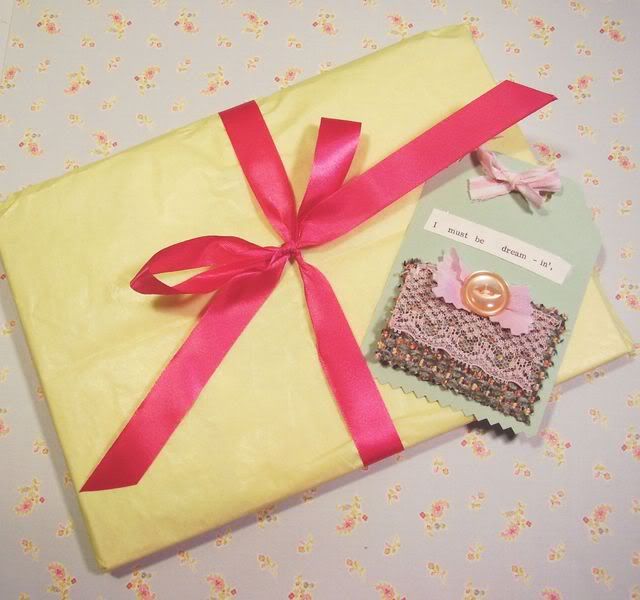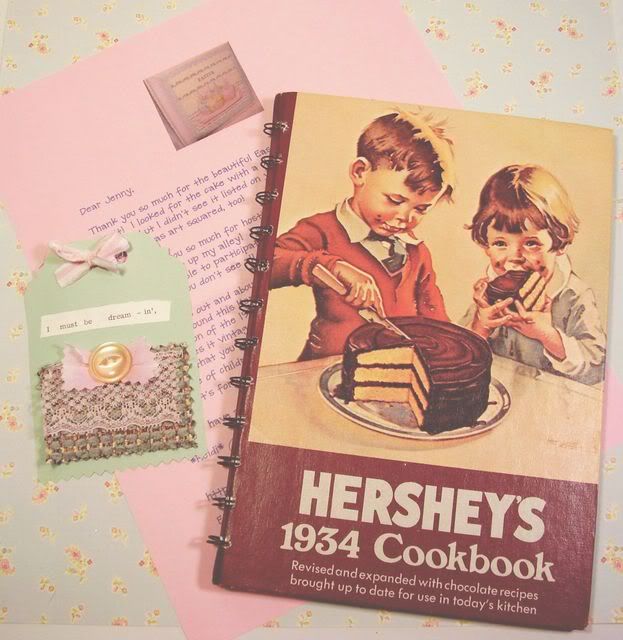 Above you'll also find some pics of a wonderfully thoughtful gift I received in the mail from the ever so sweet Heidi. All wrapped up in the bright hues of Spring with a dazzling handmade tag and pretty pink note. The wrap was so cheerful that I had to take a snapshot before I opened it. This was a true test of patience because I really wanted to know what was inside. The contents were well worth the wait. The visuals in this little book are wayyyy up my alley of course and will inspire many paintings to come. This gift is Heidi's way of thanking me for hosting the Vintage Kitchen Swap...soooo not necessary, simply participating is totally enough thanks for me! Thanks Heidi, you doll!!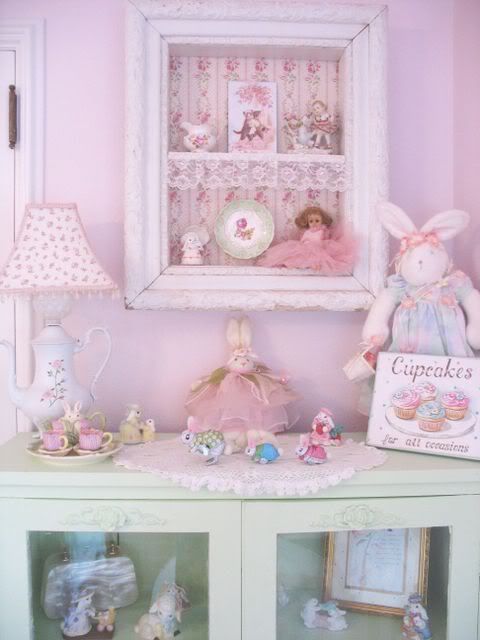 I have some more pics of collector's homes and nothing thrills me more. First is a pic of Jennifer's daughter's room featuring our "cupcakes for all occasions" piece. She has it displayed but not yet hung permanently because she's getting some more of our work to go with it. You have to check out Jennifer's My
eBay
page and her artwork . Her home was featured in the May 2005 issue of Romantic Homes magazine and she has a wonderful little family and world. She also looks like a beauty queen. I have to find out if she's a former Miss Georgia. : )
The next pic comes from the home of my friend Melissa. As you can see, she's a collector of all the little pretty things and obviously is afflicted with the same Easter bunny fever as I. And I think my sister owns that same floral platter on the middle shelf. A little while back I posted a pic of a charm bracelet she made for me. I seriously can't stop looking at it, what an amazing little bit of arm candy. You can purchase her creations at
inspireco.
I highly recommend. Her attention to detail is top notch!! Fingers crossed, she will be making necklaces one day soon! hint hint! : )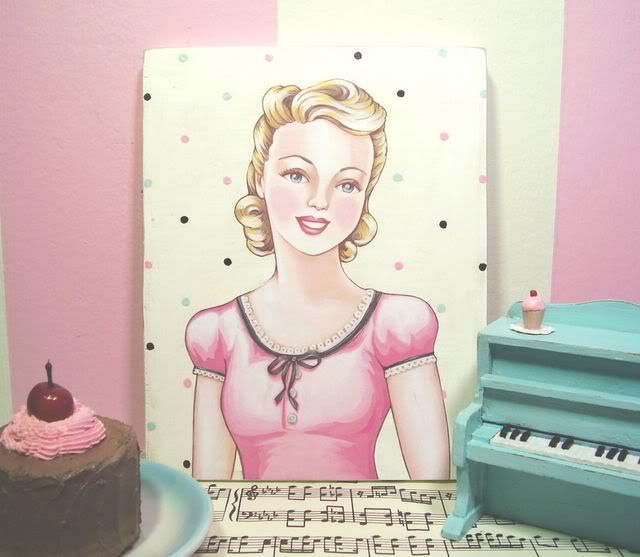 Well, this is a first for me in a long time. Posting during the daytime. I hope I'm not messing with my computer's head, I hope he's already had his second cup of coffee. I have to get back to the paint and the paper and the glitter and the glue. The pic of the "pretty girl" above is our newest addition to the line. We love the pretty girl imagery from the forties and fifties and like most when they have the beauty of a pinup with the innocence of a paper doll. We'll do more like her, they're just so happy to look at! And I want to remind everyone that we're still having a sale on our stuff through this weekend...free shipping on any purchase over $50.
OK, hope you all are enjoying the day!! xoxo Jenny!