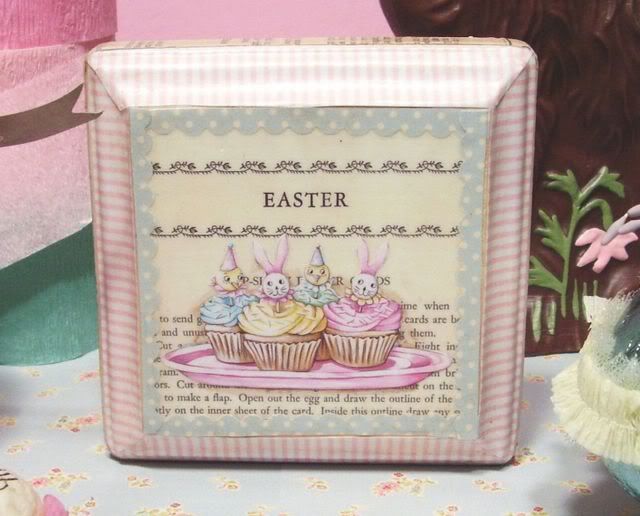 I'm no fan of lingering seasons. If it feels like September at Christmas I'm bummed. If winter goes too long and doesn't offer any significant snowfall then I say be gone you slushy cold gray skies and bring forth my favorite season...SPRING!!! So as a little kick in the pants to the worn out your welcome winter I'm gonna do our Easter giveaway now! Just like our Valentine giveaway I'll be drawing a name out of a mixing bowl and the name will come from a pool of blog comments. Again, I'm encouraging any of you that have not tried to leave a comment already to give it a shot now. AOL blogs are a bit tricky with the logging in process, but trust me, it's easy and painless. You only have to come up with a unique user name and password (word to the wise...write it down...we all have so many passwords already). The winner, drawn this Sunday will win our brand new
Easter
4" x 4"! So please leave a comment if you want a shot at this little cutie. The little image of the Easter cupcakes is a downsized version of our 8"x 10" edition. The chick and bunny cupcake toppers are directly inspired by a set we own and you can sorta glimpse them on the left in the photo.
Ok, now for my little project. This sweet house shaped shadow box is exactly what I had been looking for to use as a display case for my mini handmade sweets crafted by the AMAZING
Grace
! I'm sure she doesn't refer to herself in that way but over here we only call her Amazing Grace. She is quite possibly the most talented teen on the planet. She can do anythingwith those crafty hands...On family day trips she'll quickly prop up an easel and render watercolors of the local flora and fauna. And her mom Vicki has an awesome blog called
turkey feathers
. There are some great winter wonderland photos there and she had 'em posted way before anybody I know even got a flurry. So, yeah, Grace. I really have a thing for old souls in young bodies...kids that aren't defined by the times they live in but yet they have zeitgeist qualities that allow them to not only fit right in, but dazzle us all. Imagine Beatrix Potter with a cell phone. : )
Now, about my shadow box, I have to give big credit to
Teresa
McFabulous and her " A Very Fine House" which she just taught to a very lucky class at
sweetpeas & snapshots
out in Cali. In my mind I traveled 3000 miles and with that California inspiration I put my hands to work under the gray skies of Jersey. It really is a great way to "house" a bunch of your fabulous smalls! I picked it up at a craft store...no price tag...last one on the shelf with totally unrelated items...and a little bit broken...so it was a fixer upper! A handful of favorite vintage and new papers, some paint and mod podge was all I needed! I'm super happy with it. I think I may have seen a tiny version at A.C.Moore...if so I am totally into having a few!! (Start "baking" Grace!)
I want to thank you all so so much for the awesome comments on the last entry...so sweet! I just knew that so many of you probably felt the same in your lives. Every artist has "the gift and the curse" complex. And when I say artist I'm not referring to what one can do with their hands, but what one see's and feels. There is not one of us in blogland that can even grasp the idea of not being totally obsessed with this stuff. We would have no idea how to exist in a vanilla world...strangely, we sometimes wish we could...but then we look around our room or wherever and meet eyes with a sawdust filled Easter bunny from the 1940's, his felted fur in the perfect shade of pale turquoise...and we say to ourselves: no way am I giving THAT up!
Oh, one more thing...February is too short! We're extending it til the end of Saturday by having an End of February Sale...15% off any purchases over $40 through Saturday. We're working on an email to our list but for any bloggers interested just mention the February Sale in a note with your purchase.
Oh boy, I really do have good photos to put up soon. I promise. xoxo Jenny
ps..Don't forget to leave a comment to be entered into our Easter 4x4 give away!! : )
Don't forget to give an email address : )