two weeks and counting!!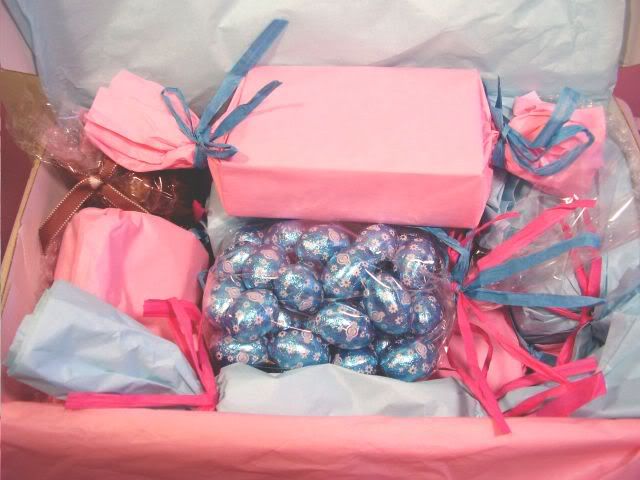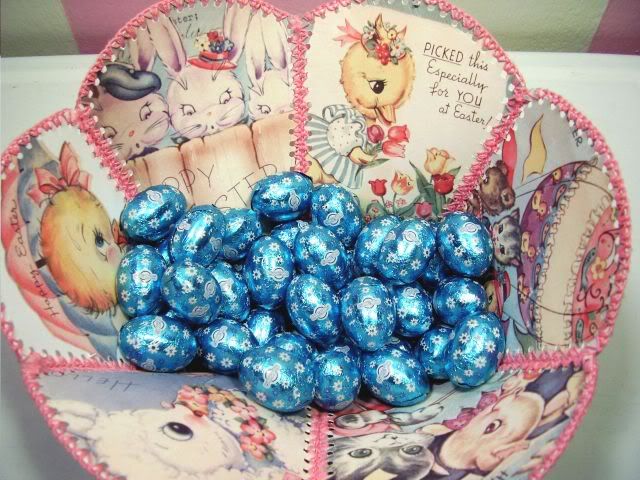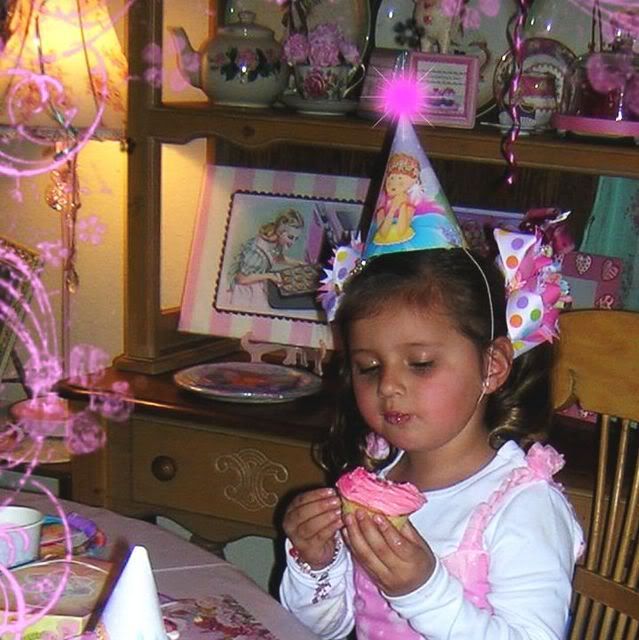 They call Wednesday "hump day" and I guess it is with good reason if you work out there in the office world. For me Wednesdays aren't so bad. First off, it means we still have two and a half days worth of mail left in the week, AND it's "LOST" day! My one and only reason for network television...(well, "The Office" on Thursdays is great too.) "LOST" has been redeeming itself after a weak Fall season...but enough about TV, let's focus on the wonderful world of packages!
My sweet friend Rosanna from Italy sent some amazing gifts! And as expected, she's a fabulous gift giver. For absolutely no reason at all I received this amazing pack of goodies on my doorstep. What hit me first was the wrapping, all pale pink and turquoise and chocolate. Of course I had to get the camera before I tore in to the delicate tissue paper ! But once opened, me and Aar instantly ate some of those chocolate eggs you see...great chocolate! In the photo you'll see them displayed in the coolest hand sewn vintage Easter card bowl we picked up a couple years ago at
Jennifer
Paganelli's Sis Boom event. The set of super cute tart forks eagerly await their chance to poke into the mini tarts I'm making this Spring. And Aaron was excitedthat one of the fabulously British style floral mugs was addressed to him! Also in the box were those two glass cupcake ornaments, the chocolate pastry candle, fruit tart tealights and those place card holders seen clenching our moo cards from
Flickr
. Rosanna, you are such a doll!! Thank you! Thank you!
Next, I got a package that came straight from my backyard... Good 'ole Jersey! Those two cute cute brooches you see with the note came from just a few exits away! (that's the Jersey cliche...we measure things by Garden State Parkway exits.) I love them! Soo,
Tatta-Belles
, thank you so so much Mary!! So unexpected and just tooooo darn sweet!! It means so much! Please email me so I can personally thank you. (your email address wasn't in the note.)
Remember a couple of posts back I told you about Amazing Grace? I told you about her mom's awesome blog called
turkey feathers
. Well, I won a giveaway on Turkey Feathers. Wrapped in that fab brown paper package tied up with string was "The ABC of Wine Cookery". A pocket sized vintage book featuring the perfectly titled recipe: "Jenny's Favorite Boeuf a' la Mode" and my favorite(sarcastically speaking) ingredient: Veal Knucklebone. Well, knucklebone aside, thanks Vicki! I love it and love being a winner!
Second to lastly, you'll want to know who that adorable little birthday girl is with the cupcake. That is Chula's daughter! (Chula is of course, her ebay name.) Well, Chula was one of our first ever ebay customers and she has been a dedicated collector ever since. Chula's sweet daughter wanted a little birthday party set against a backdrop of pink sweets and treats. If you saw the rest of the pics you'd agree that mom came through with flying colors. Thank you Chula for sending the photos, and more than anything, thanks for loving our stuff from day one!!
And finally, the SWAP! I am thrilled to say that I sent out all of the match up emails! If by any chance you signed up and don't have an email from me in your in-box let me know right away! This is gonna be sooo great! My sister Melissa even joined in on the fun! Lets hope the weather across the country (and Canada, and Europe) stays in the mild range so we all can venture out and shop for the fab stuff we're gonna send. (and if you're making your swap stuff, good for you...excellent!) As I had mentioned before, let's look to spend about 20.00, not including shipping. If anyone has any questions..feel free to email anytime! : )
I cannot thank all of you gals who signed up for my swap enough!! It was a little overwhelming....but I am just sooo soo excited!! Let the swappy fun begin!!
xoxo Jenny