Vintage Kitchen Swap!!!!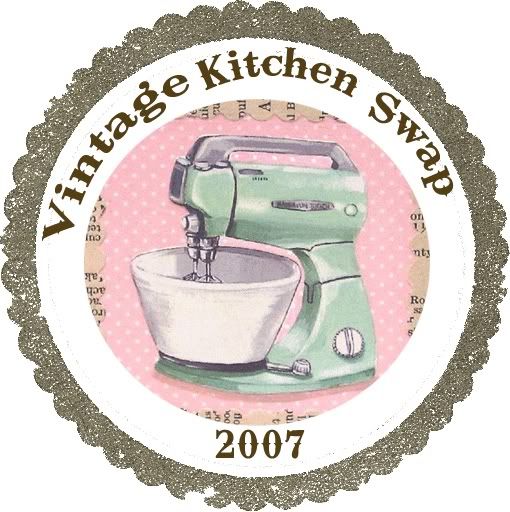 And the winner of our Vintage inspired Easter cupcakes Art Squared is..........
hwoodred!!!!! Congrats!!!
Hey lucky winner, you forgot to leave your email so make sure you comment again with your email address included to claim your prize. I believe the winner was the first comment on that day's entry...wow, early bird got the worm!! Sorry about having no pictures of the drawing...we had some technical difficulties...but trust us, we had an auditor from SFJ International observe the drawing (not really of course, but I've always pondered the unseen auditor that they mention on the nightly lottery drawing...like is that the only thing that auditor does in their day? or do they make stops all over town auditing things? don't mind me...). Oh yeah, and what a great overall response!!! All of your comments and compliments are received with my humblest of hearts. I wish you all could win, but my fingers would never make it through the endless intricate cutting involved in the making of sixty 4" x 4" 's.
I think I've mentioned this to the point of exhaustion by now, but let me say it once more for good luck: I Love Swaps!!
Everything about 'em...the random match ups, the picking of the theme, the surprises, and mostly the array of interpretations. Like if you join a 'chocolate swap' it sounds basic and predictable. But in the end if you were to put all of the opened shipments side by side you'd barely find a repeat...to one person it's a ton of classic candy bars: Whatchamacallit, Twix, Hershey, Mr. Goodbar...to another it's Godiva truffles, hot cocoa mix, and chocolate covered Oreos. The whole swap concept is just so so fun!!
So, this is an open call for swap lovers! I am super excited to be hosting my first ever swap!! The theme of this one is Vintage Kitchen!! Just think cookie cutters, aprons, pot holders, dish towels, appliances, recipe boxes, cookbooks...etc. It can be completely vintage or vintage inspired...for example: a new apron made from vintage patterned cloth. We're talking, mugs, tea cups whisks, bowls, sifters, mixers...all this stuff. And here's how we'll do it:
Email
me all of your info...name, address, email, and then...color preferences, specific theme...do you go with sweets?...baking stuff, pastel tones? or do you lean toward cooking? primary colors? Just let me know what you prefer for yourself and I'll pass the info on to your selected swap partner. For the sign ups the
cutoff will be Monday March 12th
and after that you'll have about two weeks to send to your swap partner. You can use the image above as a button on your blog. The fabulous Missy Ballance made it with some of our imagery. Thank you Missy!!! : )
We're gonna keep this swap fairly open for as much artistic license you feel fit to exercise just as long as whatever ever you send screams Vintage Kitchen. Let's be creative, make some new friends..and have lots of fun!! : )
Again, I couldn't be more flattered by the overwhelming response to the Easter giveaway and the Quality of responses...I'm truly truly grateful! You all are just too too sweet!!
Have a great week!
xoxo Jenny