Big time show and tell!!!
(note: you may want to go grab a cup of coffee before settling down to this epic entry.)
There was a loud thud against my door yesterday and when I peeked through the blinds I saw the postman run down the hill, hop in his little truck and speed off. He delivers boxes much like one would hurl a grenade. I always imagine the delicate contents remaining completely intact on their journey across the country only to end up smashed to bits when the box slams against my door. Sorta like slipping on a banana peel at the marathon finish line. Well, in a way I'm thankful that I at least get to witness the blatant postal abuse of packages because it helps me better prepare my own with yards of bubble wrap and piles of tissue paper. When we first started shipping a lot Aaron would do test runs by throwing the box against our front door.
Luckily, yesterday's delivery was free of casualties...and FULL of outstanding stuff!! So today is a bigtime show and tell day! I got my swaps!!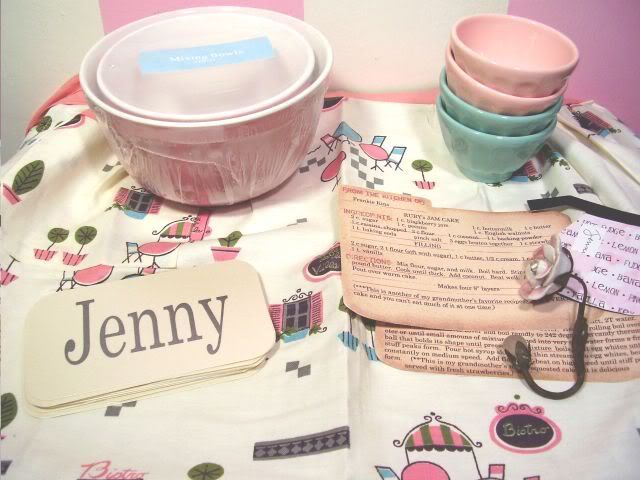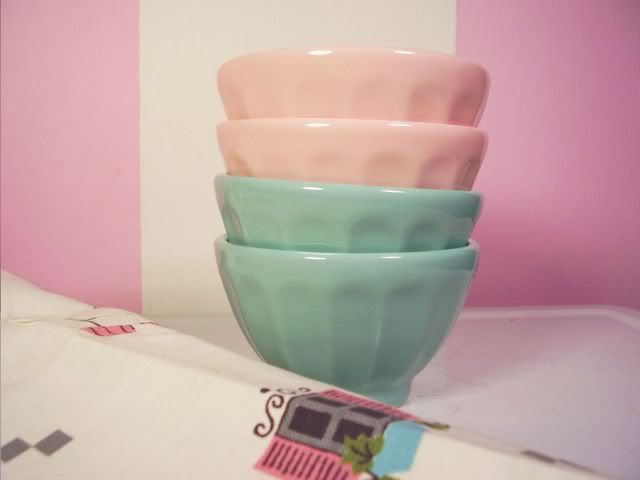 I guess we'll start with my new friend
Frankie's
stuff: I loooove everything! I set it all up as a little still-life and just stared...actually I walked around it like a fashion photographer and got looks at it from every angle. I'm big into groupings...color balance, variety of shapes, sizes, texture,theme,context. Well Frankie hit the nail on the head in all categories. And I wonder if she "still-life'd" it before she sent it off. The way the Parisian cafe/bistro scenes of the apron set the perfect backdrop to the pink mixing bowls, the tiny cafe au lait bowls, two in pink, two in aqua (I love these!! and sooo woulda bought 'em myself!) and then a bit of fine line and delicacy is added to the mix with the sweet porcelain rose hook. And those recipe cards are her very own printed creation and the recipes belong to her own grandmother Ruby!! I will definitely try them both...I like how one says "it is a VERY rich cake and you can't eat much of it at one time"...that's music to my ears. And I'd say the piece d 'resistance is the stack of homemade flash cards. The second I put the pic on Flickr I got comments on those cards. I just love big bold lettering and classic fonts. Also, in the group photo you'll see to the right an adorable handmade card in the shape of a vintage apron...all in all great great stuff!!! Especially the apron...perfect colors, and we are all about cafe scenes over here...we actually painted a striped scallop awning around the perimeter of our apartment! Thank you SO SO much Frankie!! : )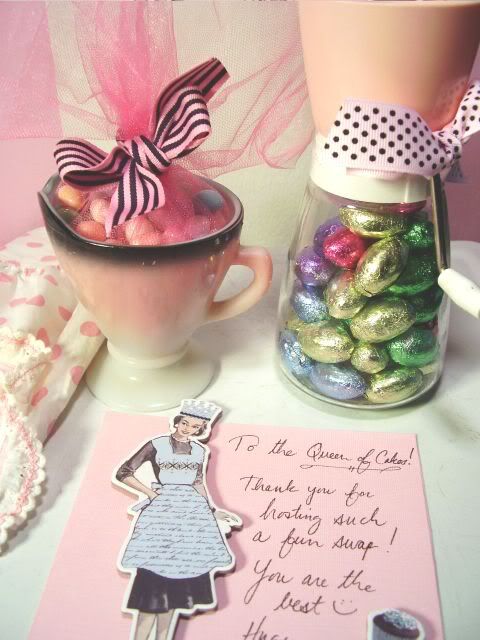 Ok, these next photos may appear to be swap stuff but technically they are not because they did not come from a swap partner. This was a total surprise package from Melissa! And it's the kind of gift box you open and keep saying "awwww" and "how niiiiice". First, because the gift is unnecessary. (well I guess all gifts are unnecessary, that's why we call 'em gifts...anyway, this is her way of thanking me for hosting the swap...but I repeat, so unnecessary!) And second, because each item is sooo totally me! I just can't stand how creative the presentation is. Posing a pink drawer organizer as an Easter basket is genius...cellophane wrapped and all! But geeeez, I had to keep the cellophane intact so I could photograph the stuff and the chocolate inside was screaming at me to let it out! And I loooove the Hazel Atlas creamer. If I could show you my Ebay searches you'd see the million times I put one of these on watch. (oh yeah, and to me, 'watching' an item on Ebay is almost like owning it...I feel like I actually 'possess' my watch list.) Well, thanks to Melissa I REALLY own one. Great stuff, the pink topped nut chopper filled with even more chocolate and the BOOK sends the whole deal over the top...I mean c'mon! too much!! Love it! And super thanks for the 3D embellished note that dubs me "Queen of Cakes". Waaaay too nice Melissa! Love ya!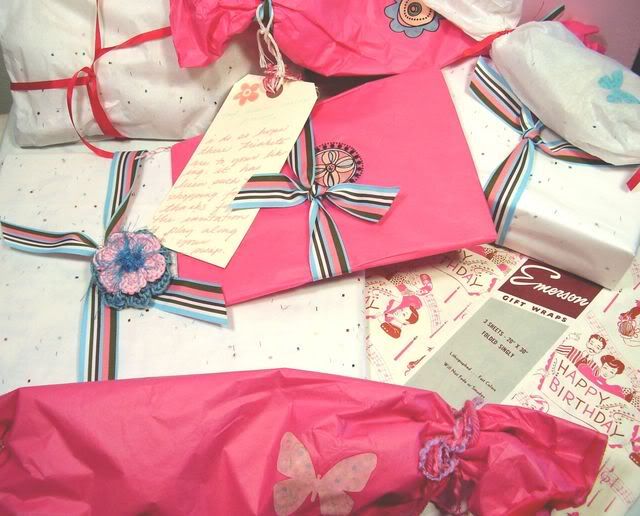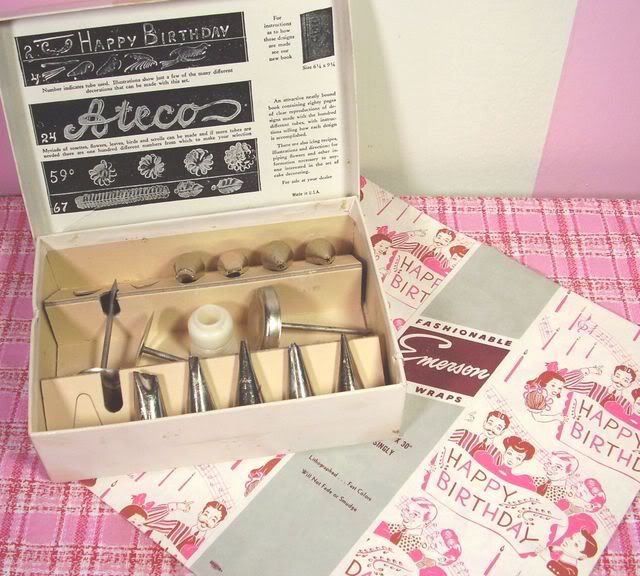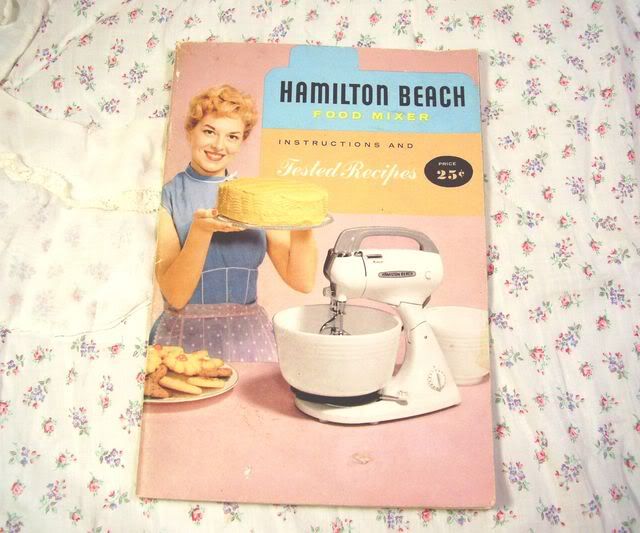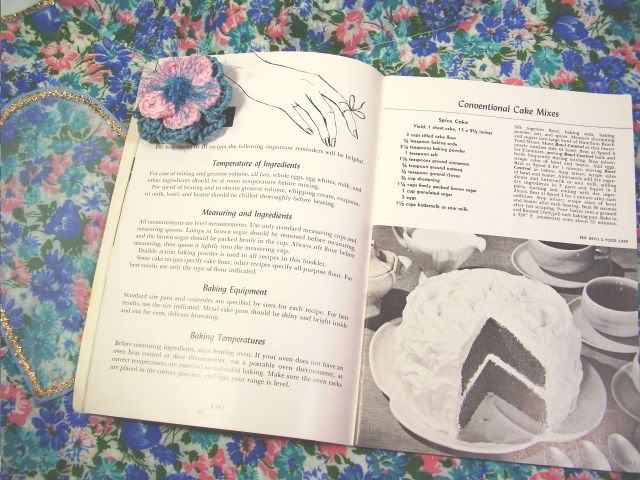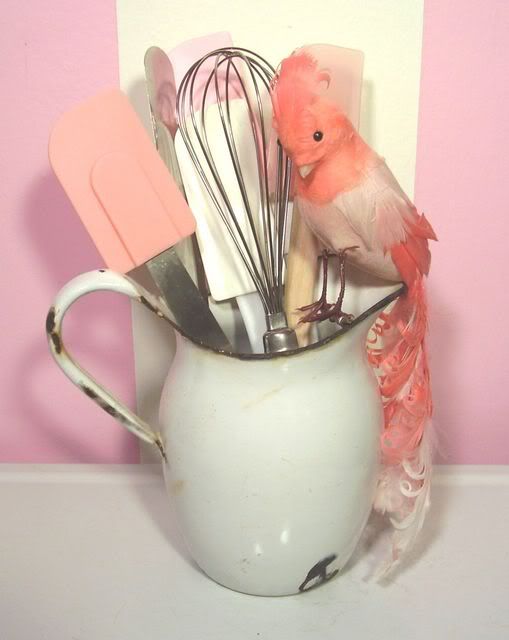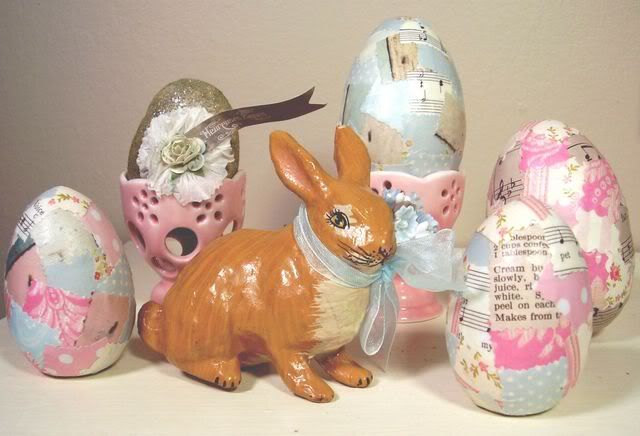 Now for miss
Dede's
stuff. She's been so enthusiastic about the swap since day one. Shewas one of the first to join the
Flickr
group and seems to have had a lot of fun with the whole process. Get a load of her gift wrapping...unbelievable! All that great ribbon, the millinery flowers, the COLOR!! When Aaron brought in her box it was jingling and jangling and he swore the mailman busted the stuff. But I knew better. I know the sound of an Ateco cake decorating set a mile off! These are at the top of my vintage kitchen collectible list!! Well, they share the top position with vintage baking instruction books, of which Dede included TWO! AND two fabulous aprons! And that Happy Birthday wrapping paper was a big shock because I recently was outbid on Ebay for that exact paper...I think Dede hacked into my system!! And I'd have to say that the two greatest living things on earth are bunnies and birds...and wouldn't you know the Dede gave me one of each (not living ones of course). The bird now sits atop my monitor and he seems to be looking down at my fingers on the keyboard so I guess he'd like me to tell you where he came from. I'm pretty sure he's a celebrity, though I'd have to confirm this with Dede. Take a look at the Home Companion magazine spread. He used to live at the one and only
Sweetpeas
& Snapshots and I believe that is him in the photo!! Dede is geographically lucky enough to be able to frequent Sweetpeas & Snapshots and see what L.A.'s paper princess
Mary
Smilove has got goin on. Mary just started a blog which you must visit. Anyway, Dede must've hacked into my system again and found out how much I adored this little guy and now he lives on top of my monitor and one day in the future will be joined by a real life budgie, once Aaron says yes...fingers crossed!!
I couldn't be happier with the swap results!!! I got stuff that I couldn't have picked better myself. This is what a swap is all about. Please share your pics and details on the Flickr group and I can only hope that everyone is half as blown away as I when they open their packages!!
Lastly, check out those eggs. There's a project on page 66 of the Easter edition of Martha Stewart magazine. They use postage stamps but I modified the project by cutting some favorite patterned papers, and vintage sheet music/baking book pages in the size of stamps using different edged scissors. They also use real blown out eggs but I got wooden eggs from the craft store in varying sizes. It's an instant gratification type of project that's real easy to do. Eggs, paper, scissors, mod podge...and you can watch tv at the same time. I'm pretty happy with them, super cute actually! And I don't have to worry about them cracking anytime soon! : )
Well, I hope you all enjoyed my Show and Tell!! Cannot wait to see all of yours!!
Thank you so so much again Frankie!, Melissa, and Dede!! Love everything to bits!! Hope you love yours as well!
xoxo Jenny