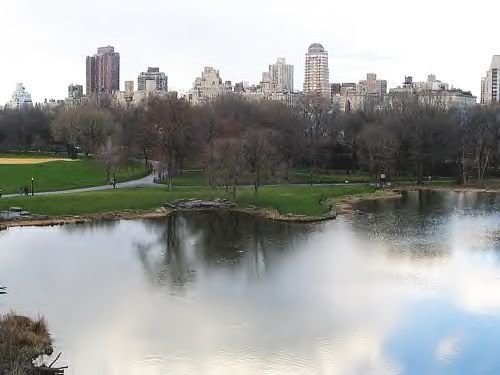 Easter has passed, and just as quickly as always. I hope everyone's was super sweet! We've been away for quite a while due to work and an actual excursion out of doors if you can believe it!! On Saturday we went to a "meet-up" in NYC. It's a little thing that the gals over at the Cupcakes Take the Cake blog (
All Cupcakes, All The Time
) organize every month. Anyone who's enchanted by the wonderful world of cupcakes is free to "meet-up" at a designated time and place for a little lunch followed by a trip to a specially selected cupcakery. Lot's of fun, and we totally made a day of it. The meet-up started at the
Essex Street Market
, which is a real New York staple for fresh fruits, veggies, quality meats, fish, cheese, wine...etc. A very old school style place with those high gloss gray painted concrete floors and stalls of vendors with their specialties. I remember when the Jersey grocery stores looked more like that and not the gleaming white palaces of endless aisles they are now. So anyway, the meet-up then moved on to the main event... the cupcakes! The spotlight was on
sugar Sweet sunshine | NYC Bakery
: the name says it all and their cupcakes say even more. If ever in NYC and more specifically, the lower east side, give them a visit, they're on Rivington, and get the pistachio cupcakes...wow! Well, after completely filling up to the brim with sweets we decided it was necessary to try to walk a bit of it off. We puttered around the lower east side for a while and then Adam suggested we take Jack up to Central Park...wait, roll call time! I can't just start throwing names out there as if you all know who the heck I'm talking about... Here's our little group of the day: Me and Aaron, Melissa (my sis) and Adam (her man), Jack (missy and Adam's tiny dog), and Walt(my ubiquitous little bro). Ok...good. The walk through Central Park was great but cold...way too cold for Easter eve. We had a celebrity sighting-
Jeff
Daniels
, and when we came face to face with him we all stopped talking because all of us at once were realizing it was him. Mr. Daniels looked at the ground and seemed to be saying inside his mind "please don't stop me to talk to me." which we didn't and wouldn't because ya know, let him have his own time...but if he was Betsey Johnson...well that's a different story!! Anyway, those of you in NYC and L. A. know how often you run into celebs. We have a list of dozens we've seen and only exchanged words with a couple of them (
Amy Sedaris
thought we were stalkers)
So, to wrap up the day we hit the
Chelsea
Market (amazing shops), ate at
Trailer
Park, which is a white trash theme restaurant that serves grilled cheese, sloppy joes, burgers, mac and cheese, tater tots, etc...lets just say that every entree can be adorned with Ketchup. We rolled out of there, quite literally, and drove down to a place called
Beard
Papa, which is an amazing little Japanese cream puff paradise. They have Vanilla, Chocolate , or Caramel cream puffs and I'll just say that they're a tough contender for the champion position in my world of sweets...well, you know, the pick up and go type of sweets.
So it was a great day but the downside was that as the day wore on
Aaron started losing his voice more and more and woke up totally sick on Easter. I myself had about half of his symptoms so we decided we could not visit anybody...we'd be soooo mad at ourselves if we got the baby or Mom Mom sick.
Ok, Easter was a sick day but as you can see by the photos, there was no shortage of festive goodies. And they came by way of a generous "thank you" gift from our fabulous friend/collector of our work , Karen. First just check out that wrap job...the vintage style enamelware tin bread box is really a gigantic gift on it's own, but then I picked it up and the weight of it was tremendous...as you can see it was jam packed with layer upon layer of Easter treasures. The paper mache rabbit and foil baskets sent me off the deep end!! And there is nothing cooler than when someone really GETS you style wise. Karen's homemade tag/card with the bird in top hat looks like it came from my own inspiration wall. Karen outdid herself and I get the feeling that she's an expert on outdoing herself...check her swap photos in the Flickr group!!!
Thank you SO SO much Karen!! Truly just over the top lovely!! We adore every thing to bits!!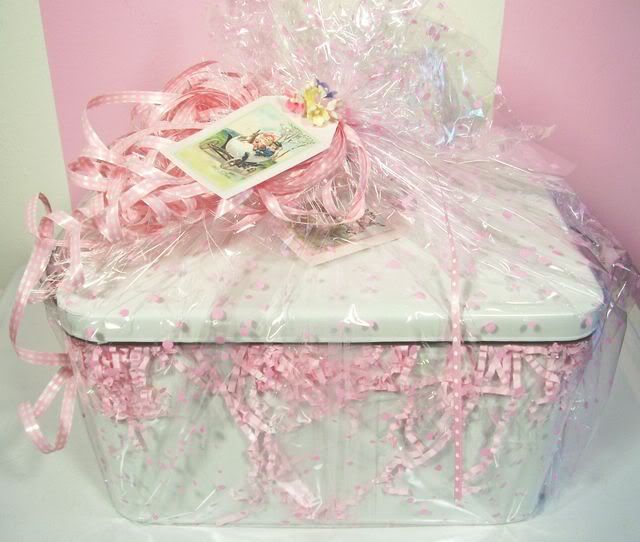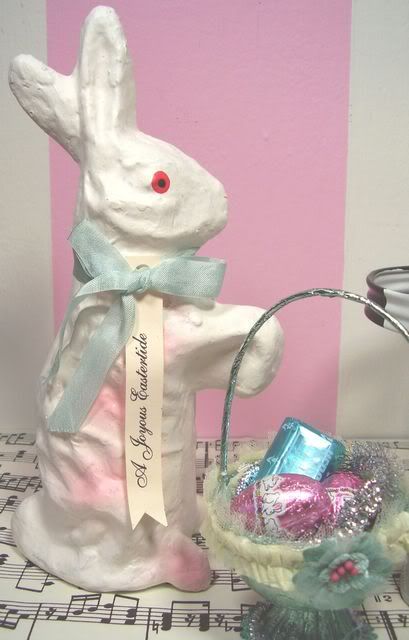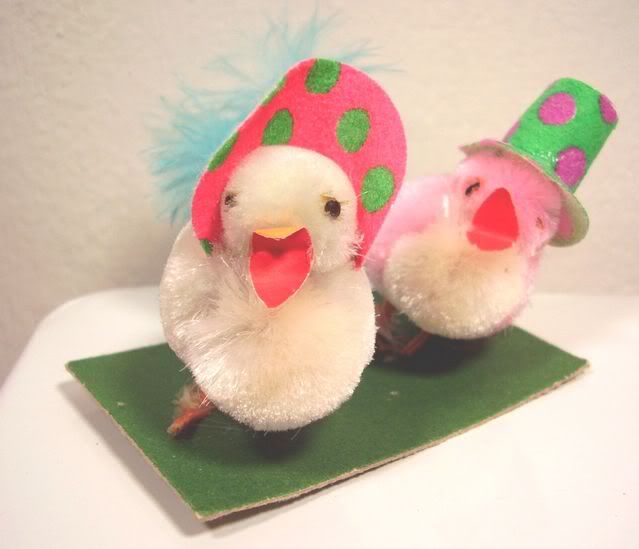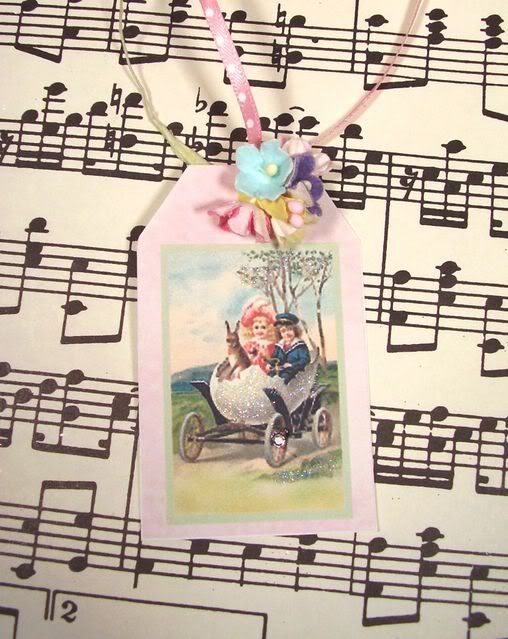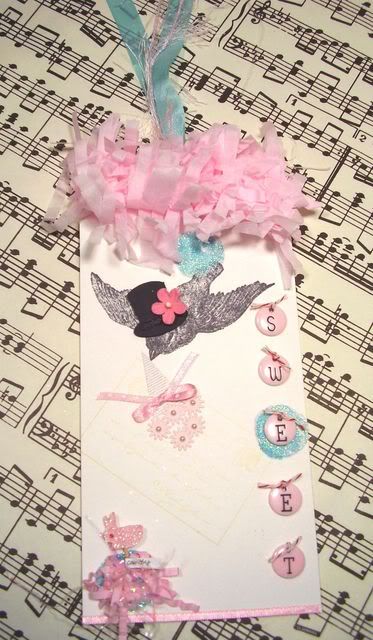 Ok, I know that once these bunny photos start circulating around blogland Rosemarie is going to be inundated with requests...even if Easter has passed. Rosemarie is the mondo talent behind these bunnies. All of themare hand stitched, original designs, based on paper mache rabbits and stuffed rabbits from the 1940's. They're hand painted, hand dyed, and every little detail from the bead eyes and wire whiskers to the ribbons and trims are just perfect. The tiny one is named "Frosting"!! How perfect! These all have such an old vintage feel. I love how they're weighted on the bottom so they stand perfectly. Me and Rosemarie share a love of all things furry...living and plush!!! Be sure to go check out her
eBay
auctions or contact her if you just neeeeed a little guy like one of these...and be sure to tell her Jenny sent you! : )
I am pretty much just floating on a cloud since these fellas arrived! I cannot stop staring at them, and picking them up!! I am so so excited to own them!! You are amazing Rosemarie!!! : )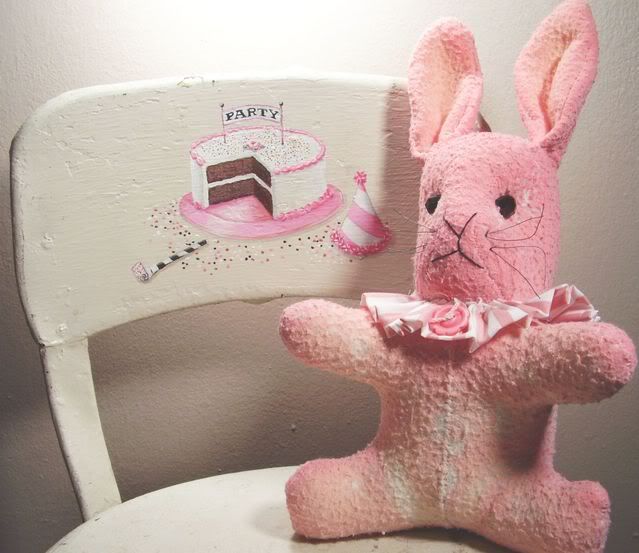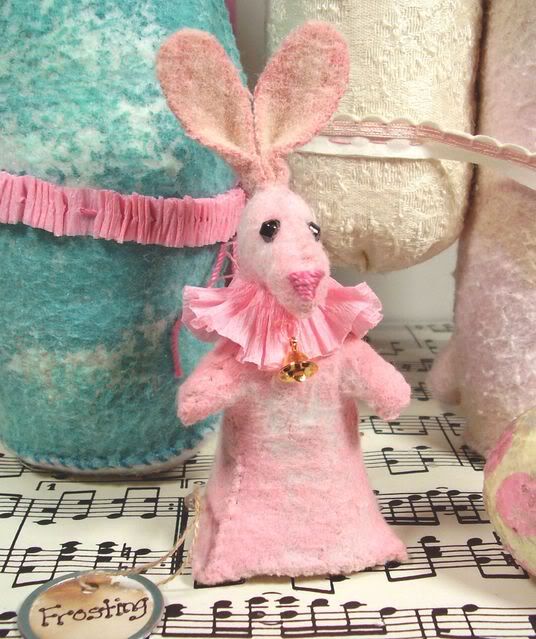 Lastly, some lovely handmade tags from my sweet friend
Amy
Elise showed up...total surprise! Really, besides being bound to my bed all day with a sore throat and body aches, materialistically, Easter was top notch!!
Amy is from Amy Elise Designs, she was the gal that made our Christmas gift tags for us...a total special order in all the colors and patterns we love. These vintage kitchen style cards are only half as sweet as Amy. Go visit her
shop
and I assure you that you'll find some incredibly pretty creations!
Thank you so so much Amy!! They are so so sweet!! Cannot wait to use the lil recipe cards!! : )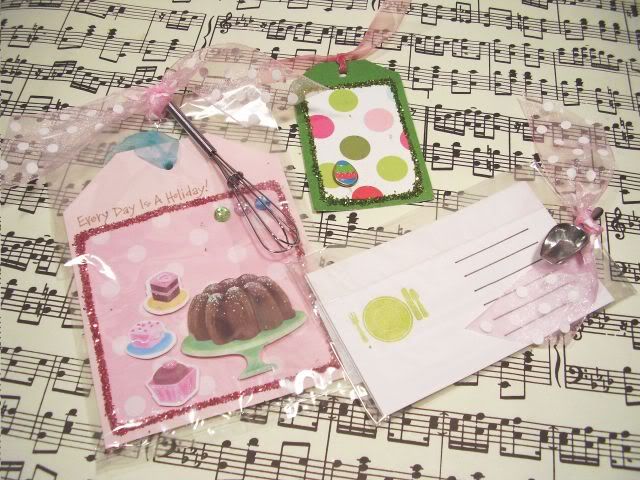 Anyway, I hope everyone else had a stellar Easter weekend and I will be back real soon with photos of all of our springtime collections.
xoxo Jenny