Good Stuff Galore!
It's good to know that we're all on the same page with the magazine thing. I mean, of course we are. All of us bloggers (readers of...and writers of) are all a bit off center. And off center is a great place to be. We aren't easy targets. We don't settle for the everyday, general, common stuff. We're seekers, we wanna know more, see more, and get more. I'm sure a great many of you have told a friend about your blogland and Flickr experiences only to get back a look of puzzlement...and questions like: " wait, I don't get it...why are you reading about some other random person's garden?" or " why would you show pictures of your new livingroom wall color to hundreds of people you've never met?" And our answer is: "why in the world wouldn't I?"
And holy cow, Linda and Laura read their magazines from back to front!!! I do the same thing! I'm sure there is a valid psychological explanation for this back to front practice. I think it has something to do with us trying to get one over on the editors. The editors want us to start at the start...in fact, they try their hardest to wow us with the first few pages...give us a great contents page with thumbnails of what's inside...etc... But no...we ignore all that and sneak in the back door to see if it REALLY is a good issue. Or maybe we're just a little bit weird!
Anyway, fellow mag turned blog addicts...it's great to be in such good company!!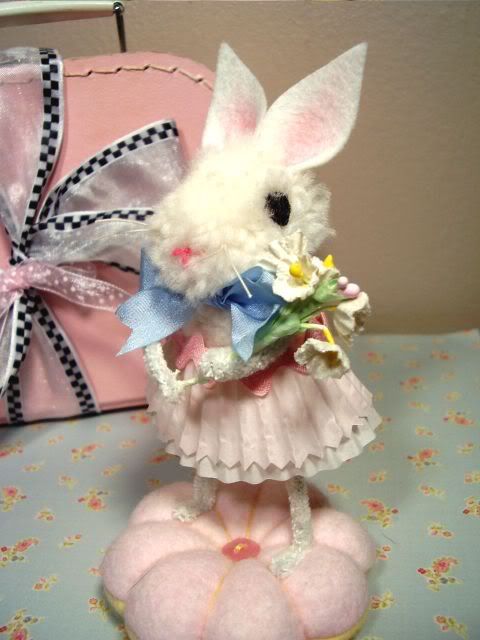 Now for the goods...
Berrie
Wren Bowen (isn't that the coolest name?). Well she's my new friend I met through Flickr and she's responsible for this darling little bunny girl. She came in this adorable little pink suitcase all the way from Washington state. Berrie made her for me in my favorite colors and I couldn't be more thrilled with her...I'm waiting for little miss bunny to start talking!! Berrie's inspiration came from the fabulous
Jennifer
Murphy's Martha Stewart appearance. I'm in love with this little gal. Thank you SO SO much Berrie!!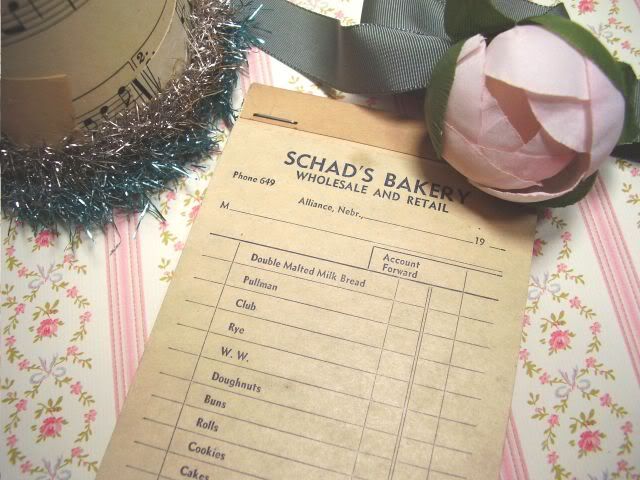 My super fun, super sweet, and super talented friend
Melfie
did a little swap with me and her end just arrived on my doorstep ... One of her famous collage party hats! I love the detail of the "Melfie Moon" (her lil' logo) wearing his own tiny party hat. And the rose topper acts as a nest to a little hidden bird. I enlisted one of the smallest members of my "party baby heads" to model the hat for a photo and he now refuses to take it off. Also included was this cool vintage receipt book from a bakery in Nebraska. Thank you thank you Melissa!! Love it!!!!
When I unwrapped this my heart skipped a beat! The colors, the patterns, the perfection, and just how incredibly ME this pillow is!! And I don't just mean the photo...every fabric and texture used, as well as the total composition, I couldn't have imagined it better! This is the impeccable work of the illustrious
Jen
Duncan. And as if that wasn't enough of an example of totally outdoing herself...she also made this button bouquet in corresponding patterns and colors! We've been staring at both allll day...I'm seriously amazed!
And...that same
Jen
Duncan sent along one of the most abundant and creatively selected vintage wallpaper/ephemera/paper craft packs ever!!!! I have not seen papers as gorgeous as some of these...plus buttons, bingo cards, tickets, pages from vintage children's books, calendars, hotel menus, ribbons, seam binding, sheet music...GALORE! There really is just so so much bang for the buck! And most important is Jen's editorial eye...not one inclusion is just "so so". Everything inside is a treasure. Very generous. If you're a nut for this stuff (and I know you are) go over to Jen's Etsy
shop
and pick up a pack of your own.
Jen, you have truly rocked our world!!!! THANK YOU!!!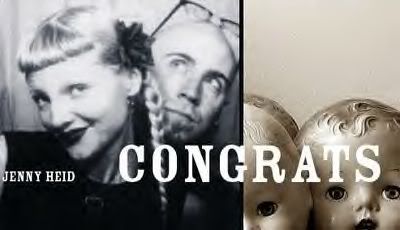 One more thing...If you haven't already, you must check out
Urban
Prairie
. The man behind it is Chris Brown, a tattooed gent with a knack for spotting the beautiful side of the worn and the faded...and he's got a great
blog
! It's chock full of great American junk, collectibles, and sleek rustic style. Well he had a contest on his blog letting his readers vote on whether his forthcoming book on old crackly dollheads (which I furiously hunt and gather) will be published online or in print. Despite my being a pc addict I voted for print. I just love clearing off the coffee table and laying out all of my current inspiration, just seeing it all at once...open books, tear sheets from magazines, paint chips, wallpaper swatches, old photos, etc... Anyway, I won the contest!!! And will be receiving a free copy of his book when it comes out in print! Oh, and I mustn't fail to mention the hilarious title of the book..."Crackheads"...when you check out his site and blog you'll totally love it! I love winning things, and the more dollheads in my life the better! I can't wait for this book! Stop by and check out his world..be sure to tell him Jenny Holiday sent ya! :)
Well, the weather is finally perfect here in Jersey and we're hitting the park. Thanks to all you guys that leave such fun and sweet comments! I'll be back soon!
xoxo Jenny