SILVER BELLA!!!!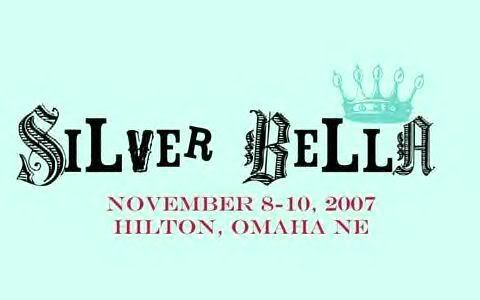 For a little while now I've been keeping a secret. Well, not exactly keeping a secret...more like selectively leaving out bits of specific information. I'd leave out this info every time I'd get into a conversation about this year's
Silver Bella
...and being that
Silver Bella
is the
event of the year
in this little community I found myself holding my tongue very often. And that bit of info I was holding back had to do with who exactly the Silver Bella instructors are. Well now I can finally say that two of the instructors are
ME
and
AARON
!! And we are so psyched to be a part of it! Here are the names of the other instructors, and I can't believe lil' old me and Aar will be among them! : Pam Garrison, Charlotte Lyons, Rebecca Sower, Carolyn Peeler, Jennifer Paganelli, Kimberly Kwan, and Teresa McFayden!
Now, before I go further, let me explain what Silver Bella is for those who don't know, or better yet, let me copy and paste a blurb from Teresa McFayden's blog:
"If you are enamoured by trendsetting projects with yesterday's charm, texture, and pattern;
if you are drawn to the country's leading artists of all things kitschy, altered and vintage chic;
if you are looking to grow and be refreshed and inspired like never before;
then Silver Bella is exactly where you need to be November 9-10!
There's no event on the map like this one! Former Silver Bella attendees will remember the returning Bellas CarolynPeeler, Pam Garrison and myself . This year we added more to tempt and delight you. Rebecca Sower who's well known for her timeless style in the paper arts industry, Charlotte Lyons the mistress of all things crafty and has worked extensively with Midwest Seasons of Cannon Falls and Mary Engelbreit, Jennifer Paganelli the textile genius of Sis Boom and who's fabrics and artwork grace everyone's favorite women's magazines almost monthly, and Jenny & Aaron are the dynamic duo of Everyday is a Holiday who continue to blow folks away with their vintage home goodness! Now you know why I am counting the 198 days to Silver Bella. Can't wait to work with all of them!."
Since the fabulous Teresa is the woman behind this magical event I figured It best to let her briefly explain.
Me and Aar really can't wait and have so many outrageously fun ideas for the projects we'll be doing for it! Make sure you go to Teresa's blog or the Silver Bella site to get all the info (click on each instructor ..it will take you to a page with a tiny photo..click on that photo for a bio!). There will be many BIG FABBB surprises soon to be announced so check back often! This is such a huge deal for us and this creative community we're all a part of! A chance for so many of us that are separated by hundreds and thousands of miles to finally take a break from our busy lives and converge in a centralized world of creative expression, growth, and friendship! It's so very fitting that this centralized world is pretty much in the country's dead center. We hope to see so many of you there!! It's going to be the event of the YEAR!!
Personally our biggest thrill is that Jennifer is an instructor this year!! She is a very dear friend of ours and lives just a bit north from us in her beautiful Connecticut home. We're gonna fly out to Omaha together! I'm sure you know all about Jennifer because she is a nearly omnipresent force in the world of pretty things, textiles, and drop dead style. Go to her blog and check out her world!
OK, that's all for now on Silver Bella.I'll be giving plenty of updates in posts to come!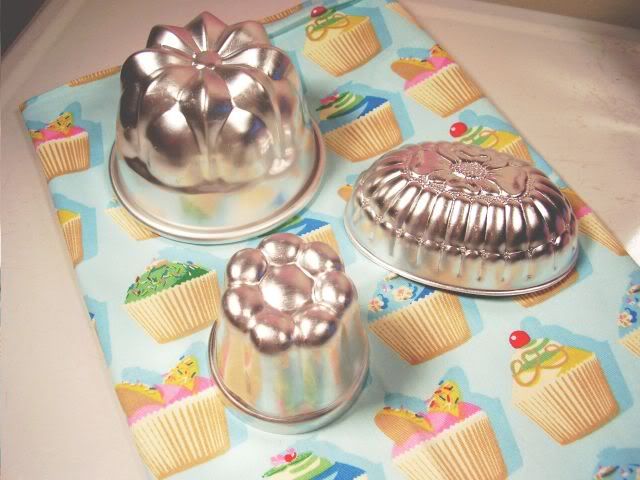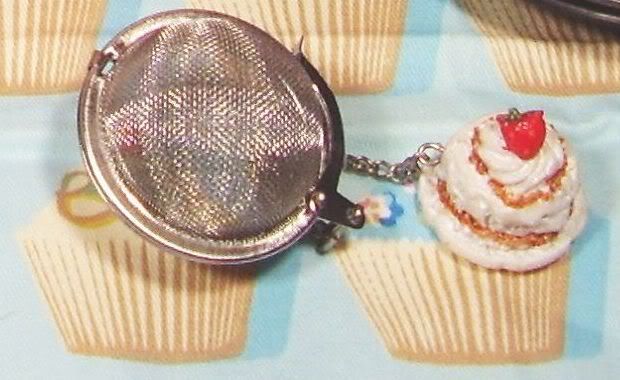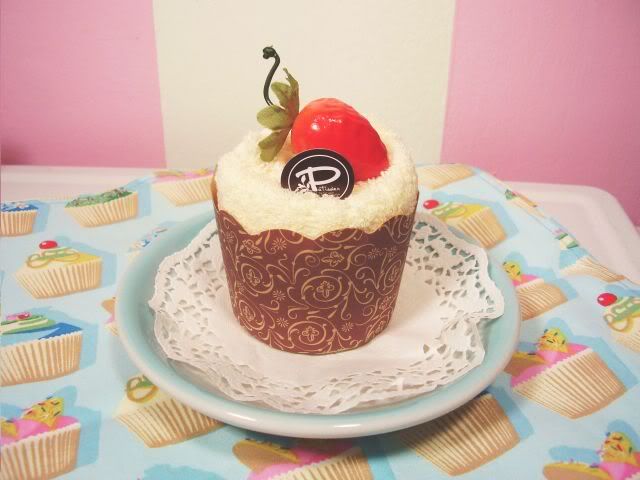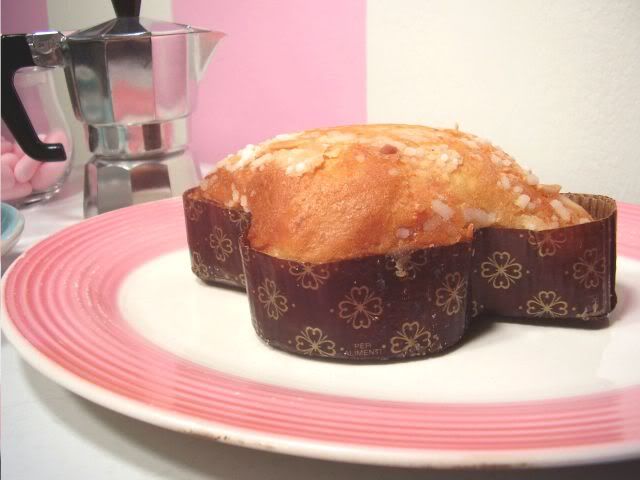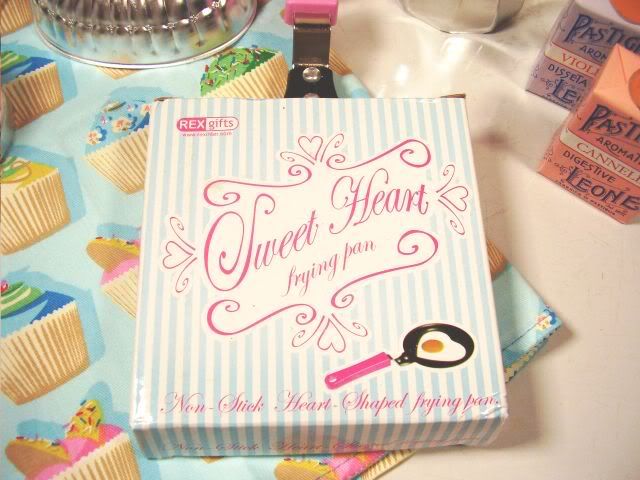 Rosanna, my super stylish friend from Italy, sent me all this stuff!! She's another partner of mine in the Vintage Kitchen Swap I just hosted. It's great because I feel like each carefully selected item sheds light on the who, what and where of Rosanna and at the same time it shows just how much she GETS me! And what's more ME than a cake in the shape of a bunny?! I cannot wait to use this pan!! She also sent a Columba, which is a traditional Italian Easter cake made in the shape of a dove. It was a mini one, and I say "was" because I have already eaten it! Then this tiny espresso pot along with some espresso roast coffee, which Aaron had and said was fabulous! (Unfortunately, I can only have decaf.) And the cupcakes dish towel is perfect...the colors are just right. And check this heart shaped frying pan fit for one sunny side up egg!...so cute, and will be put to good use since Aaron is a yolk guy...which I am NOT, it's only scrambled for me!! And I love the cake tea strainer! Wait, do I even need to say that? Let me just say I love all the stuff! You probably can't tell by the photo but that little Italian pastry is faux food...it's actually a dish towel and magnet set rolled up and packaged to look just like a lil' dessert! Complete with the traditional brown wrapper and a little "chocolate" poke!
The jar of pink candies you see is a stand in. Well the candies and the fab, hand written label are from Rosanna, (in Italy they call these pink candy coated almonds "confetti") the jar you see is mine because the beautifully etched glass apothecary jar from Rosanna was totally shattered when it arrived! boo hoo, and she packed it well...tons of bubble wrap...but still...broken. At least I could salvage the confetti and that fab label! Oh, and also a sampling of some of the most adorable and visually distinct Pastiglie candies, one of the oldest companies in Italy. Huge Thanks to Rosanna, and click here to check out some of her home in my archives.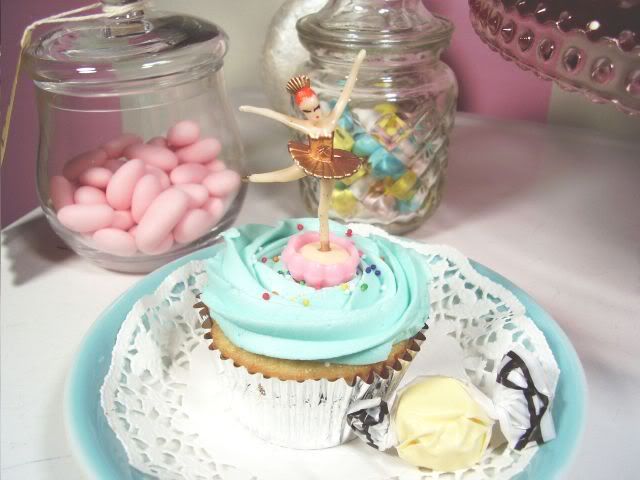 Here's a little springtime sweets vignette just for fun! I used a bunch of my newly acquired stuff...the plastic bunnies & ballerina's from Amanda, the sweet button flowers from Jen , and candies from Rosanna! Cupcakes make my world go 'round!! :)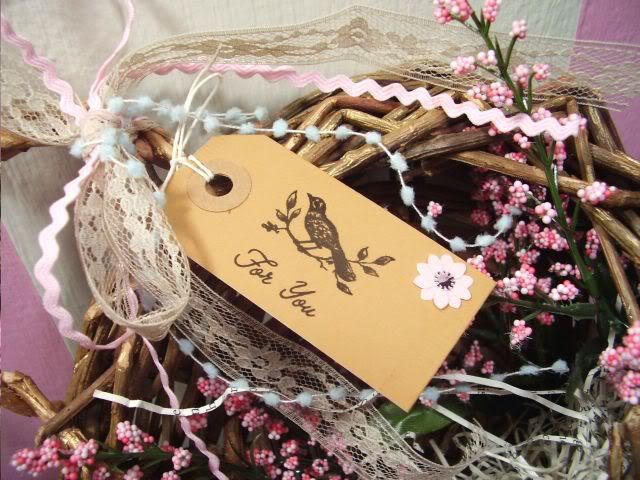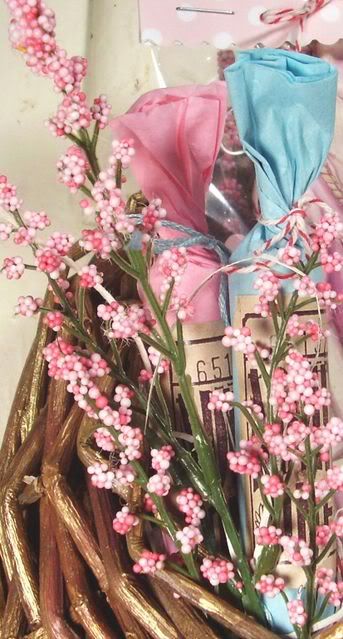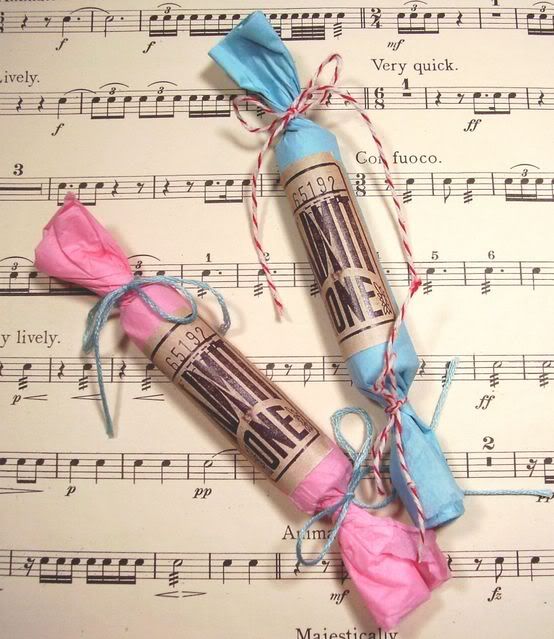 Lastly, some SNEAK PEEK pics of my part of a May Basket Swap. The swap was hosted by the ever sweet and always dazzling Kari/Artsy Mama. The May Basket was such a great subject matter for a swap, they were traditionally hung on doors full of fresh flowers and candies the night before May Day. My partner is Ramona from Germany and I hope she loves what I've put together for her! I had a lot of fun doing it! Artsy Mama asked that everybody hold off posting pics of their received baskets until May 1st, so check the blogs then... but for now check out some other fab baskets on Flickr !!
Alright, gotta go mix some paint. Hope everyone is flourishing with springtime creativity!
xoxo Jenny