For the love of paper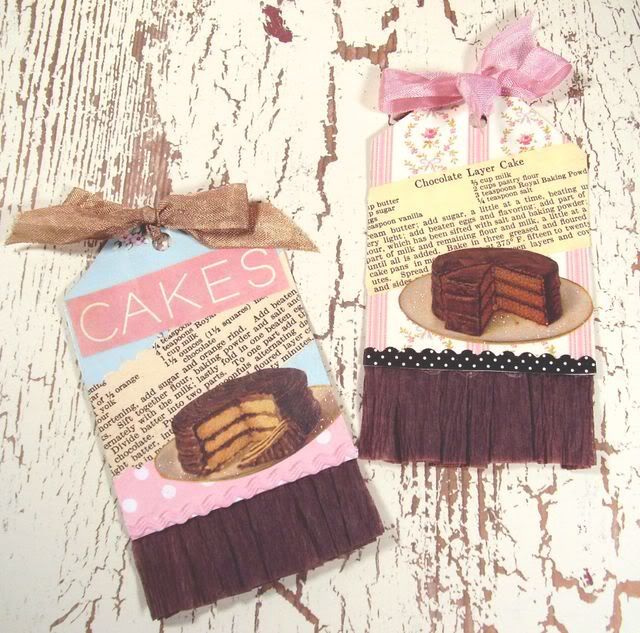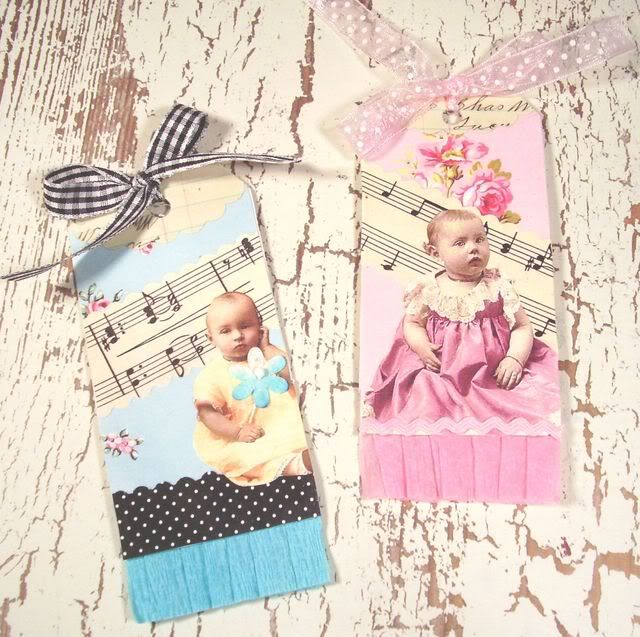 Here are the tags I made for my super duper cool pal
Melfie
.
I love doing one on one swaps with like minded, crafty handed friends. And it's a toss up as to what's more fun about it...the giving or the getting...the similarities or the differences. First off, what's great about making something for a friend is that you'll always make it better than if you were making it for yourself. You'll put in a little more care...kinda like when you set the table for dinner company, but if you're eating home alone your dinner plate may share table space with a stack or two of magazines and coupons that you probably won't ever use. When I make something for me I might leave the back unfinished or something...I mean, it really doesn't matter if the back is finished but it's the extra step you'll take when you're sending it out to a friend. And that's the good part about being on the receiving end...you just know that you're getting something special and cared for. I love my tags from Melfie and although we've got tons of obvious similarities it's cool to see how different our tags are. Melfie's have a more farmhouse/grandmas attic/ vintagey/ ephemeral/ story book/Anthropologie feel...whereas mine are varnished over and therefore sorta candy coated and bright. Anyway, all this talk about paper craft
just
made me think of the inaugural issue of
Somerset
Life
...if you don't have it, go get it. It is chock full of stunning, make ya melt, paper wizardry from the magical hands of people
like Connie Govea Stuart,
Pam
Garrison
,
Anna
Corba
and more. Also, a fab cover feature about the fascinating world of creative blogging. What a great publication...Jenny Doh and company rule!! I buy my Somerset Studio mags and stuff at AC Moore because Barnes and Noble always sell out. And speaking of AC Moore...they are kicking up their paper game big time...lots more premium brands and way better displays! I'm sure it's in response to Michaels hooking up with Martha Stewart and her line of scrap booking stuff. Fierce competition in the retail world is great because we consumers are the winners...we get better buying options and more sale events. And a girl at Michaels told Aaron something funny...well Michaels always has those great coupons...40% off 30% off etc... but get this...you can use the coupons on anything in
the store except the Martha stuff!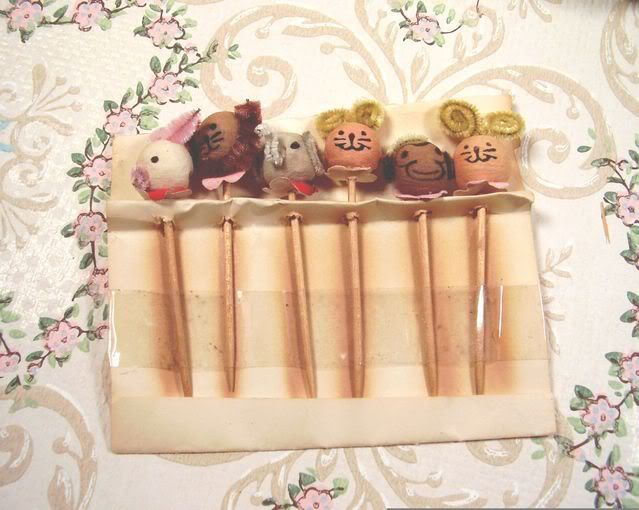 Well,
Holly
Doodle
was sooooo sweet to send me these incredible gifts as a thank you for hosting the vintage kitchen swap. I mean, wow! This is some of the bestvintage wallpaper ever!! I think if the walls of my soul were papered they'd be papered in these exact patterns and colors! And the cupcake toppers made of spun cotton/ chenille...how did she know how much I covet these...they fit right into my growing collection...we even used some as reference when we painted our Easter cupcakes! Thank you so much Holly!
Well, right now me and Aaron are hard at work on some Everyday is a Holiday hand painted patterned papers. We have a handful so far and each new one that we do inspires the next so I think they're getting progressively better. I can't wait to make paper packs of them! When we've got a rounded out collection I'll post them right away...I'm big into the whole picture and the way each pattern and color compliments the next so I just couldn't possibly show it in bits and pieces. Ok, I hope everyone has a very relaxing three day weekend. I'm focused on not sweating.