Good stuff abound and all around!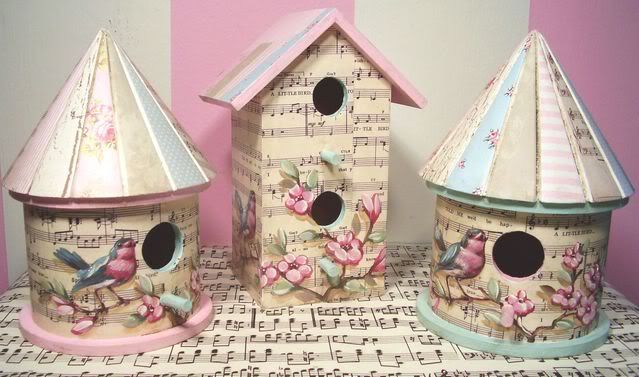 I hope everyone had a very very happy Mother's Day! Our's, despite some early hiccups in the plans, turned out very well. The hiccups involved our brunch reservation at a little buffet style place right on the ocean. When we arrived the place was overflowing with families in the waiting area and every table in the place was super full. The restaurant apparently took countless reservations and decided to ignore those and fill the place with walk-in patrons. All of us were probably too hungry to be really angry. We had pretty much three generations of moms in our little party (Aaron's mom, mom-mom, and Aar's sister in law Ann for her first mother's day) and these moms deserved some duty free feasting . Barb (Aar's mom) is always quick with a plan B...so right out in front of the over flowing restaurant we all circled what we wanted from a nearby Italian restaurant's menu, called in the order, and rendezvoused at Barb's for maybe the most garlic and marinara filled brunch ever. After that, me and Aaron headed over to my parents and capped off our visit there with a trip to a park to release one of Walt's snapper turtles in a pond. I believe reptiles and the like are involved in every holiday at my parent's house. Anyway, we made our moms handpainted and collage birdhouses with all sorts of vintage and new papers mixed with our own painted pattern papers and handpainted birds and decorative floral details. They're a bit outside of our normal feel because we designed them specifically for our moms but we're thinking about doing some a lil' more "Everyday is a Holiday style". The feedback on Flickr for these has been very sweet, and if any of you guys would be into some birdhouses from us, your feedback would be much appreciated!
Kari
the Artsy Mama is at it again!!! My goodness! look what arrived at my door! I love this! Just toooo adorable for words. Pop over to her blog for some views of all the crafty splendor she's been gifting the world with. And while I'm on the subject of Artsy Mama...she's the gal who hosted the awesome May basket swap! You've probably been over to Flickr and have already oohed and aahed at all the photos of baskets given and received. I posted some sneak peeks of mine a while back and I had so much fun putting it together and designing specifically for my partner
Ramona
in Germany. I received her basket to me and all the goodies were so thoughtful and perfect...but on my end I'm a little bit crushed because my basket to her has not yet arrived and it's been so long that I fear it never will. I ship so so much without a problem but even if something bad happens one time, its much too often. I'm still hoping that it's held up in customs for some strange reason : ( And if not, and it never gets there I have to do something new, because no swap experience should end on a down note. Ramona's gotta get some good stuff.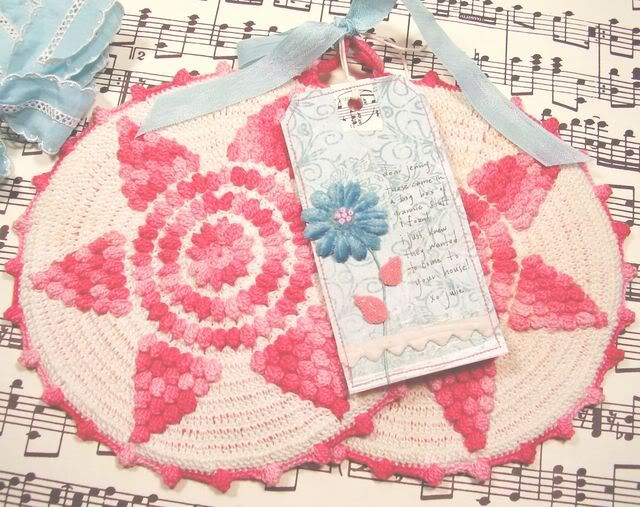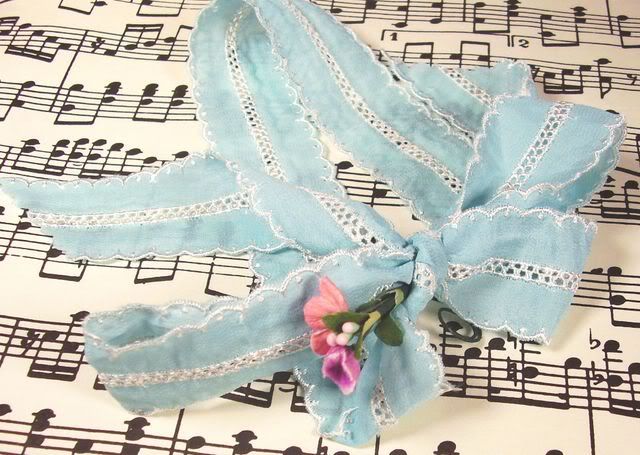 Sweeeeeetheart
Julie
sent me these...some darling Granny Chic crochet potholders in the happiest hues of bright pink and white! And the handmade tag is incredible...just look at her handwriting...so small, gentle, and downright fontworthy! Jeeez I love them so much, thank you for thinking of me Julie! Toooo sweet! I'll think of you every time I pull a fresh batch of cupcakes from my oven...and that's a good moment of thought to occupy in ones mind...that mental real estate is worth a lot!! And I love love the ribbon/ trim that was tied around the package! Could you just melt?! I did!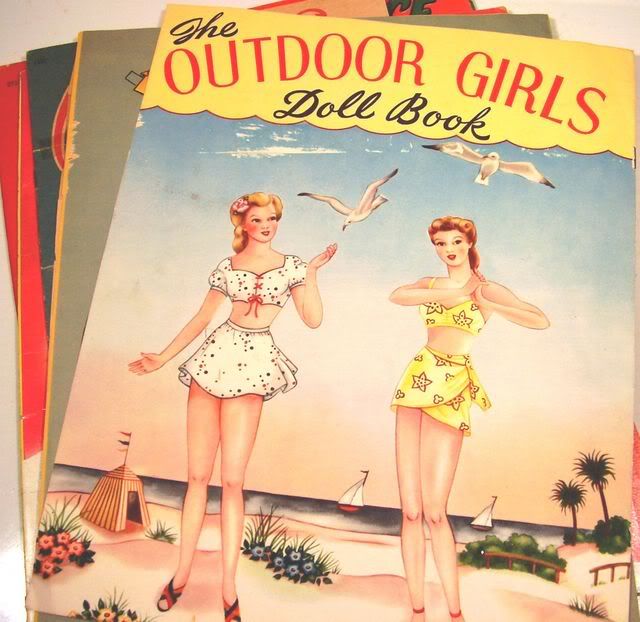 I've got a friend named Anna out in Cali. You could call her a specialist in flea market search and rescue. You can also call her a laugh riot! She hits up flea markets more frequently than you or I hit up the fridge! And she possesses a hawkeye for all that's good and great in the worn world of vintage goods...especially greeting cards. She won't pass stuff up and if it's "fiddy cent" its hers! You may remember a while back I posted some pics of a whole set of fabulous white with turquoise rim dinnerware...well, that was one of Anna's finds and all she wanted for it was the shipping cost! Like I said, she's in search and rescue...a not for profit antique adoption service! Well she's at it again and this time we adopted these paper dolls! Anna knows us well...me and Aaron love these, especially this era! The beach gals are gorgeous and we are gonna hijack the look and feel of 'em for an upcoming project! Anna is so darn cool and I receive her mail (which seems to come almost weekly!) with great enthusiasm!
Ok, Ok, I'm tooo excited about these incredible and oh-so-Jenny-holiday tags handmade for me by my sugar sweet friend
Melfie
!! We did a one on one swap since I was too late for the incredible swap hosted by Heather over at
Speckled Egg
. (next time...I promise!) When I opened these up I can only say I felt Spoiled! Really, too much good stuff for me! I just love handiwork like this...all of the elements play off of each other so perfectly. The balance, color, content, mood...just all so evocative of sweet things, good things, cute things, etc... Melfie, your tags are on their way! ( I didn't want to spoil the fun by posting a pic just yet) If you love them only half as much as I love mine then I've succeeded!....Oh Oh Oh...how on earth could I forget...Melfie just opened an Etsy
shop
!! Get over there!! :)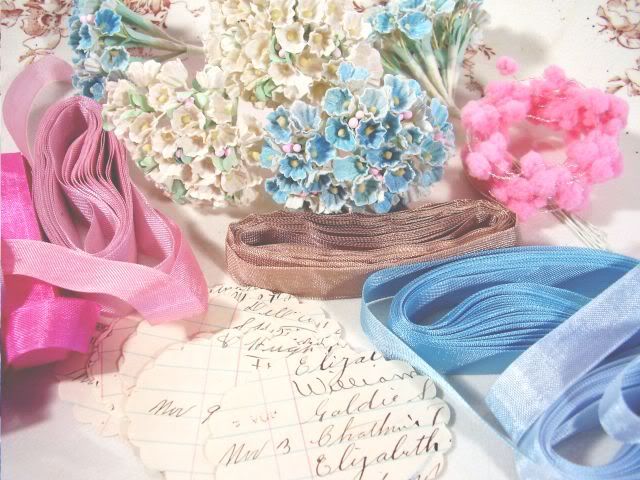 If you do not know of
Papier
Valise
then your life has not yet begun!! Here is just a smidge of a sample of what you can get over there. The package landed on my doorstep and I just wanted to drop everything I was doing and just work with this fantastic stuff. At Papier Valise you'll find an ever changing array of dazzling crafting goodies...from vintage ledger paper cut into perfect scallop edged ovals, to the infinitely coveted tiny lil' paper millinery flower bundles and satin seam binding in all the right colors! It's one of those candy land situations and you just gotta get over there, load up on some fantastic stuff, and getcha craft on!!
Well that's it for now. I apologize for my infrequency in posting...holiday weekends and catch up work seem to make me a dead beat blogger. I hope I slightly made up for my absence with all the eye candy above, though credit is due to the makers and senders of all that fine stuff! Aaron was pushing me to get blogging just so his 7 weird things would no longer occupy the top position on the page. Ok, all friends, fanatics, and fabulous fabricators of fun finery...take care!
xoxo Jenny