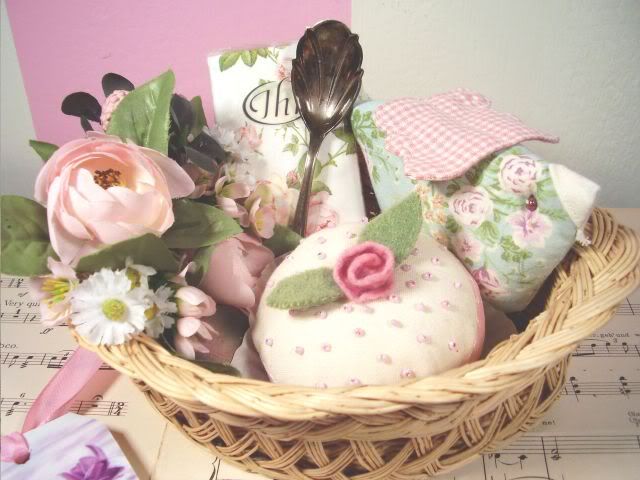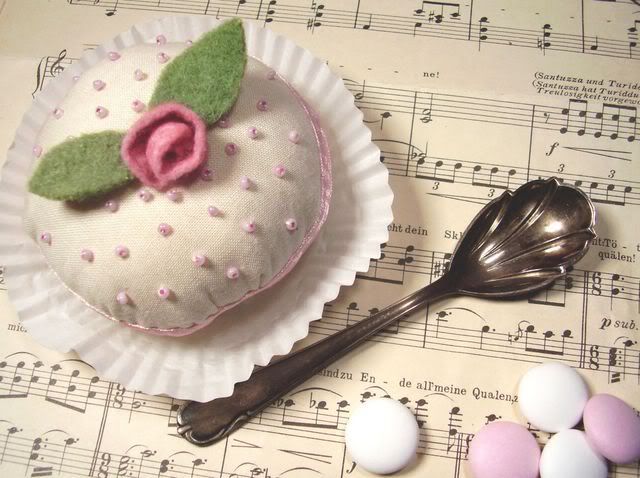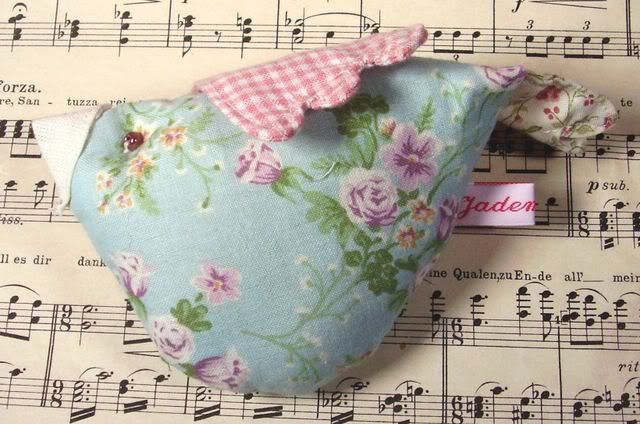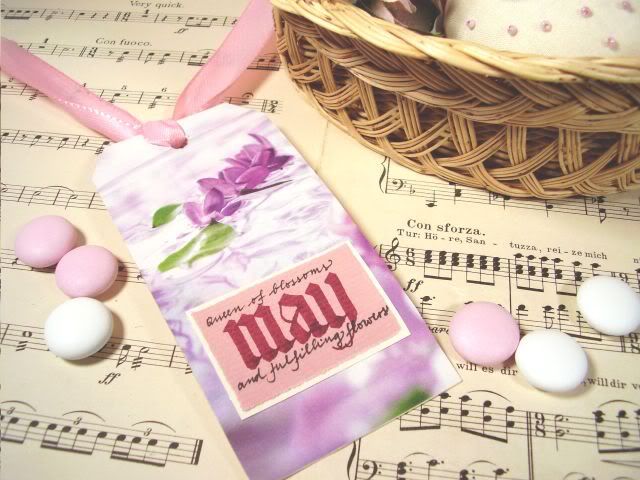 Happy May Day! well, 2nd of May Day. Yesterday was much too busy a day to post. First there was lots of prep work to do and the funny thing about our work is that even though it is so tied in to this computer it's actually the kind of work that should be done no where near the computer. All the sanding, priming, painting, gluing, sealing...these are very messy acts and since we don't have one of those Toughbook laptops we stay far from the PC on massive prep days. Also, in the evening we hit an outdoor roller hockey game of Walt's (littlest bro and verified center of my universe). So Happy May Day one day late and with that I bring pics of the May Day basket I received from my swap partner
Ramona
all the way from Germany! (this is my second wonderful package via Germany in the past two weeks.) She really put together some sweet goodies...a handmade plush cupcake with beaded sprinkles, a little hand sewn birdie (I love birdies!!), lovely floral tissues, an antique silver spoon with the perfect amount of tarnish and I'll be using this spoon everyday in my sugar bowl full of clear crystal glitter! Some pale pink and white chocolate candy mints and a sweet floral candle ring and May Day tag! I really love it when a swap comes together (paraphrasing Hannibal from the A-Team!) Cool to have a new friend across the seas. And a big thanks to
Kari
for hosting a super fab swap!! Hurry over to the
Flickr
group for lots and lots of May Day eye candy!!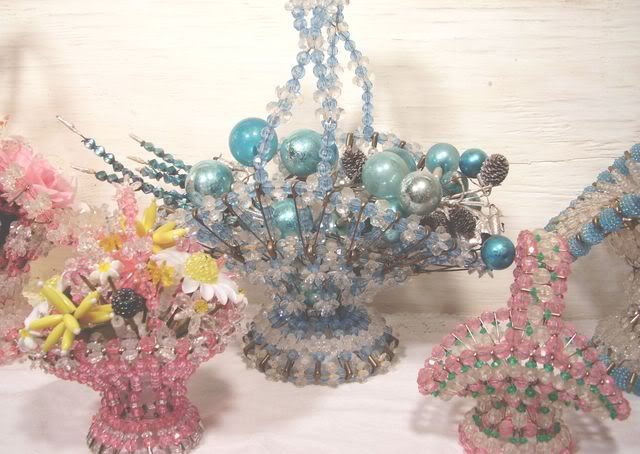 In keeping with the basket theme I thought I'd share a glimpse into a lil' obsession of mine...Vintage plastic bead and safety pin baskets!!! One of my fave collectibles not only for their perfect colors, sweet shapes and all around adorability...but also for the way they're constructed from such everyday materials. I'm into juxtaposing my holiday and seasonal decorations with their polar opposites, so I pair my springy baskets with Christmas balls, bead garlands and bead picks, bottle brush trees, and I bring 'em full circle by staging them side by side with the everpresent paper mache rabbits. Love these things!! If anybody out there has pink or blue ones, we should do a lil swap! ; ) wink wink!
The lovely Jen...a new friend and collector of our work, has sent some new pics of her lil' cupcake's room. Here's a tiny peek into the sweet and sunny bedroom she put together! I've been nudging Jen to join us all in blogland and I think she's probably gonna take the bait and wow us with southern style chronicles of her own! She emailed today to say she'll be flying in to Omaha for
Silver
Bella
! How Cool! I cannot wait to meet her! I've also gotten emails from
Wendy
and
Jeanie
saying they'll be there too. So so fun! It's gonna be an amazing time!
Ok, now it's time to shed my white collar for a blue one...meaning, get off the computer and do the daily dirty work involving myriad mediums of craft. We're working on new stuff that digs a bit deeper into our creative souls and we hope the results are a success. Also I want to mention a couple fabulous shops that are newly carrying our work:
"Just a Bed of Roses "
in Farmington Utah and
Chocolate
Soup
Amelia Island, Florida. We'll be posting pics and details soon and if your in their area you can go check them out in person (I know, getting out from behind the computer can be a sort of alien concept!). We'll post the details and pics as soon as we get 'em. Til next time...xoxo Jenny