Cute stuff!! (and I'm not just talkin' about the kid!)
It's a simple fact of life that Father's Day is not a holiday that stands on it's own. Just look at most retail promotions geared at "dads and grads". Families all over flock together for graduation parties and almost as an after thought they say..."and it's a Father's Day party as well...two parties in one!" And this isn't so bad, because by nature Dad's couldn't care less. Dad's like family get-togethers, good food, and a guilt free lazy afternoon. They're not worried about the celebration of man as patriarch. So in the duo holiday tradition Aaron's family celebrated baby Adam's 1st birthday on Father's Day. Barb, (Aaron's mom) as usual, went all out...she even had a bouquet of balloons and a sign on the street that said PARTY: This Way!------> which was meant to be humorous because it was really only a party for under a dozen people who all know exactly where Barb and Skip live. I made Adam's personal cake...the cake he'd be able to baby handle all he wanted. My plan was to bake it in the tiny round Wilton pan but on Saturday night the time slipped away from me and the store closed before I could get the pan. So instead I went with a one layer eight inch round and kept it simple, classic and sweet. Adam is not a cake lover. He touched it with one finger and sort of winced at the taste. I know Barb wanted the classic kid-with-cake-on-his-face photos but Adam just ain't down with the sweets...(yet!!) No problem, there were plenty of us to eat it.
Afterward Adam took a dip in his new pool and it was one of the best things I've seen in a long time. There he was, the center of the universe, the little sunshine in his little pool for one and all of us grown-up planets revolving around him, amazed by his every little gesture and facial expression. One thing that kid will never lack is attention! We could've watched him all day...but like I said, it was Father's Day too. So I went to go visit my Dad while Aaron drove Mom Mom back home to south Jersey.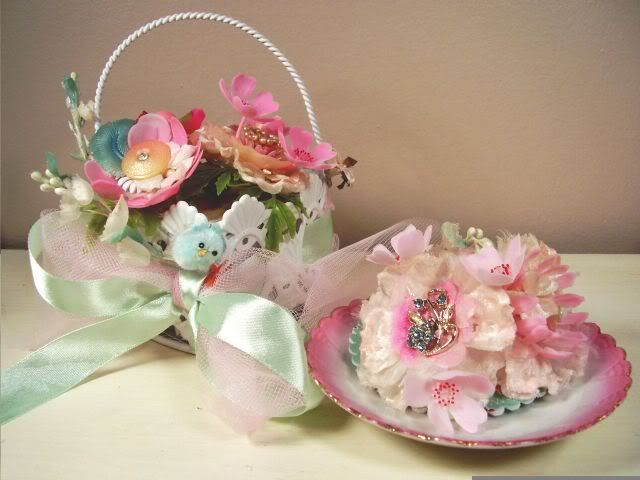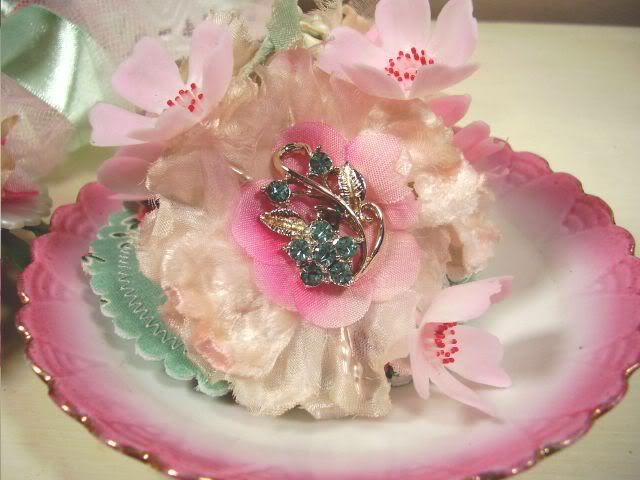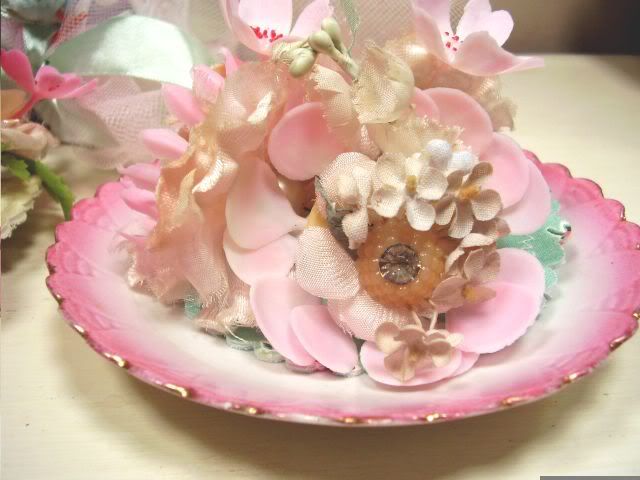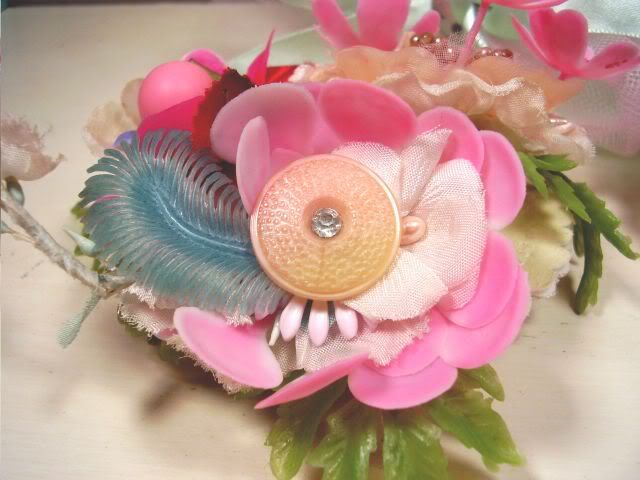 Check out these corsages!! Handmade with style and taste by
Beth
Holcombe
. They are fantastic! Vintage plastic flowers, buttons, beads, and sparkly rhinestone bits! I'm totally gonna wear 'em like crazy this summer on tank tops and cardigans and what rules is that they are super fab table top decor when not worn. And Beth's esthetic prowess is well rounded...evident in the presentation of these. One she put in a basket tied with a pretty little bow and a fuzzy aqua toned chick. And the other came on it's own little vintage Atlantic city plate. She know's me too well!! It's so hard to separate the corsage and the plate but I gotta do it because my bathroom wall is begging for a new addition to it's collection of vintage Jersey shore souvenir plates. Ohhh and just so you know...her BFF is none other than Suzy Spence aka
Georgia
Peachez
!! Now is that a dynamic Duo or what? Both of these oh so talented gals will be celebrating Grand Openings of their own Etsy shops, on July 8th!! I predict a feeding frenzy!!!!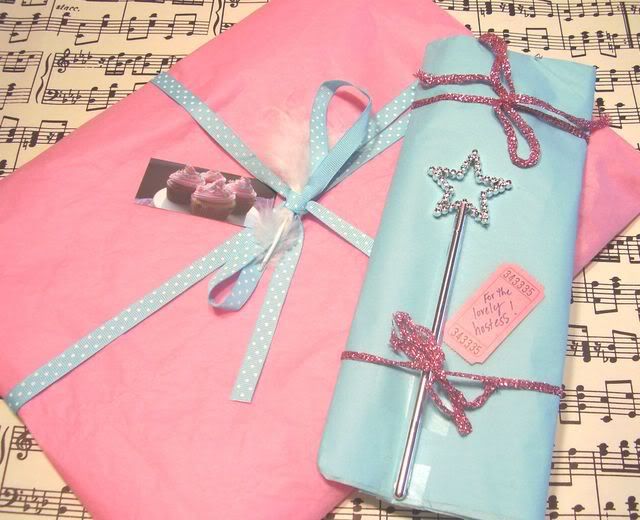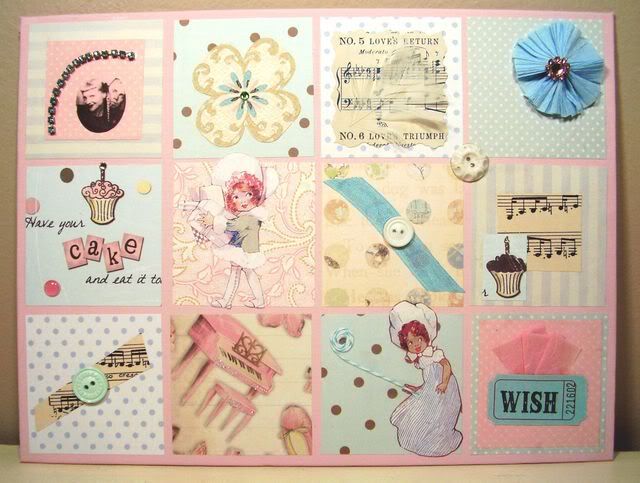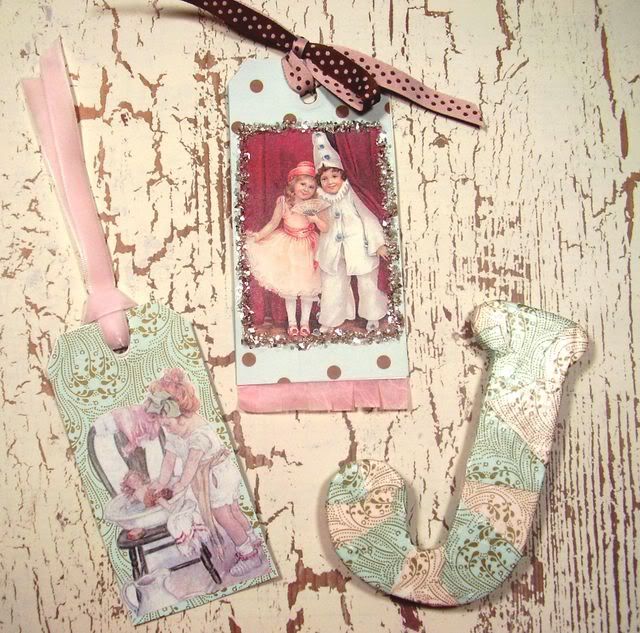 Today the first of my Bits & Pieces swaps arrived!! This sweet thing is from
Natalea
!! ( who has a brand new blog! yay!!) I'd seen her sneak peek pics on
Flickr
and I couldn't wait for it to get here. Such a super job, so neat and clean! And I love how she wrapped it! Also include was a Hostess gift! (so nice!) This cute as a button pair of collage tags and the sweetest collaged letter J magnet!!! As for the collage, I'm so psyched. I love every inch of it and can't wait to hang it in the space I have planned for it. All of the patterns, colors, and elements bring a lil' sparkle to my eye! Thank you so so much Natalea...your collage is coming soon! Workin' on it!!: )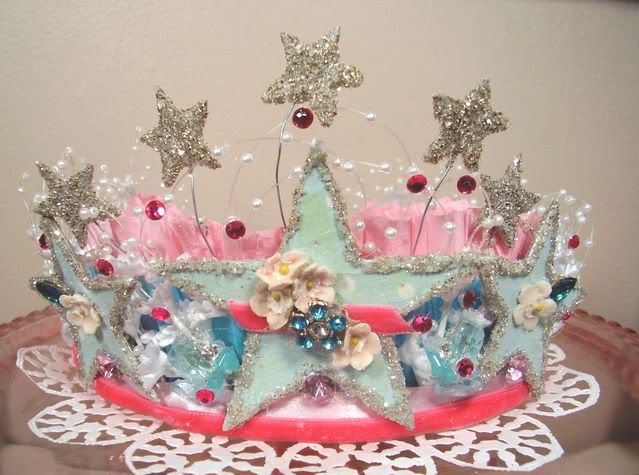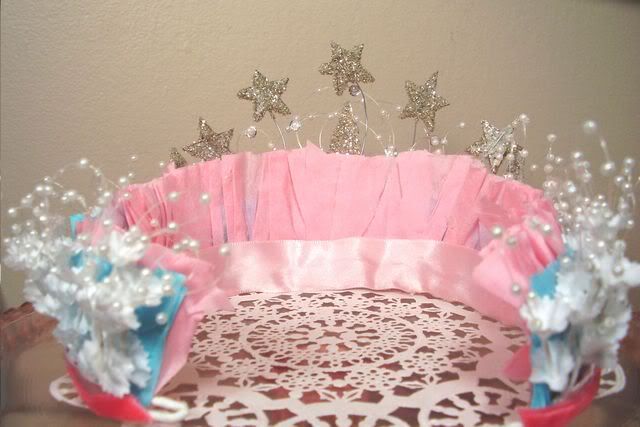 I think I've mentioned that I'm in a handmade crown and tiara swap as well. Well I got mine today and goodness gracious! What a total treasure! So many details! I think
Holly
might've dipped her hands in some actual magic dust before she sat down to create this...no, but really, you know how when something is so sparkly and shimmery and delicate that it just feels sorta magical? well this little crown has that feel. I want to find the perfect display for it...I'd love to find an aqua colored glass cake stand for it. I'll be mailing Holly's crown tomorrow. I had a lot of fun making it. I hope she loves it like I love hers.
It's the dawn of summer so that means all of our schedules are probably way off kilter right now. I've gotten a few emails from gals saying that their Bits & Pieces Collages are running a little behind...no problem, just as long as we contact our partners and let them know. We should all aim for a ship date of this upcoming Wednesday...sound good? I'm knee deep in my collages as I type this. Aaron thinks I'm nuts for having multiple partners...but I'm not nuts, I'm just scheming a little bit. This is my way of swindling some fabulous decor from the talented hands of others. Sure I have to work on five times as much stuff, but that's my tithe to the church of collage. So now I gotta get back to my paper piled desk. After the swap I plan on posting way more...but then again, I bet by this time next week I'll have signed on to three more swaps. It's a dirty job....xoxo Jenny