my! oh my! I have a bunch to show ya!
Swap Update!! Well, sign ups are closed and we've got 66 participants!! I sent out emails to everyone with partner names and details...I'm only waiting on info from a few of you (likes, dislikes, mailing address, email, etc...)...so if you've signed up and you know you haven't given me your particulars yet, contact me asap with all that. I really tried to make good match-ups and visited a ton of blogs in the process. It's so cool to be opened up to so many blogs that I haven't visited before...all brimming with style, some great home pics, collections, art, recipes, etc...
I myself pluralized my swap experience and took a handful of gals as partners. I'm looking forward to hanging the 9 x 12's in a little group on my studio wall! I love not knowing what the pieces will look like but still knowing that I'll love the stuff!
Ok, it's been too many days since I posted last. Partly because we've been a bit busy with orders as a result of a BIG sale we're having on some of our pieces that we're retiring...some of the markdowns are major so the response has been great. It's true that everybody loves a sale! So in addition to our item retirement sale we want to offer a
special sale
to you bloggers
...Buy any two 4" x 4" art squared pieces and get a third at half price! So if you want to partake in the 4 x 4 sale just go make your selections on
eBay
(biggest selection) or
Etsy
and email us your choices and then we can send you your discounted total/paypal invoice.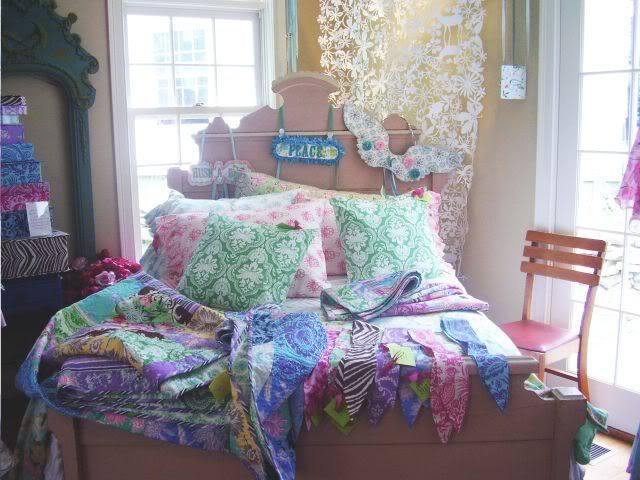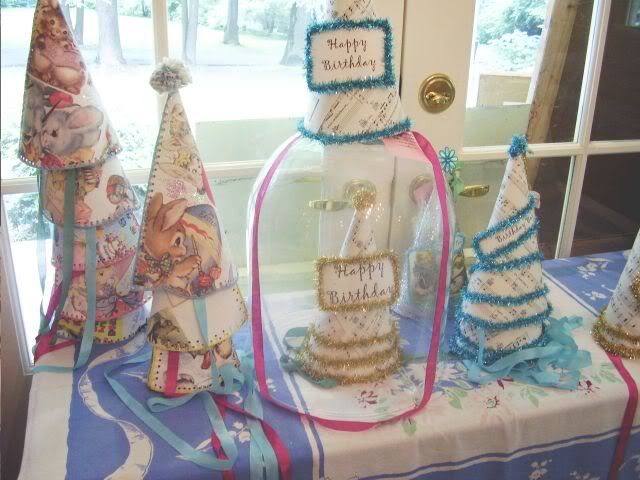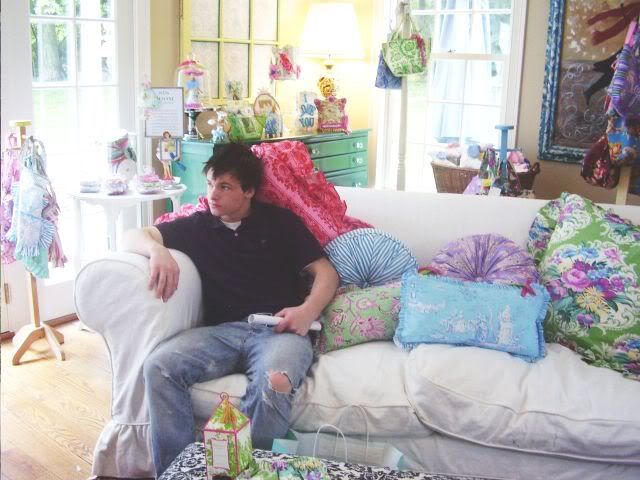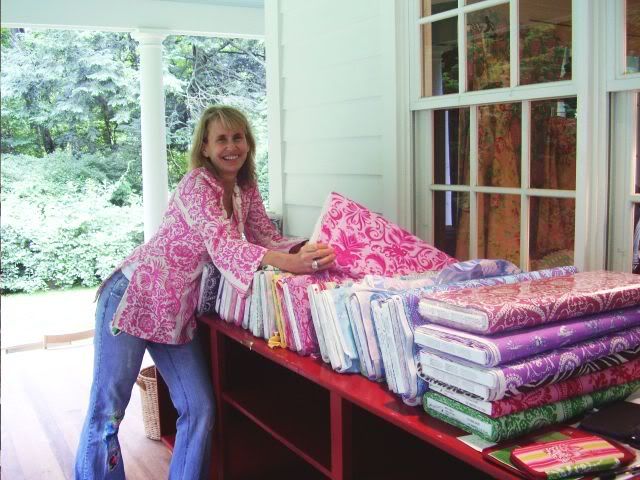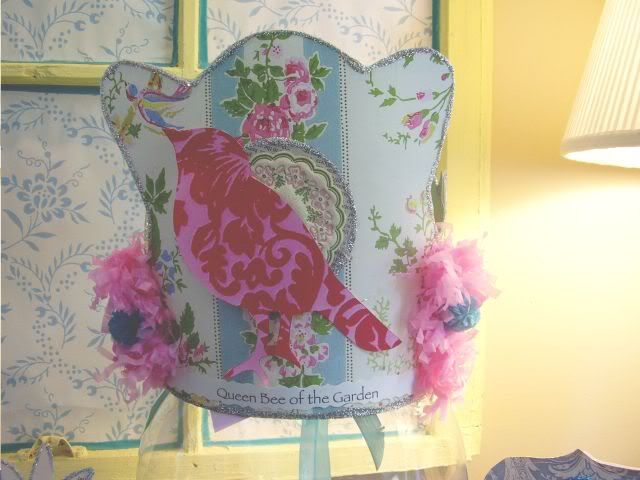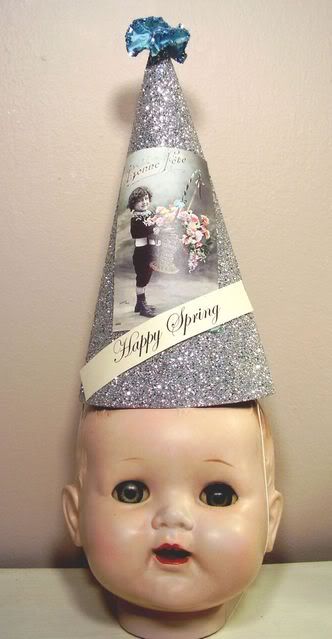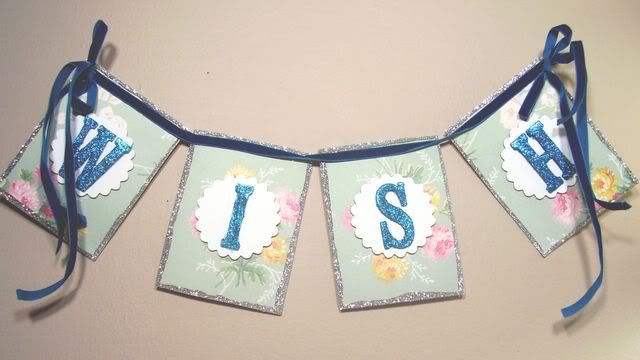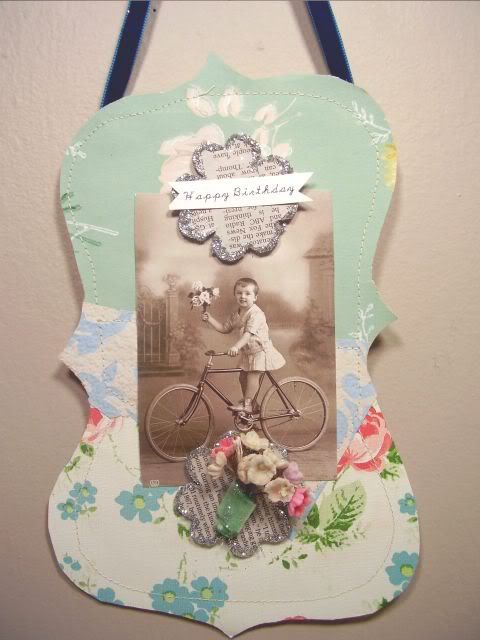 Alright, so that's part of why I have not posted...another part is that we took a little road trip up to Wilton, Connecticut forJennifer Paganelli's
Sis
Boom
event. As you can see from any of the pics, one thing you'll find in abundance at Sis Boom is COLOR! Paper crafts of all shapes and sizes, dresses, aprons, jewelry, candles, and even a little mini market out on the porch where you can buy any of her fabulous fabrics by the yard. All of the colors and patterns are just So Her!...you know the look a mile away. Also, Jennifer has so many friends and fans coming and going but she makes sure to spend some one on one time with everyone that comes through her door. She is one of the kindest, sweetest rockstars you'll ever meet! We went on the last day of the event and Jennifer told us that on the day before
Danielle
Muller
from the Vintage Dragonfly paid a visit...go see pics of her trip on her blog.
Me and Aar took my little bro Walt and my sister's little pup Jack. We're babysitting Jack for a week and he's not a leave-at-home type of dog...plus, he and our own little Carlos would get in too much trouble together if we left them by themselves...but that's a whole other story. Anyway, Jack's a good roadtrip companion and is totally cool with meeting tons of people. On the way back we sampled slices of pizza across a large swath of southeastern Connecticut and we have to say that from our mini survey that Jersey comes out on top as far as good pizza parlor slices...I know, Connecticut has Mystic Pizza but we didn't put them in the running. After pizza game we hit a Cold Stone Creamery and all of us nearly popped our buttons! A great day ends on a full belly! Oh yeah, and I got to come home with some outstanding Sis Boom stuff...check out the party hat (as modeled by one of my "crazy babies" )and the beautiful WISH banner! And the increddddible vintage photo collage!!! (complete with vintage millinery flowers!)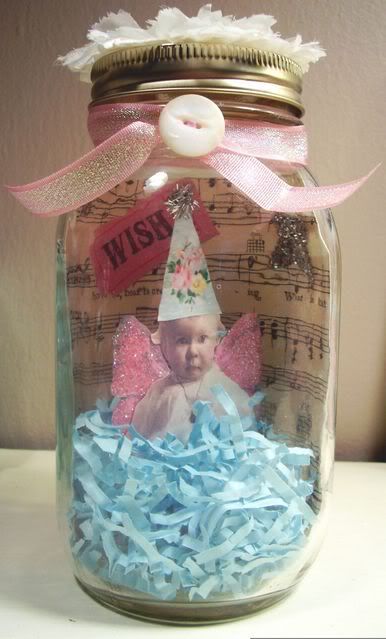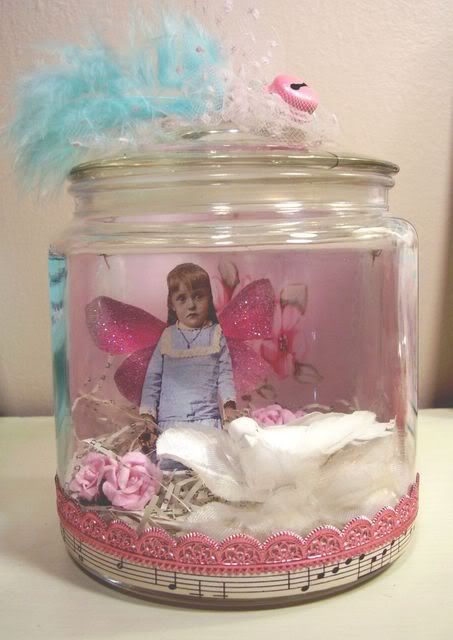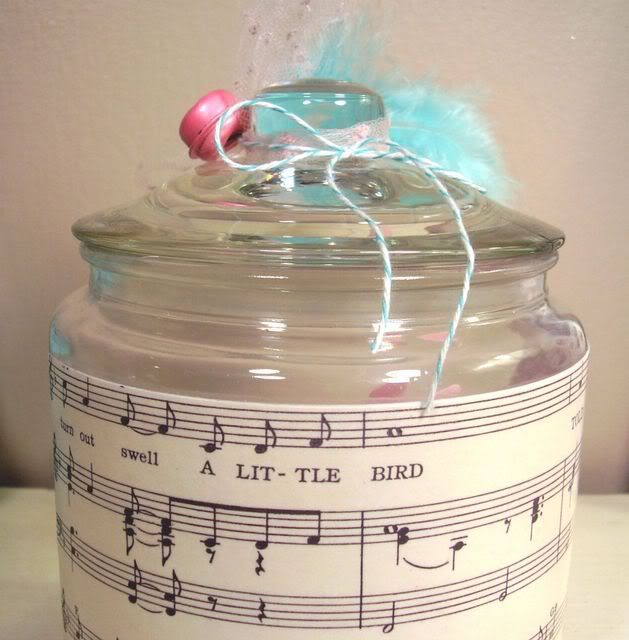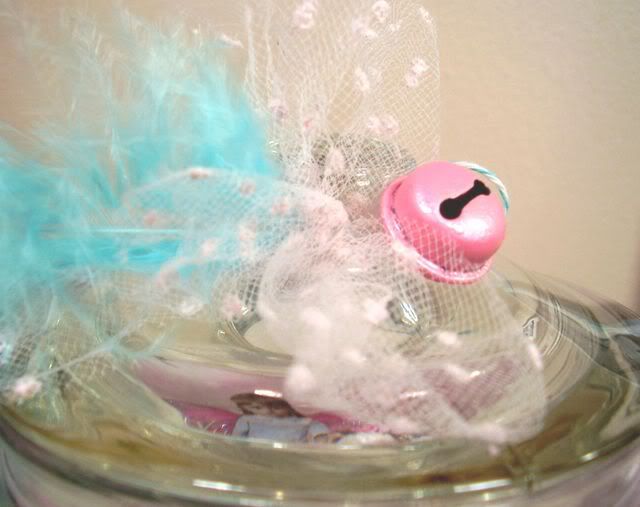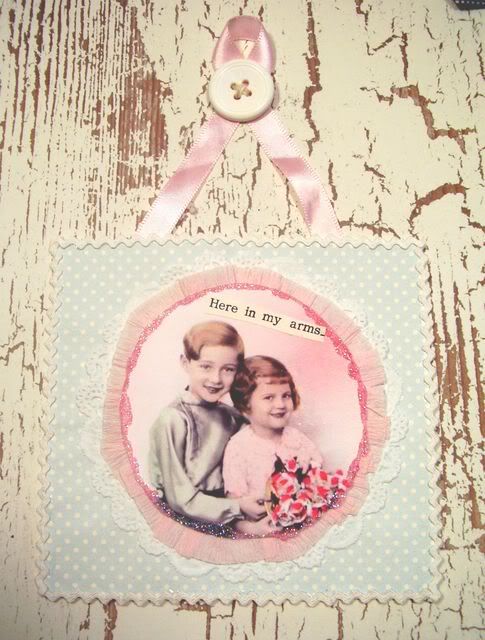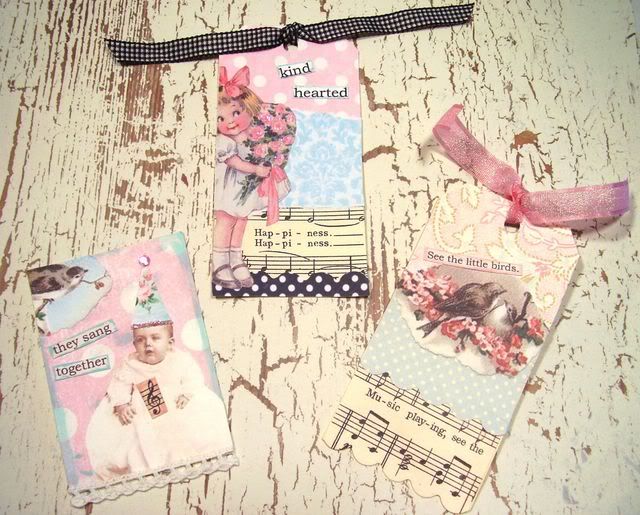 Here's some photos from
little
melfie's
Fairy Jar Swap! The first is the jar I received from my sweet online friend
Michelle
! I love her style and can't believe how in sync the two of us are as far as color palette, pattern, composition, etc...I love it! Next is the jar I sent her...can you believe how much we were on the same page?! We also did a mini one on one swap of 4 x 4's...I LOVE what she did! And she sent this fab ATC and 2 lovely tags! The fairy Jar swap was such a cool idea and I love all the different interpretations I've seen posted on
Flickr
!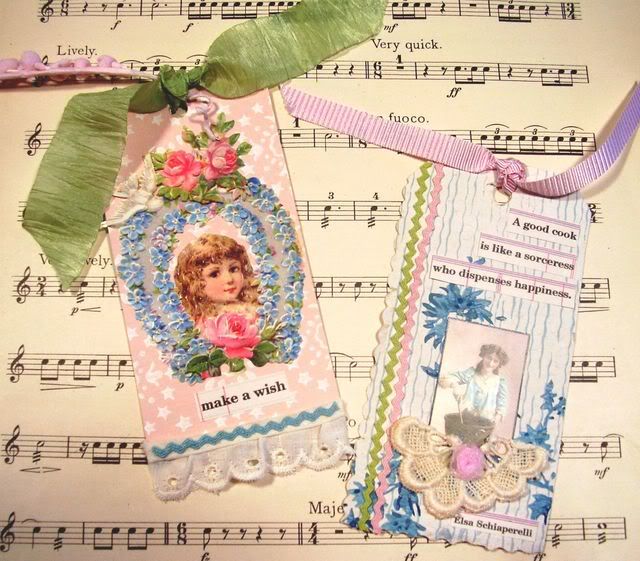 Me and the fabulously skilled
Tammy
Gilley
did a one on one tag swap and I'm so totally in love with the tags she made me! The minute details are all perfect and the patterns, colors, and neatness can't be topped! The one with the vintage gray wallpaper, jewels, and the vintage fashionista has some vintage map clipping on back that's to die for! No two tags are alike and yet they're all show stoppers! I'll post pics of the tags I sent her as soon as I get confirmation that she's received them.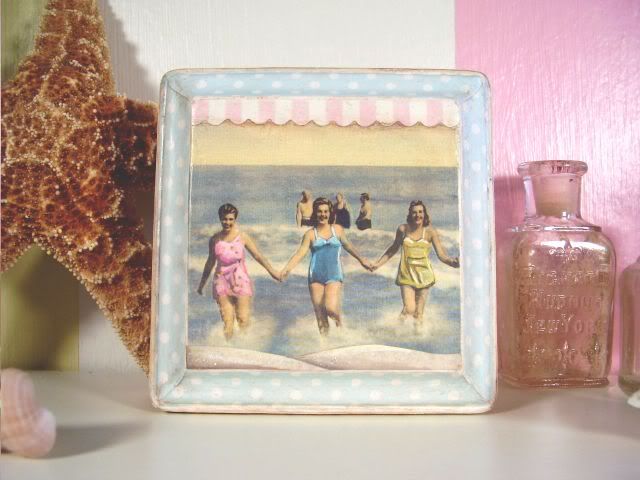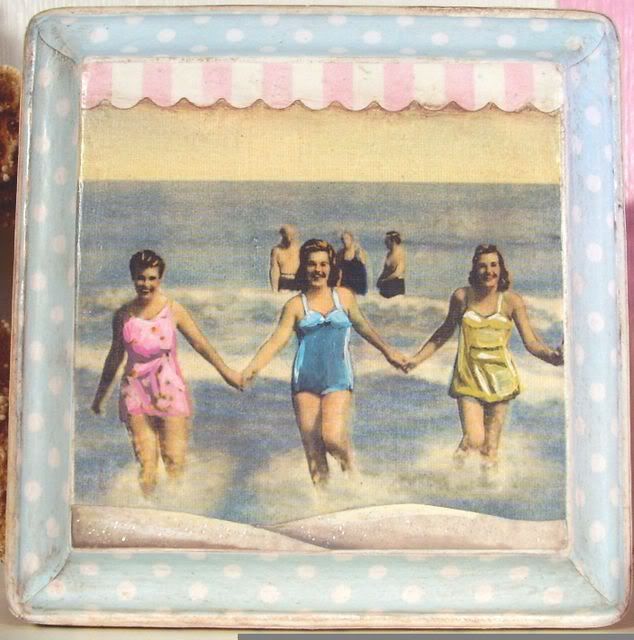 Next is my contribution to the She Sells Seashells by the Seashore 4 x 4 Swap hosted by
Danielle
, (whom I mentioned above-also went to Sis Boom.) I sent mine to Danielle herself. I had a lot of fun doing it because it totally captures the theme of my bathroom. The image of the bathing beauties comes from a vintage postcard and I repainted their swimsuits to go with my color theme. I love the glittery sand dunes in the foreground the most. I hope Danielle loves this little four inch square of vintage Jersey shore!
Ok, like I said up top, everybody should have a Bits and Pieces Collage Swap partner by now and if I haven't sent you one yet
email
me. Right now I'm trying to organize all the bits and pieces that seem to have taken full ownership of my work table! Feels like forever since I blogged!! I missed you guys! :)
Happy crafting..Happy swapping!
xoxo Jenny