Pups, papers, postcards and Peachez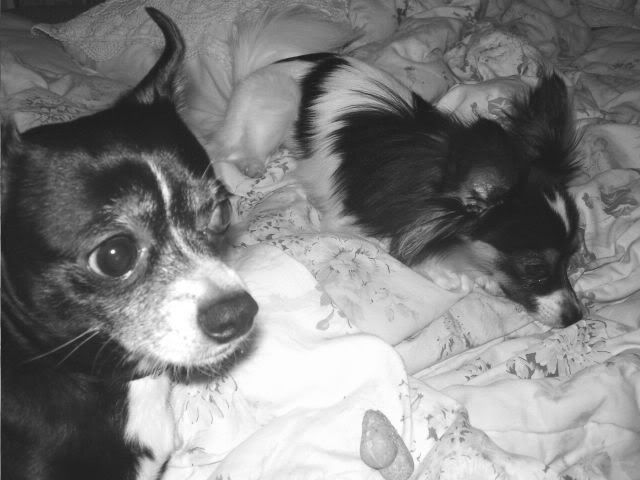 It's good to shake things up every once in a while. What I find funny is just how little it takes to sorta turn my world inside out. This past week, me, Aaron and Carlos were ruled by something weighing probably less than three pounds. Jack, my sister's tiny Papillon pup, was in our charge for eight days while she gallivanted around Cali with my middle brother Jay. On the first day of babysitting Jack we were like "whoa...do you think we're even gonna be able to get work done or even sleep for the next seven days?" The whole time-to-take-the-dog-for-a-walk schedule was thrown off, as were our wake up and go to bed times. Little Jack brought his little habits and us three had to change ours. And the six hour wrestling matches between Carlos and Jack left us saying " alright already guys!....is it really that much fun to nibble on each other's faces all day?!"
We have our safe and quiet little system for how our days and weeks go and this past week that system was defeated by a puppy! But I'm not complaining. As our days with Jack were drawing to a close we started to say "how in the world are we gonna give this little guy back? I think Missy is gonna have to go get a new dog." Because in truth, a little shake up in your schedule ends up being a good thing...and Jack is the cutest, sweetest little pup ever! He's good for a nap on your lap any time of day and he's got those adorable seeing-the-world-for-the-first-time eyeballs that only puppies have. Well, anyway, Missy is now back and Jack is gone from our day to day. Carlos keeps watching the door in anticipation and it's such a little heartache. We told him, the three of us will have to soldier on without Jack. Just look at those two together!!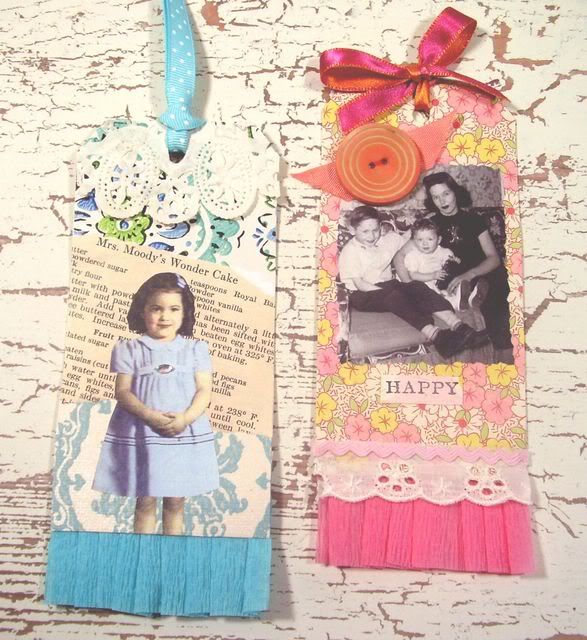 Ok, here are the tags I did for my pal
Tammy
. I made sure to work outside of my normal color palette and use some vintage wallpapers that had a summer feel, like beach bungalow sheets and the patterns of beach umbrellas. I love vintage Jersey shore postcards, especially the ones from motels with their technicolor shades and ideal shots of poolside fun and parking lots packed full with 50's cars. On one tag I used a vintage Wildwood postcard and I love that the folks lounging in the sun are definitely NOT models...Tammy got a kick out of that too!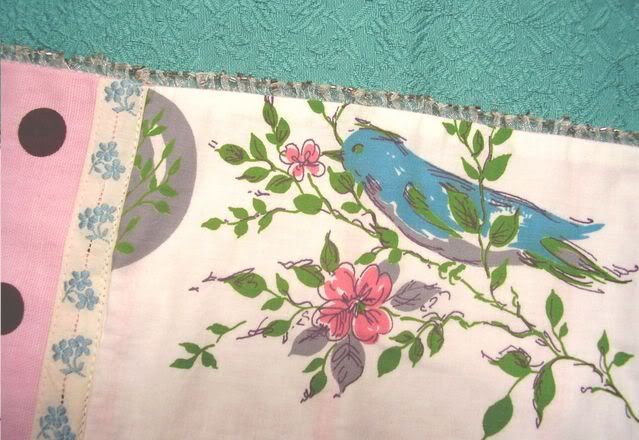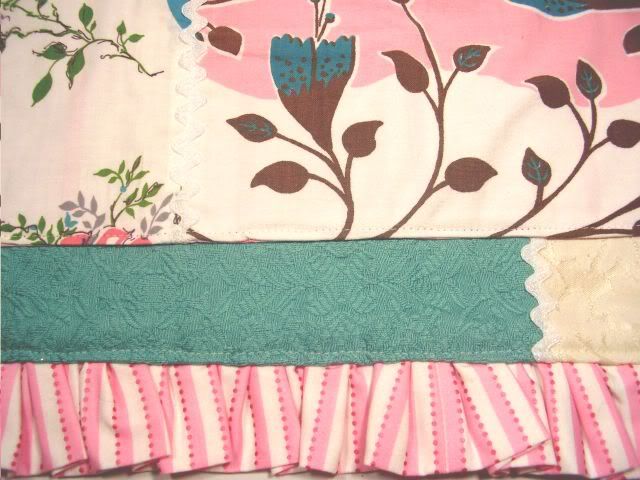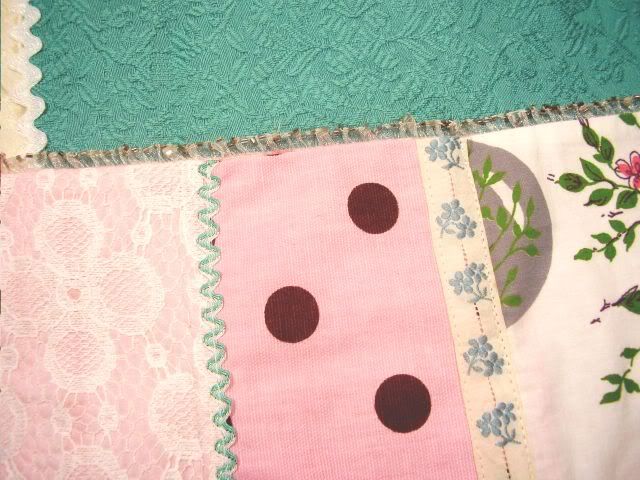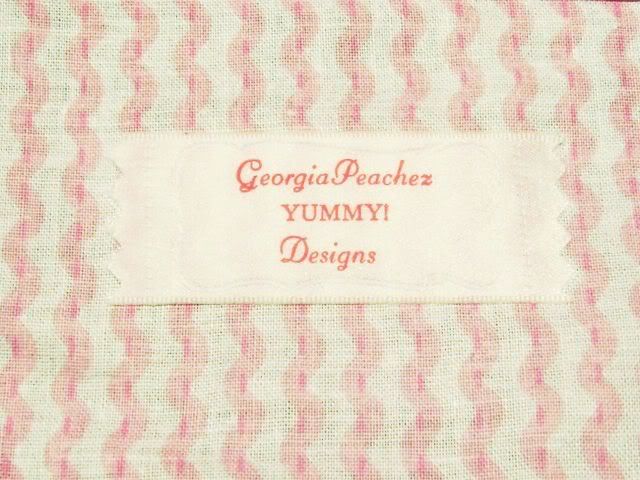 A long time Everyday is a Holiday supporter and all around sweet gal made this impeccably crafted custom apron for me! Especially made for wearing while in the hands-full act of crafting...and not just crafting on any occasion...this was made for me to wear at Silver Bella!!
Suzy
, who goes by Georgia Peachez, is a sewing sorceress!! First thing you notice is the quality, the sturdy, perfect stitching, and total flawlessness. Then you realize that ever color, pattern, and texture is perfectly chosen. She just knew what I love...stripes, polka dots, birds, aqua, rick rack, and just the right amount of silvery, beaded trim to subtly nod at
Silver
Bella
. You gotta go over to Suzy's
blog
! She's got a super fab studio space and amazing laptop bags!! Go and
shop
! I'm pretty sure she'll be opening an Etsy shop in the near future but for now you can check her out on
eBay!
Swap update. I set up a
Flickr
group/photo pool that all you swappers can go
join
. It would be cool to see some pics of bits and pieces in the pre assembly stage...because the journey is more important than the destination. But in truth, I'm more psyched for the destination...so when you guys ship and receive your finished collages you gotta post pics pronto!
Today is Father's day and we're also celebrating our favorite nephew Adam's first birthday!! I'm working on his personal mini cake now so he can have a full hands-on experience when he digs in. We got him an adorable summer bathing suit outfit and a crazy loud singing guitar with all the characters from the Backyardigans on it! I think Adam is gonna love it but it may have enough volume and peppy vocals to drive his parents absolutely mad...sorry guys! Ok, I've got a kitchen to clean up and family to visit!! Hope everyone is having a fantastic weekend!! Happy Father's day to all of your favorite Dads!! xoxo Jenny