What's been on the blog back burner
I always forget how busy summertime can be for us. Days of dawn til midnight work pile up and the keyboard and computer get further and further away. I've got so much to blog and I can never find a spare moment to get it all together. Well now it's Friday and being that there aren't any movies I'm dying to see I think I can steal a bit of time to share some of the artful life with friends. So since I've been away for so long, busy with the rigors of life, this installment condenses two entry's worth of good stuff! Wait, maybe three or four...
I've got a friend named
Cerri
and what she mailed me blew me away like dandelion seeds on a windy day in May! First let me tell you that my brand new postman unwittingly tricks me every day. I don't think he's got the route organized yet...anyway, a couple days ago I see the mail truck come and go and no packages are left behind. Then, a half hour later he comes back, ringing my bell and pounding my door, with two arms full of boxes. I go for the biggest one first and it's the one from Cerri that I've been so psyched for since she said she was sending it. The box was like a Trojan Horse full of your most indulgent good stuff shopping spree finds . A fabulous tote bag stuffed with just about everything she could possibly sell in her Etsy
shop
plus more! Me and Cerri are doing a one on one swap and this is the motherload she gave me. I really couldn't photograph every single item but if you look close you'll get a good idea of what an eye for style she has. For instance, in our little scrappy world those classic raffle style tickets are ubiquitous, as they should be...but Cerri's not only come wearing crowns, she also hand adorns each little crown with tiny dots of glass glitter. Don't waste your time scouring the earth for great finds...go to Cerri at Little Pink Studio! And by the way, Princess Abigail , that cute as a button birdie, came with a little calling card just so I know for certain that SHE is The Holiday Princess! I love everything so much and there is no way that I'll match it with my end of the swap but I'm doing my best.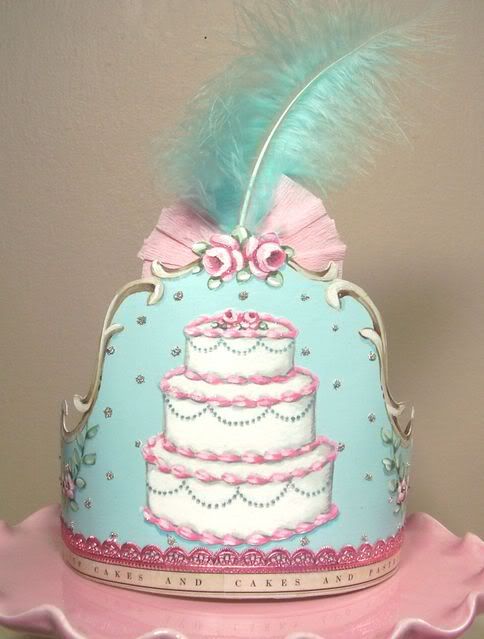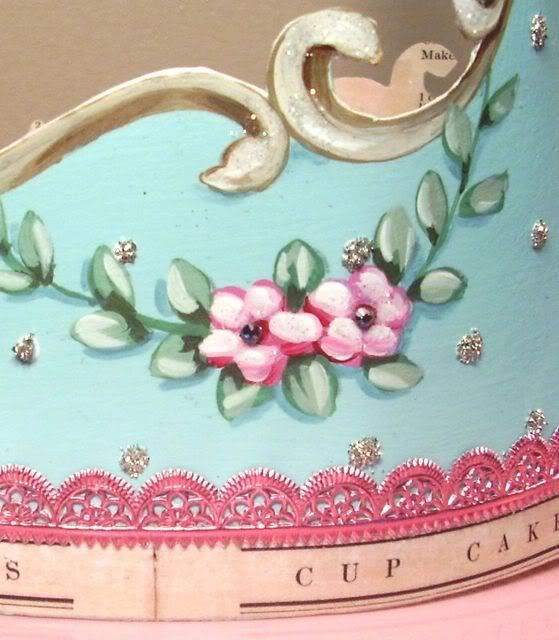 Before I get into what all was in those other boxes from my rookie mailman let me show off the
crown I made for
Holly
in the Crown and Tiara swap. I really loved making it and totally want to have some for sale. Holly's is 100% hand painted on front and I could not possibly find time to do all that painting over and over, so now I'm devising a way to do original crowns that aren't as labor intensive. I posted Holly's amazing crown to me in the previous entry. That was a really fun swap to do. Holly is a sweetheart and all around renaissance girl.
Ok, now back to the mail. I received two more Bit's and Pieces collages from my swap partners. I already posted
Natalea's
(pronounced Natalie...she told me this way early on in our friendship and yet I still say Nah-tah-lee-uh every time I read it!) So here are two new ones from Amy Elise and Mary Holcomb! I have eight partners in this swap. Aar wants to kill me for biting off more work than I can chew but I'm thinking more of the rewards this time around. I sorta assembled a dream team of collage artists to give me their unique perspectives on my personal tastes. So in the end my eight bits and pieces collages will come together to form one giant collage. (I know, twelve partners woulda been the exact right number but I'm slightly less crazy than that!)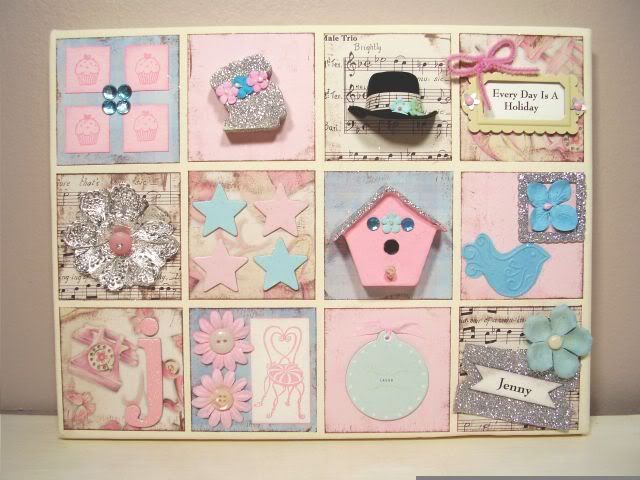 So first we have
Amy
Elise's
... she's an expert tag maker as I've shown previously and I think her collage illustrates her talent perfectly...super neat, balanced, shimmer in all the right spots, bits of text, music, tiny objects. And this sweetheart of a girl did a surprise one for Aaron! With so few clues about his "on-the-side" tastes she assembled a collage that coulda come right from his own brain! He can't even believe how perfect it is and what a gosh darn nice gesture! And as he was holding it today he realized that it's made up of 9 squares, and he's had a weird connection with the number 9 since way before I even knew him. So now we are doubly pleased!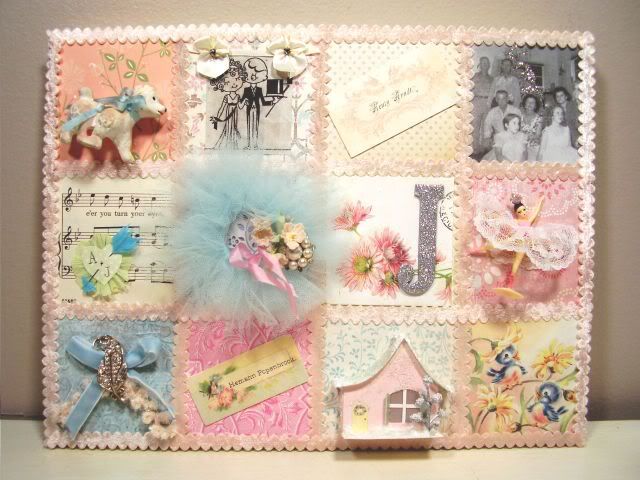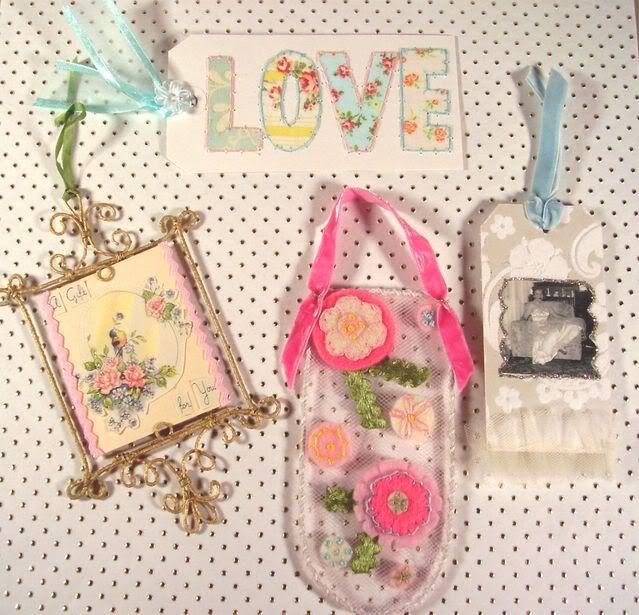 Next is the dazzling little number I got from
Mary
Holcomb
. Now you can really see what I'm saying about the totally unique artistic interpretations of my small aesthetic world. Mary said she had some second thoughts about giving up the pup in the top left corner and I don't blame her. The little cardboard half house she made from scratch if you can believe it. I sooooo love to spot the differences in style...Mary leans toward the kitschy and nostalgic...it's like a patchwork quilt of your most treasured keepsakes. And since I'm only up to my chin in swap madness me and Mary did a one on one swap of four tags...these are the four she made me. Those crafty hands of hers have got some range! Oh, and while I'm on the Bits and Pieces topic...be aware that there are many Bits and Pieces collages still in the hands of the US postal service and just as many being posted to the
Flickr
group daily. So post yours if haven't or just take a stop by for some tasty eye candy.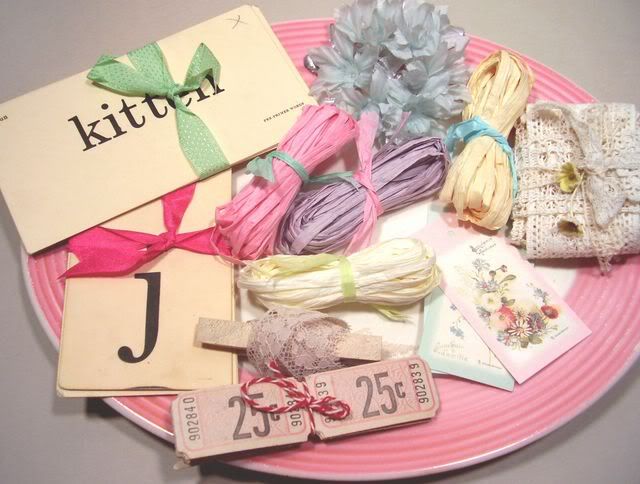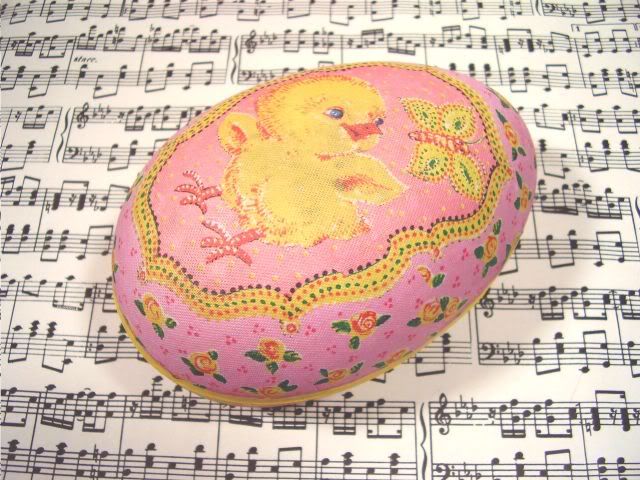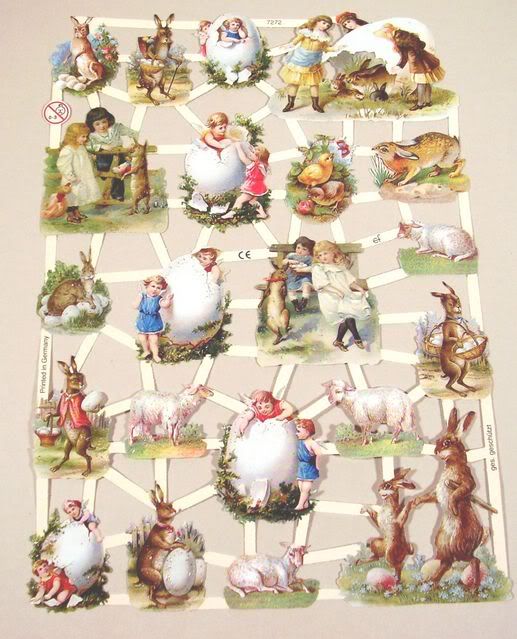 You've probably heard of Sepia Arts Studio and the gal behind the magic,
Delila
.

She's way up in Finland and I'm way down in Jersey and yet her magic managed to spread all over my little studio space. I open the box to find this adorable paper mache egg filled with, no, packed with, all this STUFF! I guess she temporarily forgot that over here Everyday is a Holiday because she actually apologized for it all being a bit too Eastery for this time of year! Heck, gimme Easter on Christmas and Halloween and vice versa! Love the photos, love the flash cards, love it ALL! Ya know, I dream of a day when we can take off for extended periods and travel the globe so we can pop in and visit amazing gals like Delila.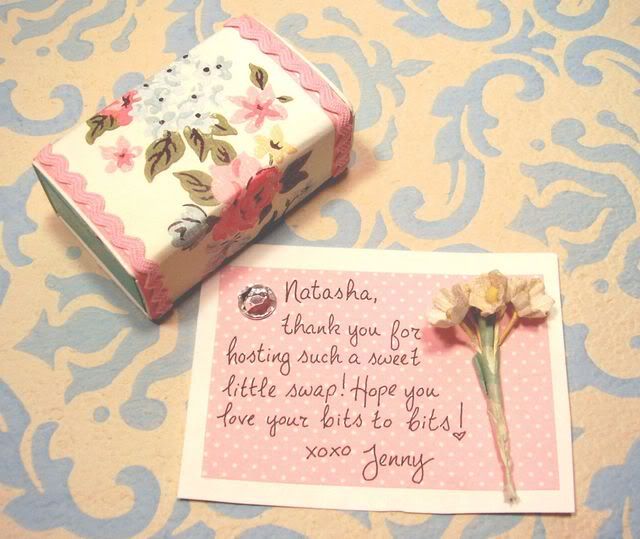 Speaking of spanning the globe... My opposite side of the world friend
Natasha
hosted a Shabby Chic Matchbox swap. The object is to decorate a tiny little matchbox and stuff it with as much little Shabby Chic supplies/bits/trinkets as you can. And you'd be shocked at how much you can actually fit in there. I'm just showing the outside for now so I don't ruin the surprise for Natasha. You gotta go check out her
blog
...she's a super sweet girl, an excellent artist, and has this little son named Leroy who is just out of this world amazing looking...the before and after haircut pics are great! Shipping to Australia is usually very costly but this swap was perfect because of the weight of the package, or I should say lack thereof. I see so much good stuff coming from down under. For years I've been checking out Australian Vogue...they are not at all scared of COLOR over there. What our magazines show during the "resort" season they've got going all year round! So, if you can, swap with an Aussie, and keep the package under four pounds!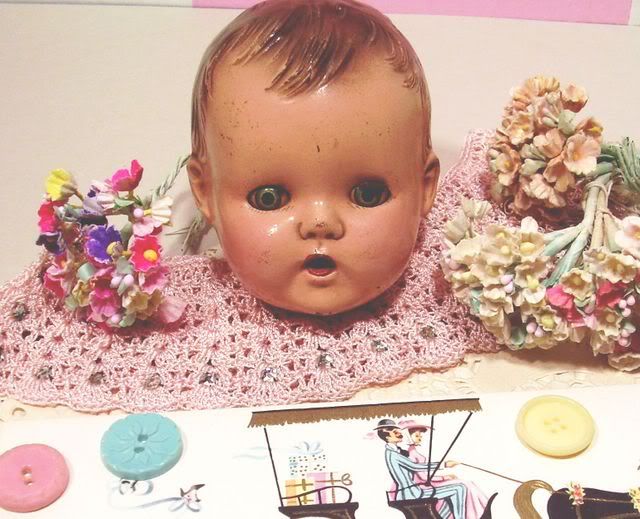 I've told you all about my friend Anna, the flea market fiend/queen from California. Well, that title describes about one sixteenth of her and that one sixteenth has got more voltage than a dozen cups of coffee. She's the owner of Buckaroo Bibs, and makes...you guessed it bibs! Fabulous bibs sold in fabulous shops nationwide. Well, she LIVES at flea markets. Back when the first Shabby Chic books came out and Rachel was instructing us all on flea market etiquette, bartering techniques, and how to separate treasure from trash...Anna was probably laughing and saying "Ms. Ashwell, I'm waaaay ahead of you." Anna knows her stuff and acquires her stuff for pennies, nickels, and her favorite "fiddy cent". She also knows how to pack a flat rate priority box. This box from her put any clown car you've seen to shame. The contents just kept on coming...and all of it, treasures! I've pictured close to none of it. What was inside really covered my whole queen size bed.
Lastly, we had another birthday over here. This time my biggest little bro Richard. He's now twenty two, and although it's astonishing how fast time goes it's not really shocking to see Rich as a man. The kid acted like a man since he was two. He was a sturdy little two year old and just hearing the cadence and delivery of his speech made you think he had his pick up truck parked around the corner. "Hey Jenn, I can jam." He'd say this in his best pick up truck having voice as he came in from the basketball hoop outside. And I remember how he was so grown up acting that I could have a mock locker room argument with him : "you can't jam. Look at how small you are and then look at Michael Jordan. HE can jam, you can't jam." And little Rich was completely unaffected by my doubts, saying "Yes I can. Ask Dad." That was his go-to phrase: "ask dad". Anyway, Here's the big guy's cake. As you can see, I've been on a paper flag kick. I'd rate my actual cake decorating skills as "acceptable". But taste wise, this was some darn good red velvet. I was thrilled that Richard made the red velvet request.
Ok, that's all that has been piling up on the blog back burner. I'll be back sooner next time, and hopefully with some pics of brand new projects underway and my end of the Bits and Pieces swap (eight of 'em!). Happy summer to you all, (winter in Australia) and have the laziest weekend you can muster...unless of course you're beating the dawn on flea market missions!