Angels for Brianna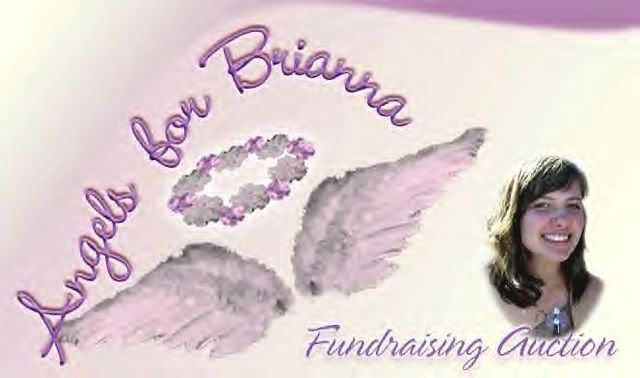 Happy weekend everyone! I just wanted to take a minute away from our all-over-the-place schedule to let you guys know about this close-to-the-heart benefit auction we're a part of that's taking place right now. It's called
Angels for Brianna
and it involves one of our own, meaning a fellow blogger, artist, and supporter of artists : Iva Wilcox. She lost her daughter Brianna to MDS mere weeks ago and we're joining a great number of artists in an auction to help raise funds for funeral, medical expenses, and a charity in her name supporting student artists. I've been a fan of Iva's artwork for a while and it's been so very sad to see how quickly this tragedy befell her and hers. I've kept up with Iva's
blog
chronicling the ordeal and although you'll read along with a heavy heart there is just so much strength, courage, and hope to admire in her frequent and detailed entries. When you read her blog you get a real sense that just in reading, you are helping...because you are involved, and what people need more than anything is more people. Below you can read more specific info about the auction and click the links to browse all of the work contributed to this heartfelt cause by lots of creative souls much like yourselves. This week we took time out to create our little Angel for Brianna, "The Angel of all Things Sweet". We hope for lots of bids and urge everyone to share some love with Iva and her family. Thanks so much!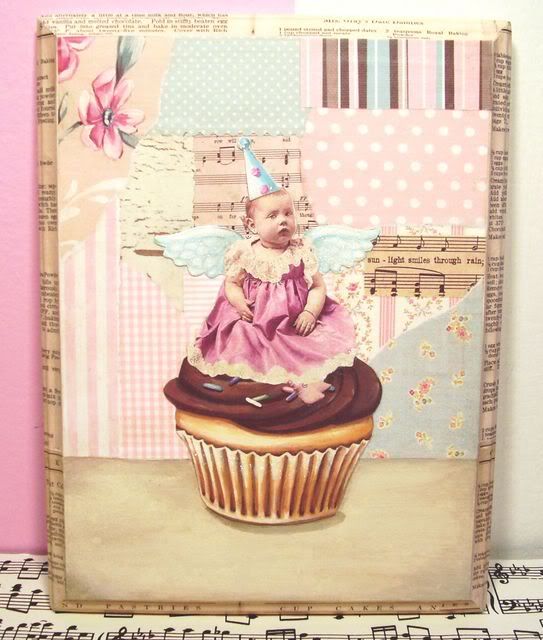 "The Angel of all things Sweet"
Since painting cupcakes is our specialty, we just had to give this lil' angel a worthy throne to sit upon. This collage is made from our favorite patterned papers and ephemera as well as clippings of our own hand painted original patterns. As always we've added just the right amount of fine glitter highlights bringing shimmer and magic to her tiny wings. On a 9" x 12" beveled edge plaque. Fully finished back, signed, dated, ready to hang.
* Angels for Brianna Benefit Auction *

Artists from several facets of the art community have come together to donate angel themed artwork that will be auctioned off as part of a silent auction starting on Sunday July 8th and ending on Saturday July 14th. This auction is being held to honor the memory of a lovely girl named Brianna, whose life was cut short from a disease called MDS. Brianna was diagnosed with MDS in October of 2006, and fought the battle of her life for 8 short months. Unfortunately, Brianna lost the battle on June 15th 2007, but her spirit lives on, and she is a reminder to us all to cherish each day that life brings, and to love those closest to us with all of our hearts.

Iva Wilcox, Brianna's mom, is a talented part of the art community, and this is how we've all come to know and love Brianna….through Iva's beautiful stories and photographs of her daughter. The money collected from the auction will be used to help cover the funeral and medical expenses incurred by the family, and to fund a wonderful program that Brianna started at her high school called the National Art Honor Society. This group, whose primary focus is to promote artists and their work at the high school level, was something that Brianna was passionate about, and she had so many plans for the group that she wasn't able to put in place due to her illness. Our hope is that the proceeds will help get the group off to a wonderfulstart this fall, and that she will be an inspiration to other young artists to pursue their talent, and realize their dreams.

I hope you will join us in bidding on an angel or two of your choice, and bidding high to help raise some much needed money for this family, and to honor Brianna's memory. All of the angel artwork you'll see is completely handmade by each artist, signed and dated, and will come with a special tag as a reminder of this event. We, as artists, were moved by Brianna's story and all of us felt compelled to do something to help her family in their time of need, in a way that Brianna would have loved. This is why the auction was formed, and we want her memory to live on, as she does now with the angels above.
~How bidding will work
If someone is interested in bidding on an item they will email their bid with the item number in the subject line. WE WILL TRACK ALL BIDS BY ITEM NUMBER. Bids will be silent. We will not post who has the high bid or who the winner is. The bidder will know if they are the high bidder when they receive a confirmation email back.

~Forms of payment
Winning bidders will be able to pay by check, money order or paypal.

~End of auction and shipping information
When the auction ends we will be sending out emails to all the winning bidders. They will have one week to submit payment. The artist will then ship to the winning bidder directly.
Auction Link....click
HERE
I'll be posting very soon with more stuff than I have time to even photograph...including my latest and final arrivals from the Bits and Pieces Swap as well as the eight I sent off!
Hope everyone is enjoying their weekend!!
I owe some of you sweet sweet gals emails!!! Coming soon!!!!
xoxo Jenny