Missing you!!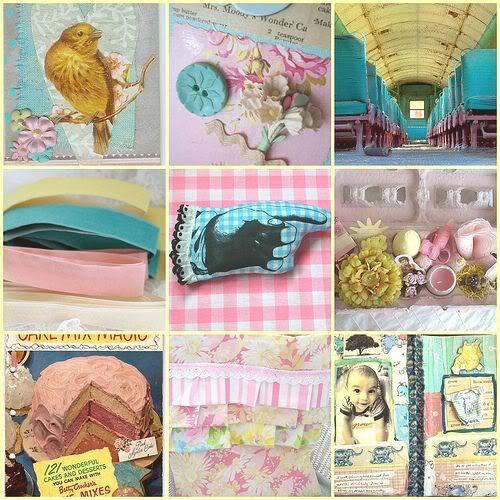 Holy cow! I miss you guys! We're still under that same pile of work but I definitely see some light at the end of the tunnel and I'll be posting a bunch of great eye candy shortly...some projects, some amazing art from friends, and jeeez! I gotta show you the rest of the amazing Bits and Pieces collages I received and the EIGHT that I sent out ! I wish I took a pic of the priority boxes stacked 8 high on the post office counter...I mean, we always go there with a stack of 8 to 15 boxes but the fact that my giant stack this time was all for ONE swap made it sorta outta hand! Well, I have to get back to business and I promise a weighty post real soon.
For now, check out my favorite color palette of the moment with a bit of assistance from the mighty Flickr!! Pink, Aqua, and sunny yellow!!! This combo totally makes me sooo happy!! Makes me wanna create some fun new things too!! :)
Hope you all are enjoying your summer!!!! See you soon!!! xoxo Jenny
I'm so happy to see such an outpouring of bids and goodwill at the Angels for Brianna auction. If you have not taken part yet, there's still time to give your love and support and actually get to take home an exclusive piece of artwork from one of your favorite artists...the list of participants is long and there are some big names...ie: Nicol Sayre, Wendy Addison, and Christine Crocker just to name a few ! I really love when small communities rally for a cause with heart!