A summertime selection of spectacular sources! :)
I've never been jealous of anyone for anything...never knew the meaning of envy...but I can definitely say I ADMIRE those that are ALWAYS organized! I bow down to you, applaud you, and I might be a bit scared of you...the way I'd be scared of aliens! Right now we're neck deep in work of all sorts and all of it pulls us in different directions causing so much of the work to be in seemingly perpetual half to three quarter progress. To help get a handle on our working habits we took a much needed pit stop at Ikea for shelves and drawers and containers. The new organizational additions are really helping out but just taking time to hang the shelves, assemble the drawers and sort our supplies set us back even more. Did you ever notice that when you really need to organize there just so happens to be no time to do so? Who in the world would get organized when not smack dab in the middle of a crunch? NO ONE in the world would...only aliens! I'm a mere human and if you happen to be reading this and I owe you a package...please bear with me...it's coming soon! Big apologies for my all-over-the-place-ness. Soon, me and Aar will be well oiled machines...we're in the process of replacing some cogs and sprockets and editing out the stuff that steals away too much of our time. Wow, I didn't mean to lead off with such a "disclaimer"...it's just that "organization" is first and foremost on my mind right now. Coming soon I promise new art, projects, and those pics of the mural at The Flaky Tart!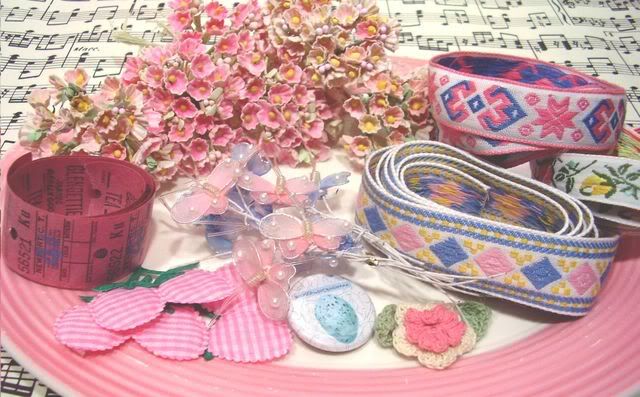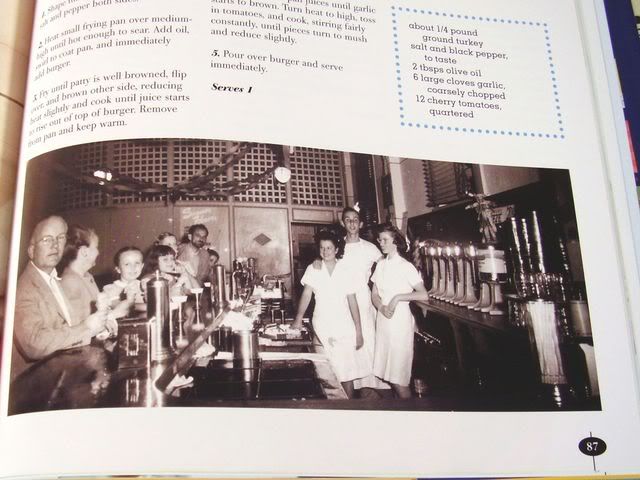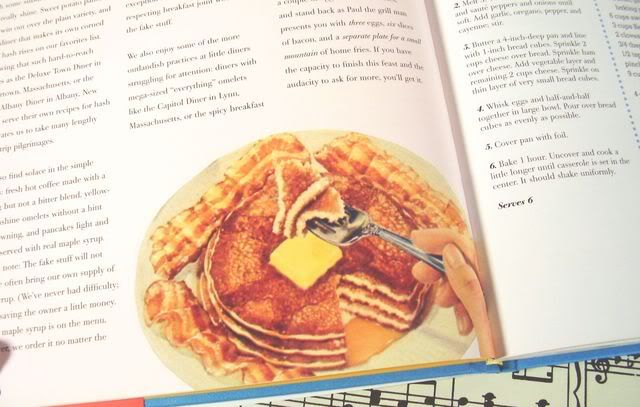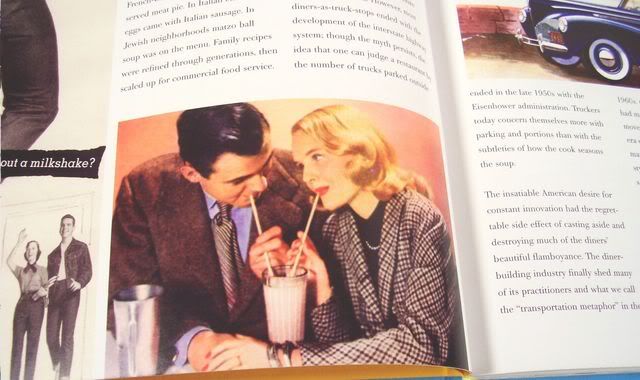 For now I've got some eye candy graciously provided by
Heather
of Speckled Egg! She's got a fantastic shop online and sent me a box chock full of goodies. And to me the star of this package has to be those vintage millinery bouquets...in PINK no less! They are such a fave of mine...way up on my list. And such cute cute trims, adornments, and this fab vintage diner book. I love so many of the images in there. Breakfast food illustrations are just so darn awesome. We'd love to paint some right on a wall...not our walls though...we have none left! Anyway, go go go to Heather's online shop for all your crafty needs! She's a sweetheart with a sweet eye. Gosh..thank you so so much Heather!!
The best thing about blogging is finding out that your obsessions are not unique. If you explore the blog landscape you're sure to find some other peeps zooming in on those same things you covet in your little life. It's like you've got a separate Doppelganger for all of your ebay, yard sale, and flea market haunts. Why go it alone when you can find a legion of like minded fans of fantastic stuff?! The current fantastic stuff being vintage china doll heads, with the classic black hair and milky white skin. I'd be happy to have bowls full of 'em, jars and dishes overflowing with the little cuties. I've been seeing them put to use in some fabulous ways. All sorts of beautiful assemblage art and collages incorporate these lil' gals but right now I've got my eye on the work of Paul Murray at Rufus & Paco on
Etsy
. I could just faint! I am sooooo wanting a few of their gals in my life!! Paul himself is a doll, super nice! I know I'll be shopping soon. Great stuff!! And though it's probably bad luck to talk about the artwork me and Aar have got in the works I'll spill the beans anyway...as a sort of insurance policy to make sure we finish...me and Aaron are working on some paintings depicting our favorite little ceramic cuties. They seem to be crying out for small time modeling gigs so we gave 'em a shot and they are perfect little subjects for us.
Speaking of...here's a repro from the 1960's I found on ebay...for under $5.00! Can't beat that! Her pink dress fits right in over here. Some of the real deal antique heads sell for soooooooo much!! In these cases, when the things we love are either too hard to find or too expensive to stock up on we'll do paintings of 'em instead. The paintings fill the void where obsession and feasibility meet. So we can possess tributes to things we covet. And hopefully some of you guys will see them in this way as well. We're very excited about them and the way their soft skin and striking beauty translate to paint.
And here's a smashing example of how perfectly fit these girls are for artful use. This adorable Halloween "BOO" girl is handmade by Mica Garbarino of
Garboodles
!! Let her lead the All Hallows Eve parade! Mica is so so talented and super sweet on top of that! I think I may be needing more Garboodles in my life!!!
Unexpected, uncalled for, and out of the blue!!! Those are the first three ways to describe this gift from
Jessi
Nagy
. She is one of the coolest gals out there and she's never short of nice things to say, in her comments here, emails, and Flickr. She's a collector turned friend and I can't wait to meet her at Silver Bella! She just started a blog and she's a ball of creative energy so expect great things. I love this treat cone!! Hand made by Jessi herself and thoughtful as can be for she knows how much I'm down with the great October 31st! This will be a treasured addition to our Halloween decor! When I opened the box and pulled out this way too generous gift you shoulda saw my face...astonished, flattered, spoiled, grateful, and a straight flush of other expressions. Thanks Jessi!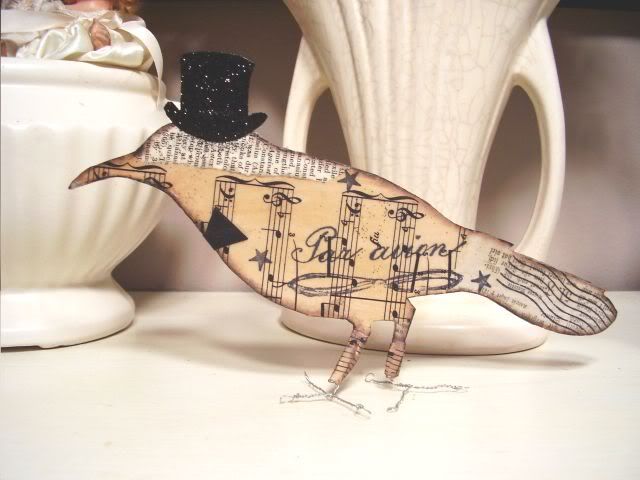 Ok, one of my Absolute Favorite Things right now is this crow by
Jennifer
Conway
. He's a handmade beeswax collage and yeah, that's a glittery top hat, which makes him all set to live here at the Ritz! I love when I find an artist who's got a mind that thinks in ways mine never will. She's got such a unique artistic perspective and never fails to dazzle. At her
Etsy
shop there is always something incredible going on...you must go have a look! Everything about this little guy is perfect to me! Be sure to tell her that Jenny Holiday sentcha!!
I hope I've pointed you in some good directions...well, I know that they're good directions, but I hope they work for you. From Speckled Egg, to Rufus & Paco, Garboodles, Jessi Nagy, and Jennifer Conway. A summertime selection of spectacular sources...that's my tag line.
See you sooner than later!! xoxo Jenny