Time to catch up!
I'm sure every summer there is a massive exodus from the land of blogs. Everybody leaving behind the cool glow of their monitors for the hot rays of the sun. And from the total infrequency of my posts over the past few weeks you'd think I'm one of those sun worshippers... well, that wouldn't be anywhere close to the truth! I actually think I've been indoors now more than I was in blizzardy months! But I swear, even though my PC is mere feet from my workspace I feel like I've been a million miles away from blogland...and it stinks, because I really miss visiting and checking in at all my favorite online haunts. There's just been so much work and before I know it the day is over...I'm sure you all can relate. For the past two weeks I've been especially busy because Aaron and I are multi tasking / splitting duties and I've been taking care of a lot of his work while he was off at the mural job, so the blogging had to wait! But now the mural is done and fabulous and I will sooooo try to keep up appearances here.
And about the mural, I don't have pics yet but they'll come soon...it's outrageous, Aaron is a born sign painter and this wall painting is kinda like the most ultimate sign ever! It combines gilded french scrollwork, lots of dynamite hand lettering and a giant still life of fantasy sweets. The mural is in a soon to be opened bakery/patisserie called The Flaky Tart and it's sure to be THE coolest, chic-est, and friendliest place to buy delectable sweets in all of Jersey. Our friend Marie is the proprietress and she has got confectionary skills by the truckload! She's been in the baking and cake decorating game forever and this shop will be the culmination of like fifteen years of hardcore experience. And even without our mural, the place looks amazing...all in tones of chocolate and french blue, right down to the boxes, labels, stickers, and bags. I will take pics for you guys once the place is totally up and running...she's waiting on a custom fabricated sneeze guard in order to get the c/o.
But enough about that, isn't it the worst when somebody tries to describe something that you just need to SEE? The important thing is that I'm back online and I've got a ton of stuff for your visual consumption.
First off, the
Angels for Brianna
auction was an outstanding success made possible by the organizers and artists who put so much time an effort in...and even more so, big thanks are due to the caring bidders who opened their hearts and wallets. Thank you! Thank you! Thank you! Everyone did GREAT! Pat yourselves on the back!!
Ok, there have been just tooooo many great swaps going on! And first and foremost I was blown away by the big time participation in the Bits and Pieces swap! I've been all over the
Flickr
photo pool and we got some dazzling artwork going on over there! very inspiring! If you missed out, no sweat, just go over to the Flickr photo pool, let your eyes take a dip, get inspired, and make your own collage for yourself or a friend. I LOVE all of the collages I received...yeah, I got eight...and I love them all in their own special way. Here are the remaining collages made by my partners that I didn't post yet: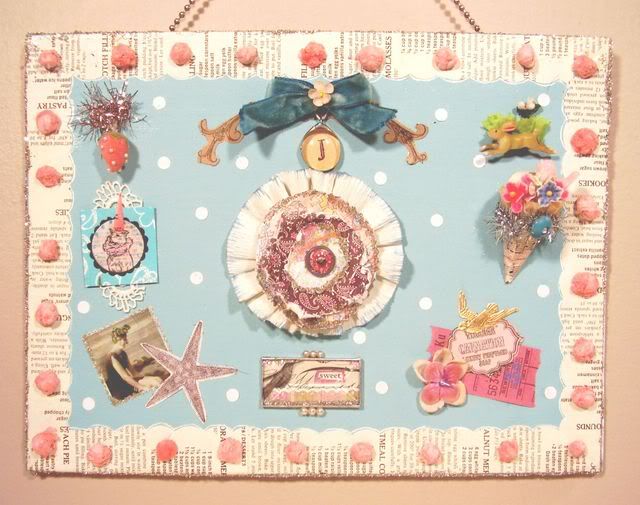 This is
Michele's
...notice the scallop border of baking book! She was a little worried that she strayed a bit from the dimensions but that's what really makes this piece. The colors are just so perfect and that's some real deal soldering going on there! Also, it hangs by a ball chain...so cool!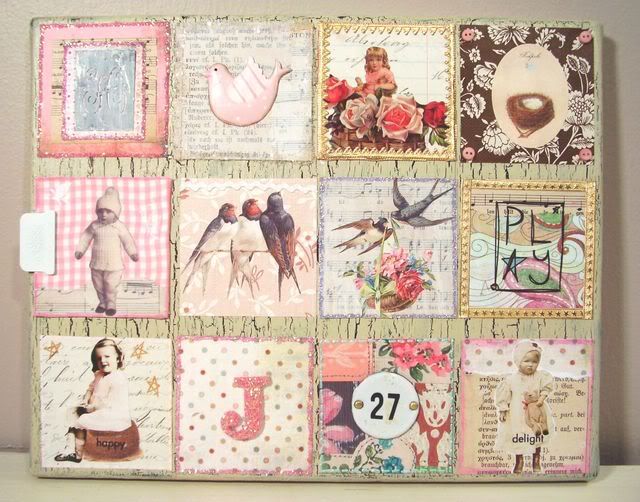 Here is
Svenja's
. I've had some great luck in Germany, Svenja is one of two of my partners hailing from Germany. I love the hand painted crackle finish and the number 27 is a household favorite over here...it adds up to 9 and we like # 9. Svenja's got a real old world vintage feel. My living room is very much in this theme.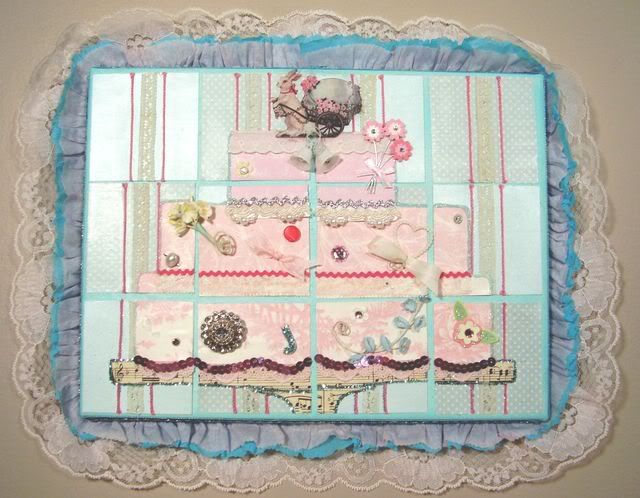 Analise
thought outside the box while thinking inside the box. Such a darn creative twist on the format. The pieces of the mosaic come together as a fab cake!...on a sheet music cake stand! You just know that she was the kid in class the did assignments her own way...I love this! And she sent these super cute collage tags as a thank you gift!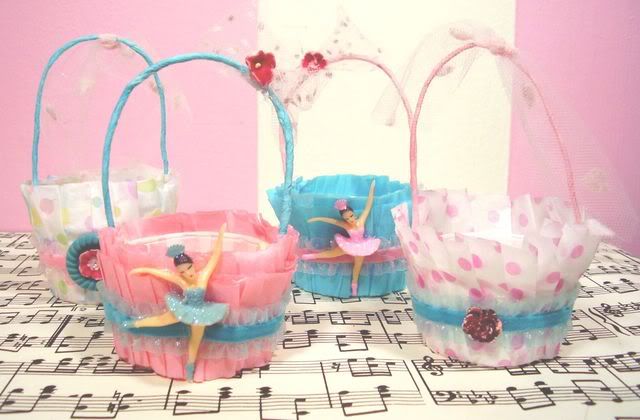 Check out
Holly's
. Her and Analise are kindred spirits. It's subtle, but if you take a look you'll notice that her collage is actually a wreath in bits and pieces clothing! I love her tight color palette and generous use of the 4 B's...birds,bunnies, buttons, and ballerinas! And speaking of ballerinas, she also sent these adorable ballerina nutcups as a bonus gift!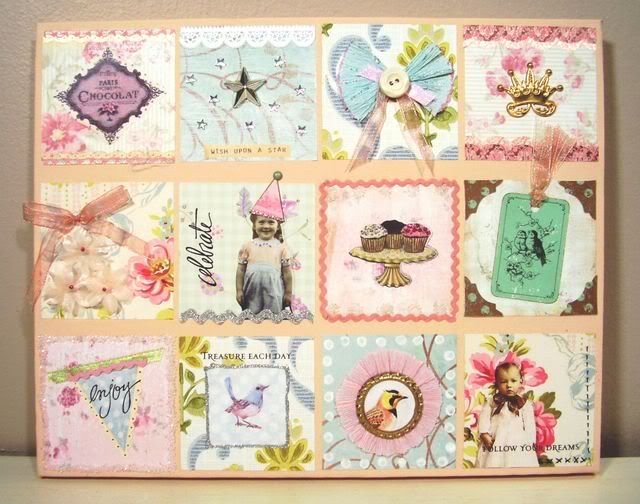 Lastly, we have
Nicole's
...my other German counterpart. I feel like we think a lot alike. All of the placements and elements and sense of pattern are sooo me. I really love the different themes and wording in the individual squares. Like each box has it's own message of goodwill.
And here are the collages I made for them: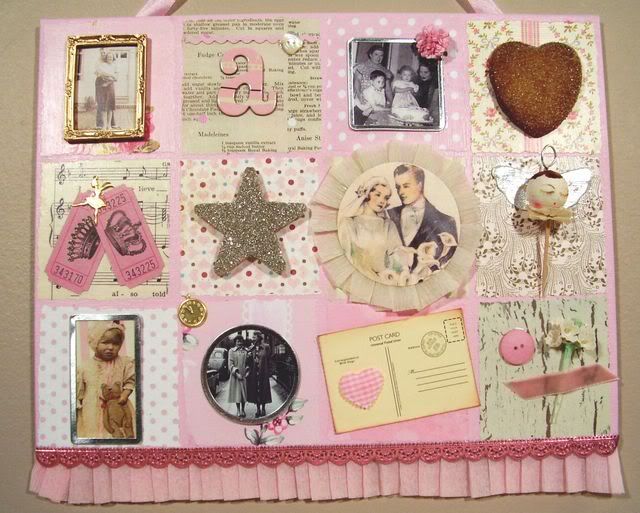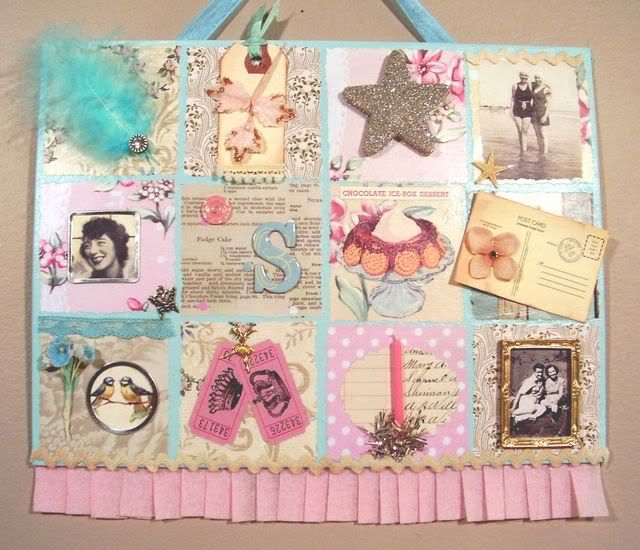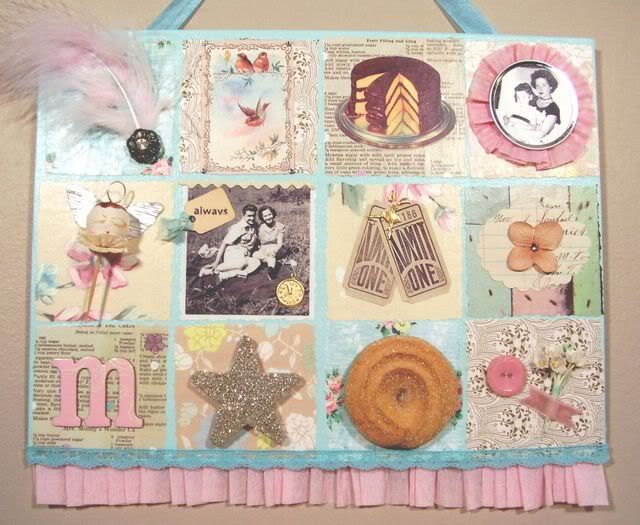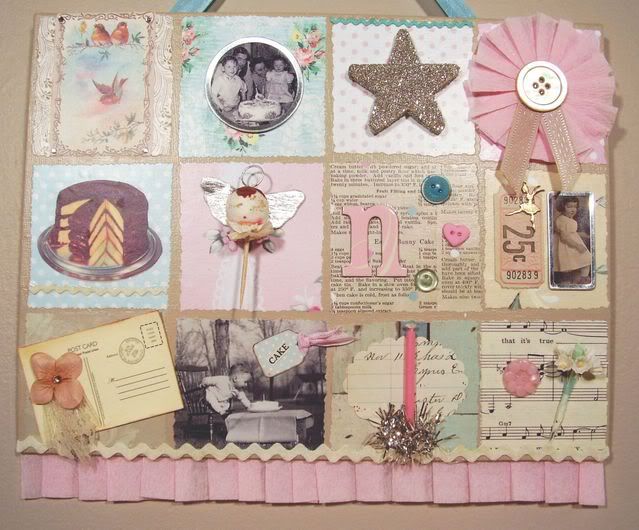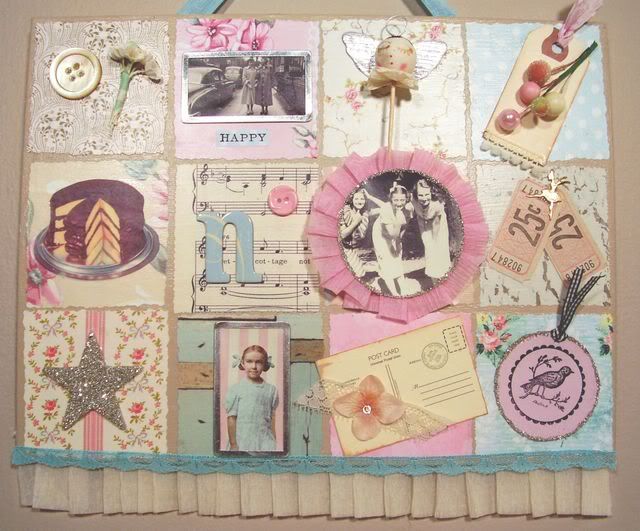 You know, I really wish I had this necklace to wear to my cousin's wedding last month. It's a total show stopper! It's handmade by new friend Carole aka
LuLuSparkles
. She calls it the "lyrical" necklace. Made from vintage rhinestone bits and a chandelier crystal droplet! It's really gorgeous! and she sent the sweetest little cupcake pin cushion. You must must must check out her Etsy
shop
!!!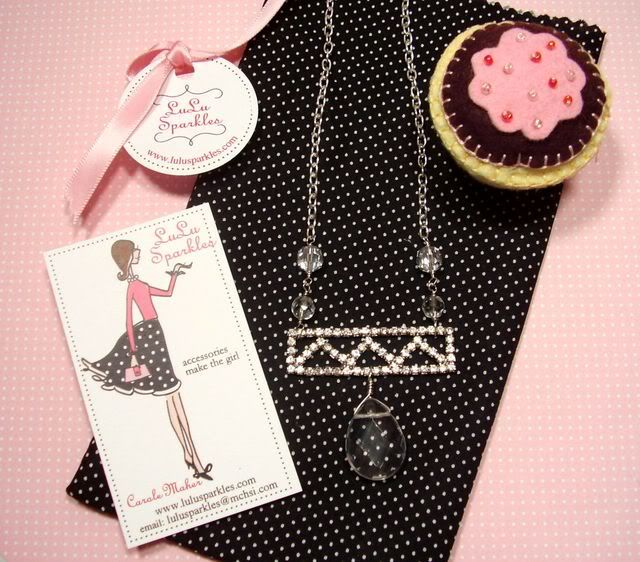 Now we all know that bunnies are sacred over here and we can't get enough of 'em...so when somebody hosted a bunny swap how could I resist? Debra Schoch of the awesomely named and famed
HopHopJingleBoo
hosted a Bunny Swap and yep, as luck would have it...I got her as a partner! I nearly fainted when I opened the box. Like really now, oh my goodness! A custom made ooak bunny by Debra...how can I match that?! And he's holding a cupcake!! And right there is enough, plenty, done , over...but she also sent all this other amazing bunny stuff! A chocolate bunny "pop" wand. A chocolate mold plaque. And a little vintage paper mache rabbit with a glittery make over. I can't thank Debra enough for these treasures. I ADORE them! I hope she loves the bunny goodies I sent!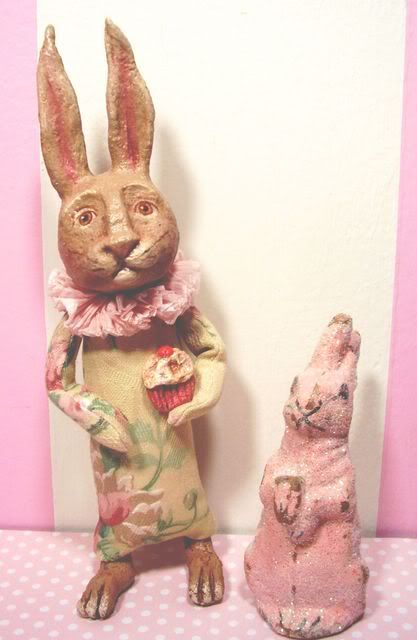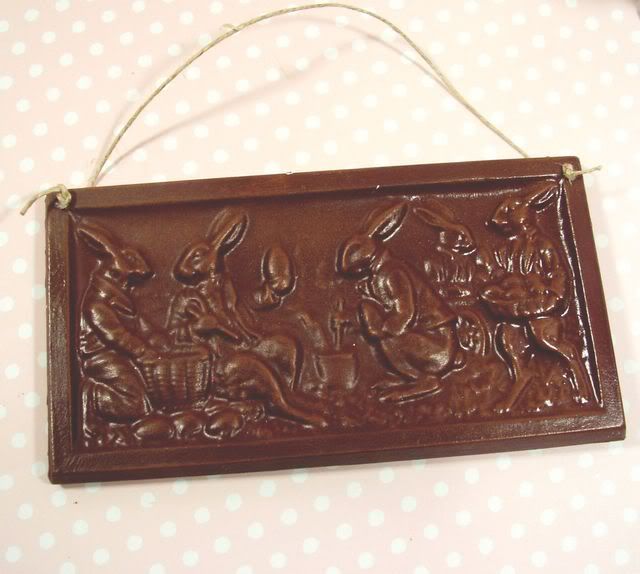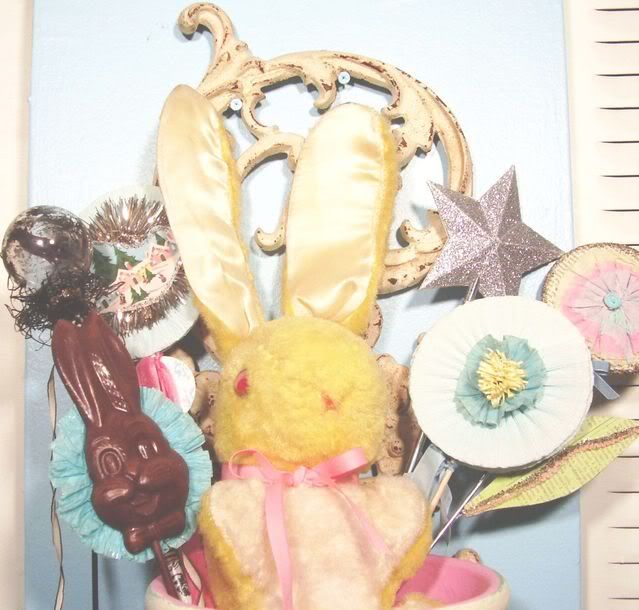 And here's some bunnies from down under (saying down under is as far as I go, I won't attempt "down undah" or any other Outback steakhouse faux Aussie accents...which I bet any Aussie listening to an Outback commercial would say it's a fake accent.) My friend
Natasha
in Australia hosted a "Shabby Chic" matchbox swap and a couple of posts ago I showed you what I sent her. Well here's the matchbox she sent me plus a gang of extras. You'd be amazed at how much cool little stuff fits in a matchbox...I'm not trying to say that all this stuff was in the matchbox! but there was a ton of cool little trinkets and whatnots. The card you see here and the faux cookie ornament are Natasha's own creations. Great stuff! And I just love Nation oriented gifts like the Australian flag cupcake pick and the Koala bear pencil!! What a super fun swap!! Thanks so so much Natasha!! I LOVE everything!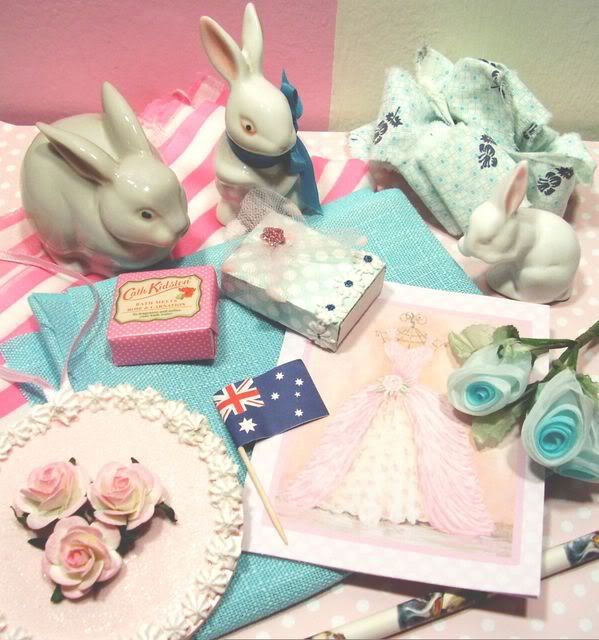 I came across her jaw dropping collage creations on Flickr...so happy, so vintagey and sweet. Her color palette and overall style feel like they were born from my own ideal fantasy image of what things should look like! We exchanged some emails and I soon discovered that she is not only one of the best, but she also possesses THE fastest crafty hands in the land! From conversation, to concept, to completion, in under 24hrs. And with a killer amount of extras thrown in! I really can't believe that I own this garland! It defines "custom made"...I mean, it has a photo of me and Aar, which I didn't really provide, she just borrowed it from my blog and made it into art. I so admire her resourceful spirit! And the crowns are too much!! what a riot! LOVE the black trim...subtle touches of black done right and in a way that's sweet are the mark of a master. And ummmm, two "Ritz" signs for our kitchen aka the Ritz Bakery. These are sooooo fun! And the sweetest little Easter tag garland, handmade collage card, and a little take out container full of crafty goodies and bits! It's really a motherload of knock-your-socks-off-ness. Everyone needs a little bit or a lotta bits of Kris Hurst in their lives! Her Etsy
shop
is a non stop source of incredibility! Thanks sooooo much Kris!!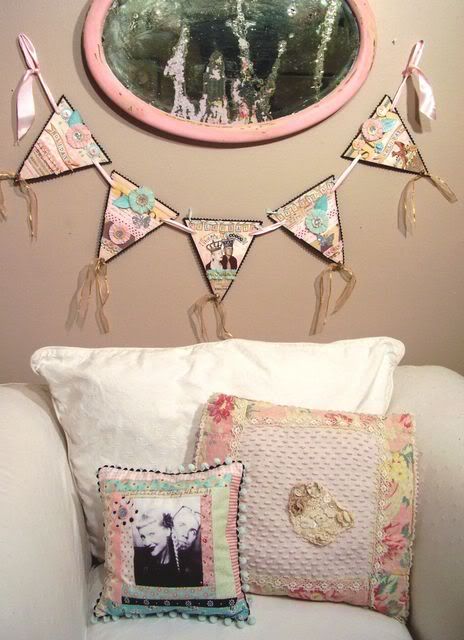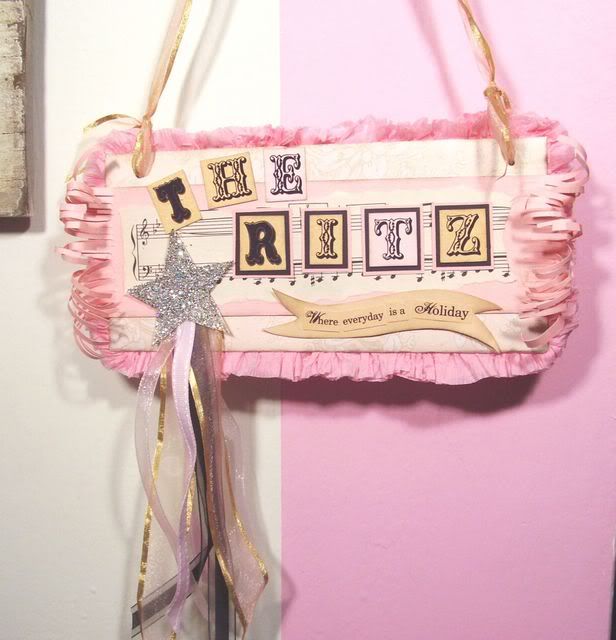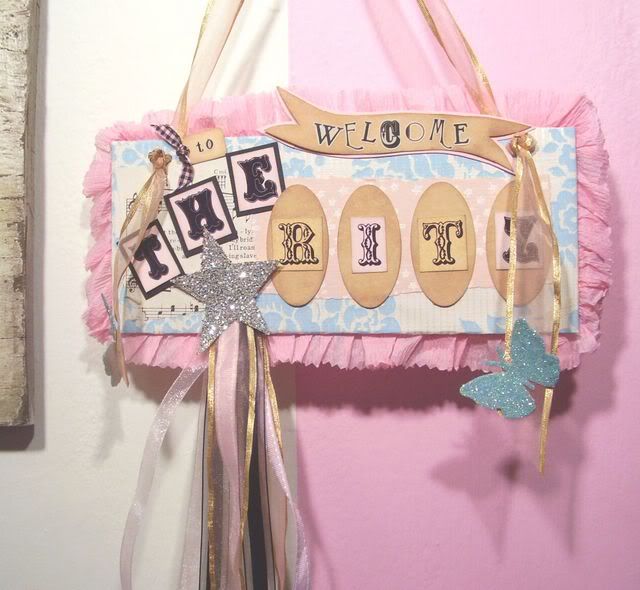 We just joined
PFATT
marketplace and just love what they got going on over there...a killer group of artists i.e. Jenny-Polka Dot Pixie, Debra Schoch and Colleen Moody to name a few. We just started over there and have already made some fast friends and gained new collectors of our work. They're doing (well now I can say "we're doing") Christmas in July over there, so if you missed out on our Holiday stuff or if you also subscribe to the Everyday is a Holiday mind set then don't hesitate to take a visit.
Well, my fingers are tired and so are your eyes. I'm gonna get back to work so I can show you all something new...and your job is to get back outside and enjoy the summer! xoxo Jenny