Meet Charlotte!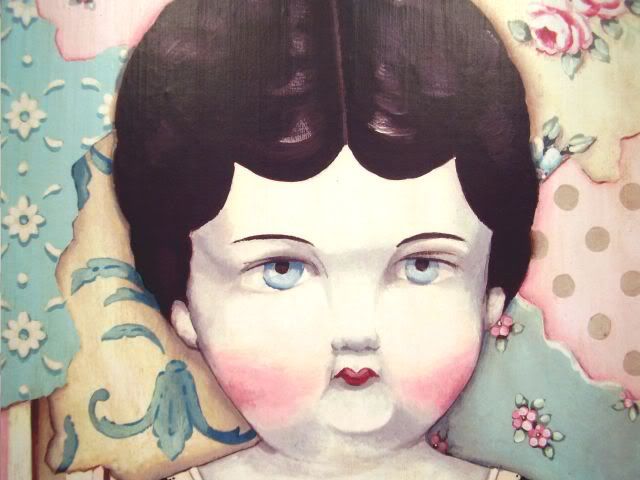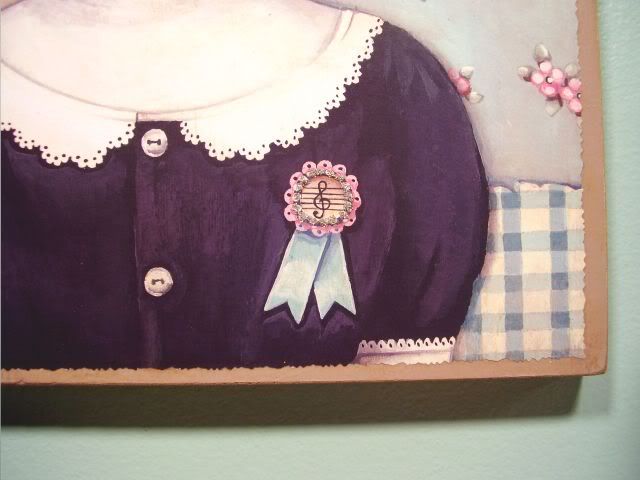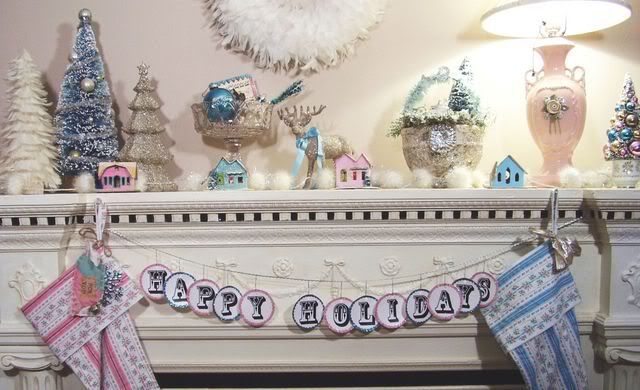 Yesterday was Work In Progress Wednesday and so today is Thoroughly Through with painting it Thursday...yeah, it doesn't roll of the tongue as good but nonetheless...Meet Charlotte, the newest member of our Everyday is a Holiday family. We were so psyched to complete her! We've got about four all new paintings in progress and we totally wanted to finish Charlotte first. She's like the fulcrum of the new collection, the spokes model, the face.
With our new creations we're reaching back in time a little further, digging in Grandma's attic, peeling away the layers of aged wallpaper, getting cozy, and paying tribute to the treasures that twinkle among our domestic nest.
We modeled Charlotte from our favorite little German porcelain dolls. We just love their middle of the road facial expressions and the stillness and quiet they exude. How loud could she get with that tiny tiny mouth?! Look at the detail shot of her dress and her little soldered prize ribbon won at her first piano recital! (that's German glass glitter adorning those painted rhinestones!) When sketching her we really couldn't decide on the perfect background pattern so we hand painted a torn mosaic of florals, stripes, damask, and polka dots. It's an 11" x 14" painting and we reproduced her in that exact size to fit on a distressed mocha colored board. You may have noticed the wall color behind her and if you're keeping track then you know that these walls were Tan very recently. Yes, we painted and it's a whole new world over here...but that's an entire blog entry on it's own. I included a pic of this same mantel area, from last Christmas, just to show you the before and after. I can't wait to do Christmas against this new backdrop. Our Silver Bella projects for this year figured heavily into picking this exact wall color. When we hoosh things up a bit I'll take some new livingroom/diningroom pics so you get the full view...it's a big change. Heck, a year ago the Tan was a big change. We kinda saw the Tan as a transitional color. It got us out of the all pink mode (9+ years of pink!) and now I think we've settled on a color we can live with for a loooong time. Aaron says: "it better be a loooong time."
Anyway, this is Charlotte's debut...we hope you like her!!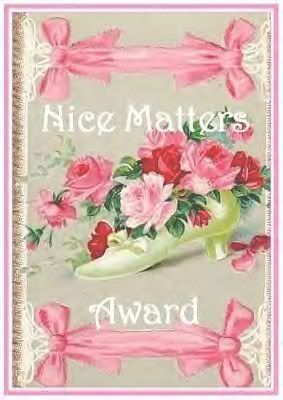 The lovely
Mary
from Oh Merci was nice enough to nominate me as one of her Nice Matters Awardees. She beat me to the punch on that one because she's one of the absolute first that comes to mind when I think of nice bloggers. Well, I gotta pass on the niceties and name my nominees:
If you stop by often then you know these names well! I really could go on and on but meaning diminishes when lists stretch out too long. I've said all this ad nauseam but blogland is so full of genuine kindness. Not fake "online kindness". When I think of the blogland friends I've made I know they're not figments of my online imagination...you know, like the kid in 8th grade saying "I kissed a girl. She's my girlfriend, but she lives in Canada." Today's online friendships are like yesterday's "girlfriend in Canada" routine. Except here in our corner of blogland. We blur the line of online and offline. Heck, a lot of us will meet in the flesh at
Silver-Bella
. And the tangible objects we trade through the mail show further how "real" our friendships are.
Ok, back to work. I really hope to show you all a whole new painting early next week...but I'll be in touch before then, I made the pledge!
xoxo Jenny
*If you'd like to adopt a Charlotte of your very own, she is now listed
here
! :)