Pledge Allegiance to the blog.........and we have a WINNER!
It's just the way it goes...when you get really busy you have to make sacrifices. And always the first things you eliminate from your schedule are those things that happen to make you happiest. For me the sacrifice has been this blog. This is my little escape hatch, my portal to the pretty life, and lately it's become (and I cringe to think it!) nearly a once a week activity! I've gotten so wrapped up in other stuff that I've let one of my favorite parts of the day fall to the wayside. Saturday night, Barb (Aaron's mom) had a ladies night over at her house. All the close-by females of the immediate family plus me and my sis got together for food, drink, and girl talk. Anyway, the night was a constant cacophony of five separate conversations. At one point the conversation turned to this here blog and the gist of the convo was pretty much this : " remember when Jenny used to update the blog A LOT." There was more to the conversation and as I explained my side I felt like I was making excuses, and why should I make excuses for not doing something that I love doing? That feels a bit backwards right? But the overall feel of the blog talk was that of reminiscence. Like: "remember when it was good...the good times?" And that's absurd. I feel like a let down...and well deserved. Because when I don't post for a while it's me who is the most let down. I need this little escape hatch! and all you guys are always here...even when I'm neglectful and long absent, the second I come back with a post you guys are still here to check it out and pass on a kind word! So I'm gonna try to make a promise to you guys and to myself to make it a point to get busy with the blogging! No more once a week stuff...that's nuts. You're gonna be seeing a lot more of me from here on out. So, thanks to Ladies night for lighting a fire beneath my seat!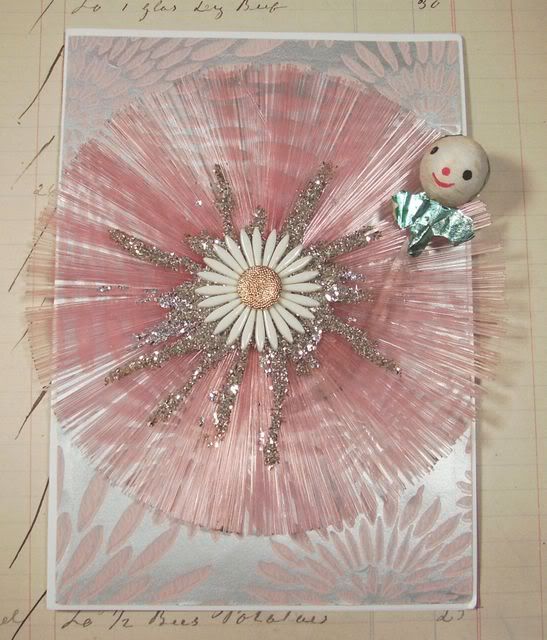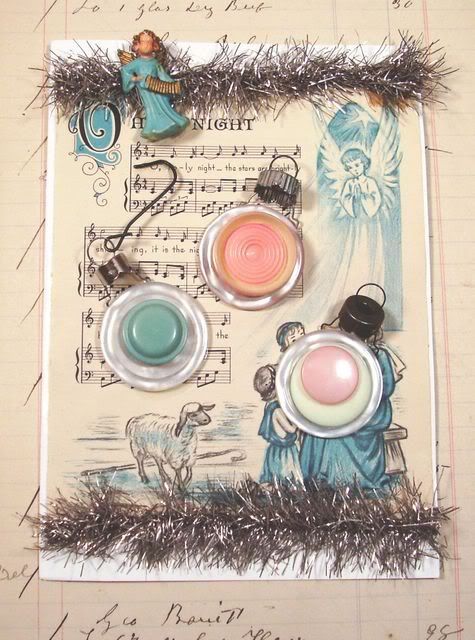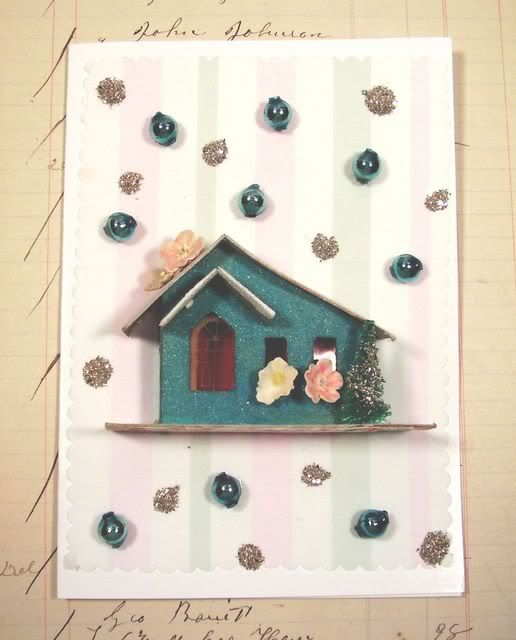 OK, pledge is over. Now onto this amazing array of Christmas in August! These cards and tags are from
Suzy
Spence
, the designer behind the fabulous Georgia Peachez label. I signed up for a little Christmas in July handmade card/tag swap hosted by my friend
Angelina
, and I was lucky enough to get Suzy as a partner. Well lucky to receive her stuff, but maybe
unlucky
if you consider how high she raised the darn bar with these dropdead designs!! How can you even come close to these?! I mean, swapping isn't a competition but you hope to give as good as you get. Everyone of these designs can be sold to industry. I'm picturing some manufacturer's headhunter trolling blogland and coming upon these pics...so look in stores around Christmas 2008 and you just might find some mass produced knock offs of these. But I don't think my digital camera does them justice...the set of cards is magic! Each came sewn inside its own pink tulle sack tied with tiny vintage mercury glass ornaments. And to think that these probably represent the least of her skills! A few months back I posted pics of an amazing custom apron she made me! Anyway, great stuff right? I'll post pics of mine soon.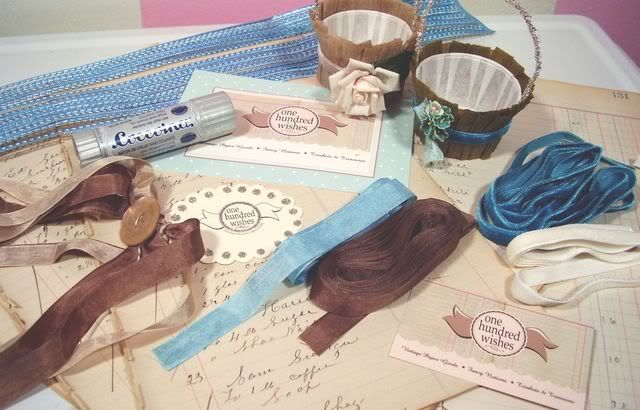 Got my package from
OneHundredWishes.com
! You know,
Andrea
Singarella's online shop I gushed about the other day. Well the plot thickens when the actual products arrive in tangible form. You really can't top the presentation. You want to keep all the stuff wrapped. I looked down in the box and thought of what a great gift giving source she'll be. It'd be great to just purchase from Andrea and have the stuff shipped direct to a crafty friend. The most glaringly obvious thing inside a boxload of 100 Wishes stuff is the purest love put in. And yeah, I got my glue stick and it smells amazing. I had Aaron lick it to see how it tastes, not bad he says. But I don't think it's FDA approved for consumption. You know, I feel like I'm shooting myself in the foot every time I mention 100 Wishes because as word spreads there'll be less and less stuff for me to get my hands on.
One day, every roll of vintage wallpaper will be gone and you'll either be a Have or a Have-not. So in these days leading up to the great paper drought it's a good idea to find and employ a skilled hunter gatherer. I've got my source and she's no secret but incase you haven't heard...
Jen
Duncan
is at it again! She's back with the paper packs!! Check out this selection!
My favorite types of people are editors. The artistic process itself is really just a form of editing. With writing, with painting, with collage, it's all about editing out what doesn't look good. The ugly words, the clashing colors, the drab paper patterns. Well Jen Duncan is a darn good editor. In her paper packs you only get the good stuff. I'm loving the flocked papers, especially the black and white, with Halloween approaching. All of these are gonna make fab backgrounds for handmade cards...like the ones from Suzy! Again, I might be shooting myself in the foot, but get over to Jen and make sure you're not a Have-not.
Lastly, we had a little giveaway and I was thrilled at the number of comments and the spectrum of favorite things to bake. As promised I picked a winner out of my favorite mixing bowl
and the winner is.... # 15- Christen!
and she'd be welcome at the Heid's for the holidays with her red velvet cupcakes! My little bro's request them for every occasion. She's got a blog that I newly discovered thanks to her comment...it's:
pocket-full-of-posies.blogspot.com
and apparently she's a fellow 100 Wishes devotee! Aren't giveaways great for getting the word out on fellow bloggers? So Christen, once I get your info I'll drop this little baking gal in the mail! Thanks so much to everybody that joined in! I swear, it was almost torture reading through the favorite things to bake! As I read each one I mentally tasted each one. I had Aaron over my shoulder and we were going ooooohhhh aaaahhhhh...simply at the words brownie or coconut cake with lemon filling or apple crisp or chocolate covered cherries or cinnamon rolls, even that plain old simple word
bread
had us going nuts! Very active imaginations over here when it comes to food!
Ok, like I said, like it or not, you'll be seeing a lot more of me here. Right now we're gonna chip away at our porcelain doll paintings.
See you all soon!!
xoxo Jenny