The Well Read Raven...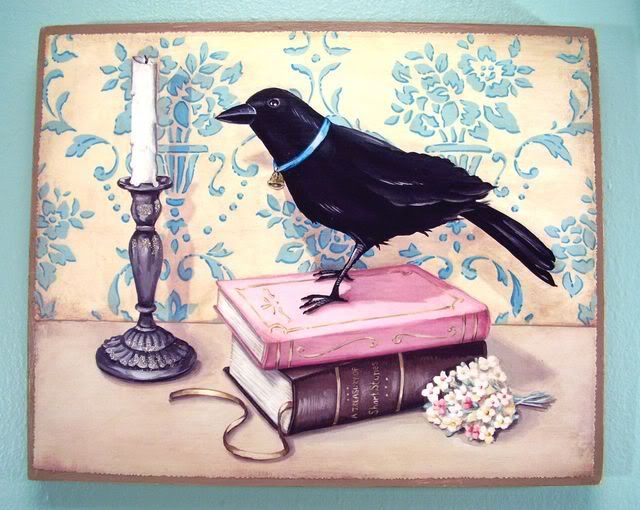 I wanted to post sooner but I spent my blogtime cruising the Jersey roadways with Aaron and my little bro Walt, who now has his permit, so we're giving him some driving time. You should see the three of us in his 87 Firebird, it's a riot!
Anyway, we're thrilled about the response to our Charlotte painting! We can't wait to keep showing you more from this new collection. We hope to have a new addition early next week and we've got one to show right now! Introducing... The Well Read Raven!
We know that a lot of you are really into the dolls but before we go on to more cute girls next week we needed to put this Raven on the canvas. We love when traditionally scary subjects are made sweet and approachable. The world of folk art is pretty much defined by that. Just look at his silk ribbon collar with it's tiny bell...he'd never say "nevermore!" I may have mentioned a million times before that Aaron is a chronic Bibliophile so he's especially psyched about the presence of books in this one! I just adore big black ravens. They bring with them a whole landscape of legend and lore as well as just a simple beautiful aesthetic of purest black on black.
Like Charlotte before him, The Well Read Raven is defined by a select color palette and vintage pattern. Each piece in the new collection will coexist in the same little world of collectibles and vignettes. He's 11 x 14 like Charlotte.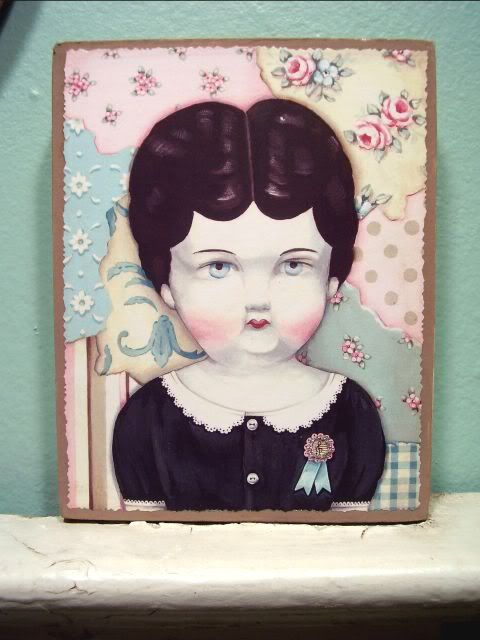 And speaking of dimensions, meet Little Charlotte!
She measures 6 1/2 x 5 . We wanted to do all of the new paintings in keepsake size. Since we are so into the art and act of gift giving we know that when it comes to decor, sometimes little gifts are more appreciated than larger ones. Little art pieces just aren't as presumptuous and you can present them without feeling like you overdid it.
When we create we like to keep an eye on practicality. I know that it almost doesn't seem like a word that should be used when speaking of the artistic process but we always put practicality in our mix. It makes sense to us because we start from the decor mindset. This would maybe be an impure approach to art if it wasn't our decor we had in mind. We have a model of who our ideal audience is and it's us. We're purists in what we live with and what we collect and if our own artwork can fit in that narrow niche then that's pure enough. And decor inspired art mustn't get a bad rap. Sure, a lot of decor is surface level, matchy matchy, and boring and art should contain none of those adjectives. But when we think decor, we think story, character, mood, emotion, theme. Decor for us is a cinematic world and all of the art pieces play supporting roles.
And how about this mosaic for story, character, mood, emotion, and theme?! I've been staring at this little cross section of perfection for days...I think I've etched it inside of my corneas! Love the color and I laugh out loud every time I look at those kids with the lampshade heads!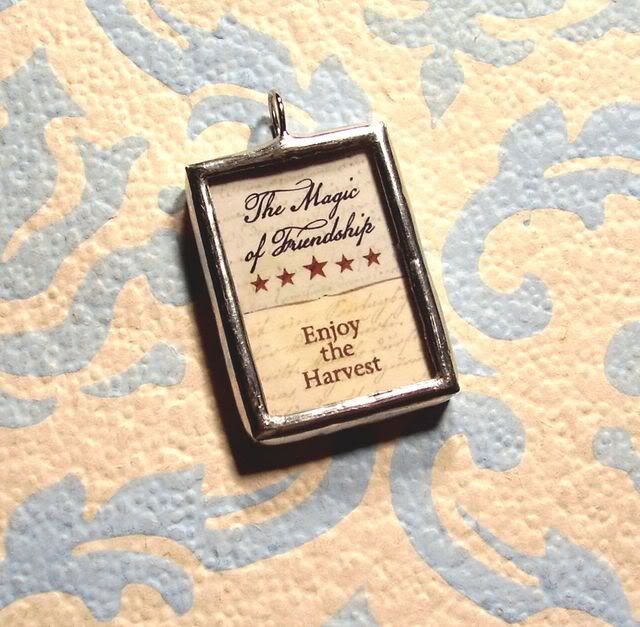 I am soooo in love with
American
Harvest
and this is like THE perfect time of year for anyone who hasn't heard of it to go check it out and fall as hard as I did when I first discovered this fabulous site/store/blog! Behind it are two folk art wunderkind named Sharon and Rodger and everything they present to you is top notch! And I'm not just saying this because I won this magical little Opera Fairy charm from them! (I love blog giveaways!!!) No, I won this charm
because
Sharon and Rodger are so fab and have me visiting their
blog
daily! Their store features artists you
need to know...
including many of my faves such as Nicol Sayre, Lauren Mumford, Michelle Legler, Sally Jean,and more! All Hallows Eve and the mystical autumn approaches and American Harvest is ready for you...you've been warned! Thank you SO SO much Sharon and Rodger!!! I LOVE my charm!! :)
Ok, I have to get back to the multi tasking. The new paintings we've got planned are burning a hole in my pocket...or I should say paintbrush, but that doesn't really make much sense. I mostly want to say thanks to all of you and your votes of confidence. Compliments and encouragement from your peers make the paints flow like a dream.
See you all soon!
xoxo Jenny