Glitter is the cosmetic surgery of the craft industry
You know, I have no photos from Thanksgiving. My camera sat on the table all alone while Me and Aaron ate ate ate. Maybe it's better that there aren't any photos, because the diet police would deem them evidence. Left overs are long gone, Christmas will be here in a minute, and I'd like to FIT in something! The grazing season is over...the apple crisp turnover a la mode that I baked tonight and ate five minutes ago was the end. I'm done.
But other than the overeating, Thanksgiving was a lot of fun. After eating at my parent's, me, Aaron and my brother Walt went over to Aar's parent's to visit with them plus Aar's brother, sister in-law Ann, baby Adam, and Aar's Mom-mom. We tried to squeeze in some more dessert over there and then we drove Mom-mom back home to south Jersey. We love doing this as a capper to the holiday. We keep Mom-mom up way past her bedtime and Walt goes through all of her complimentary casino gifts and looks for treasures. This year he came home with a battery-less flashlight. You shake it to give it power, and Mom-mom hates shakin' the thing, so she gave it to Walt. He loves anything that has a gimmick or novelty attached to it. Over the years, Walt has become an unofficial member of Aaron's family. Just like me he spends dual family holidays!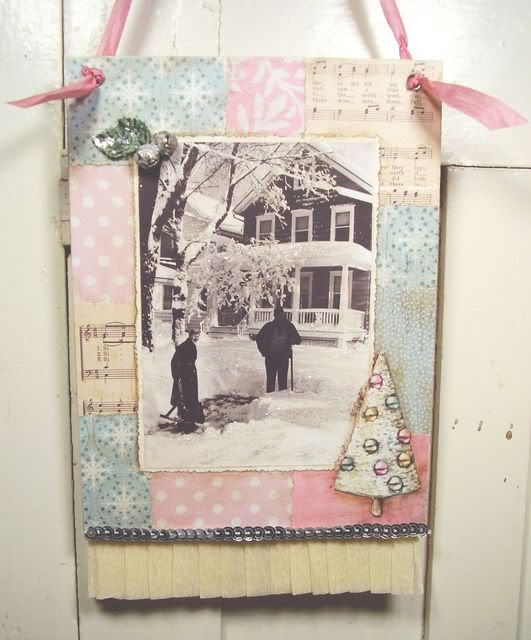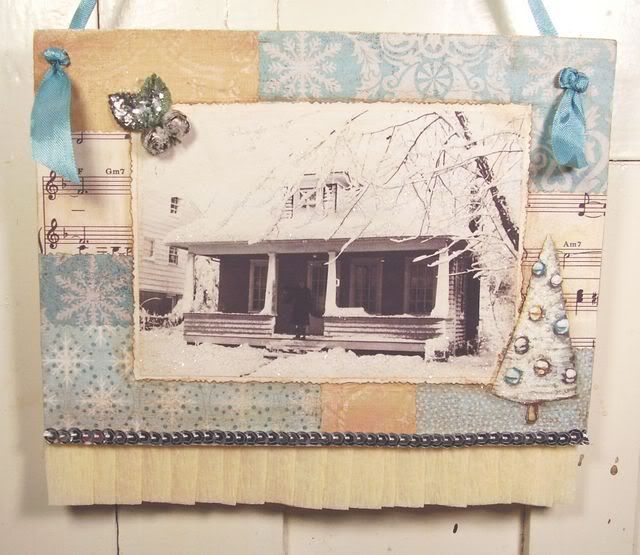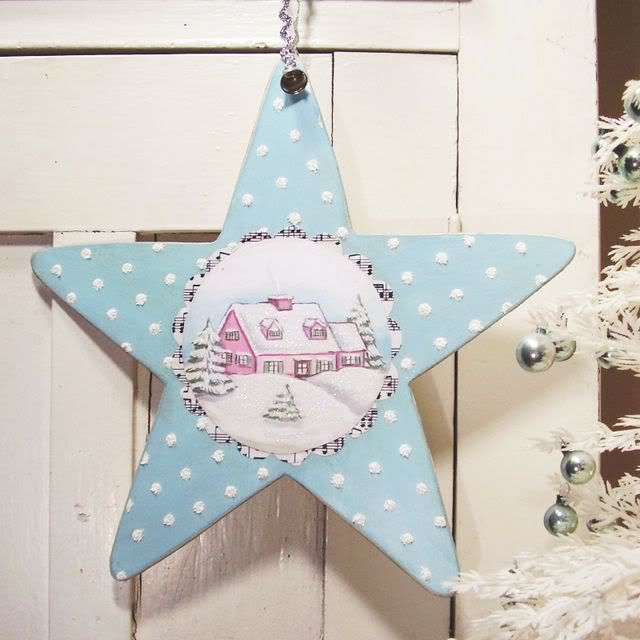 We've been getting all Christmasy over here and here's a little sampling of some stuff we've been up to! We went to a huge church flea market over the summer and came across a handful of excellent vintage photos depicting snowed-in houses. Even though it was August and we were coated in sweat and dust, we had the necessary foresight to buy the photos and put them in a tin labeled "holiday artwork". We LOVE photos like these. Just the honest simplicity of running outside in the snow to take a pretty picture of your house. Maybe you've never kept a well groomed lawn, maybe you've got chippy paint on your shutters, but dust it all with some fresh white powder and it's picture perfect! Snow is the great equalizer! And for those of you who get busy with crafting...you'll agree: so is glitter! Glitter is the cosmetic surgery of the craft industry!
For us, these two collages are like little tributes to snow. We chose patterned papers that allude to snow and then tied in some holiday sheet music and bits of vintage gift wrap patterns. Those little bottle brush trees are prints of tiny paintings that we did. Don't the little shiny balls look almost 3 dimensional? We listed them on
Etsy
and
eBay
along with some of our other holiday stuff including these stars from last year that we've brought back because we like them so much! The stars are more bright, pristine white whereas the two collages are way more sepia and aged. We kinda walk the line between both of those esthetics.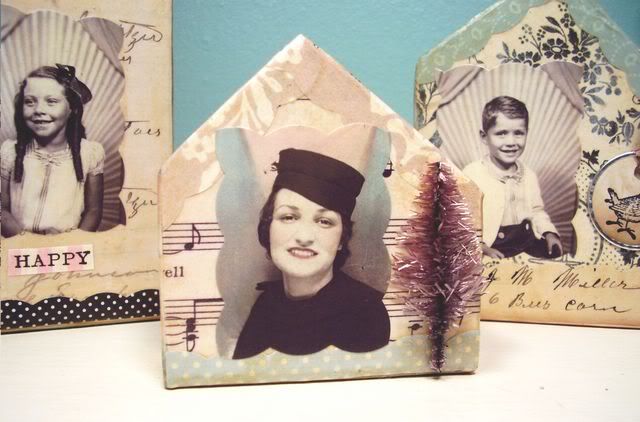 I finally DID these! I got this little trio of unfinished block houses from
Little
Pink
Studio
and I've had them on the drawing board at least a half dozen times with all sorts of wide ranging ideas. This past weekend I vowed to get them done once and for all and after poring over my papers and photos I came upon these three utterly cheerful vintage photo booth portraits. The coloring was perfect...I had to use them. They are a great fit. For a while I thought I was gonna do these as straight forward little pastel colored cottages. They woulda been great that way as well, but I'm glad I thought less realistic and more figurative. I plan on getting more of these little sweeties. The house shape is just such a perfect starting point. Think of them with snowy roofs!
Anyway, just wanted to pop in and show you that I'm actually still capable of making new stuff! We've got more holiday stuff on the way, which I'll post as soon as it's completed. Anythingelse?...Highschool hockey season has begun! I'm painting a cowbell black and orange with the number 89 on one side and a photo of Walt's head on the other. I hope to have lots of familysurrounding me at games because if I'm near strangers they're are gonna want to smash me with my annoying cowbell!
xoxo Jenny