Please do not break up with my blog.
Please do not break up with my blog!!! I WILL BE BACK! The lead up to Silver Bella has been even more hectic and last minute than I had planned for. Also, prepping for an event such as this not only eats up time but also the wallet. To make up for the expenses Aaron took a quick wall painting job...which is crazy because we were already swamped with work here at home! Anyway, he's doing a baby's room with tons of flowers, trees, and all sorts of cute little animals...plus the family dogs! and Aar said that the actual family dogs walked in the room and thought there were two real dogs standing there looking back at them! Anyway, my back is near broken from doing the same tiny movements over and over, cutting lengths of ribbon, crepe, counting out sequins, painting countless boards...aaaahhhh!
The first day back from Silver Bella I'll be accompanying my brother Jay for his appointment with his awesome new doctor up in Hackensack, NJ, the city of my birth. This new doc is a top notch specialist and for the first time I feel like Jay is in good hands. Things seem to be on the brighter side diagnosis wise, but we'll know for sure at the next appointment. I'll post more on my birthday when I'm back from Omaha, my sister, little bros, parents, and Barb and Skip (Aar's parents) spoiled me rotten with gifts. It was a great night in the city and thanks to all you gals for your birthday wishes and uncalled for gifts...too nice! Ok, back to the crazy stuff. I promise to be back with a bang come next week and will hopefully bombard you with good stuff through the holidays.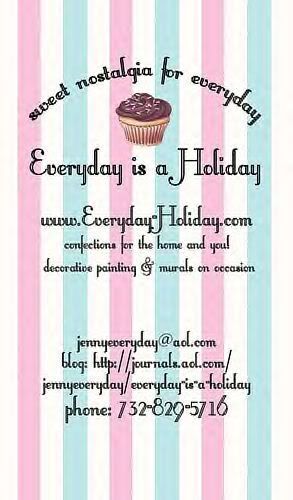 Oooh ooh and before I go.....I must share with you our brand spankin fabulously new business cards!!! Designed by the ultra talented and oh so QUICK
Heather
Bluhm!!! Are they not edible?? We LOOOVE them!!! Heather is the BEST!! So if you need cards, blog banners, etsy banners....she's fantastic!
See you lovelies soon!!!!
xoxo Jenny
Aaron and I are ready to get glittery and give out hugs!!! See you at Silver Bella!!!