A Springtime Greeting!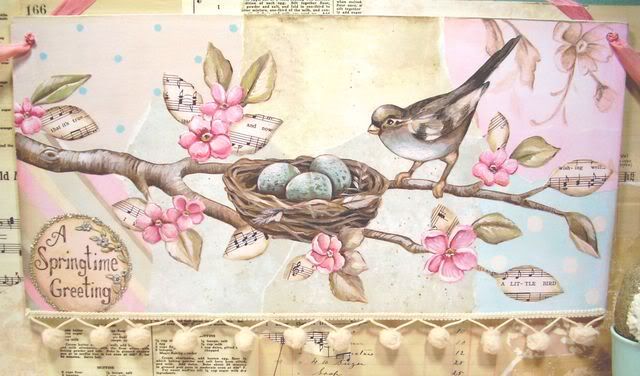 Here's our new kit!!...A Springtime Greeting! We worked out all the kinks...both of us did a test run putting a kit together and we really liked the assembly process. Overall, a very pleasant project. We had on the Sci Fi channel while working and listened to two asteroid hitting the earth movies in a row...Meteor, an oldie starring Sean Connery, and Asteroid, a newer one starring actors whose names I can't recall. Both were pretty bad films but good for a crafty Sunday.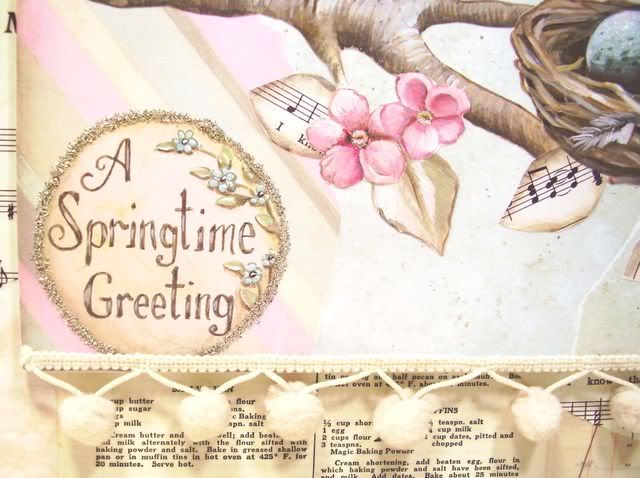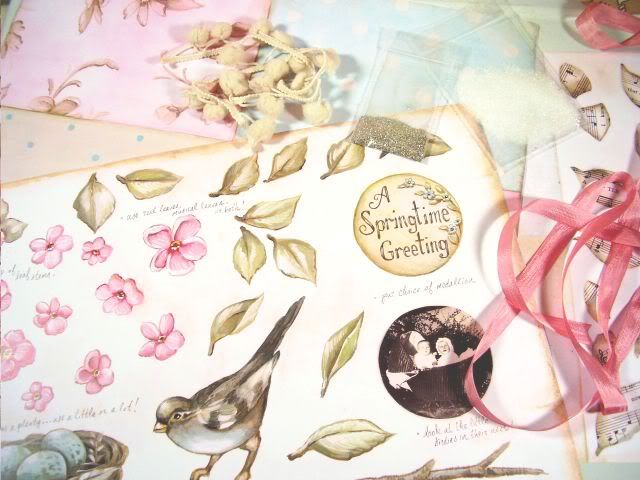 The whole idea of the kit was to capture the visuals, patterns and colors that come to mind when we Think Spring. It's the time of year when we are always most creative, when new ideas are hatched, hence the nest full of eggs. And we wanted every bit of imagery to come from our brushes. We started with a blank page and handpainted the bird, nest, branches, flowers, leaves, and all of the background patterns...two of which are better seen in person, we did them to look like speckled egg shells, with hand rubbed mottling and faint paint flecks. We made sure to include enough imagery and pattern so that you can use more or less of each element to really change the end result. The background colors are faded and vintagey so that the bird with nest scene really stands out in the foreground. In all, there are six original painted patterns, tons of blossoms and leaves, the bird and nest, two different medallions, sheet music leaves with burnished edges, (and you can catch glimpses of the song lyrics on the leaves: A Little Bird Told Me!) An 8" x 16" pre-drilled thin wooden board, vintage pink seam binding, vintage cream colored pom pom trim, and ultra fine glitter in clear and silver. And we included a surplus of artwork so you'll probably have enough left over elements to make a little side project.
OK, some additional info on the kit:
1. It's now listed on
Etsy
2. It's very easy to do
3. there is no antique wash stage in the directions...some of you weren't real comfortable doing that step so we kept that in mind and gave the paper elements a pre-aging for you.
4. also no watercolor paper stage. It's all thin paper and easy squeezy to glue down.
5. You pretty much only need scissors, glue, and a paint brush.
6. it's a flexible design that you can make your own.
I'd love to start a Flickr group for kits completed by buyers. I know at Silver Bella we were blown away by how diverse the finished projects were. Everyone gave them their own little touches. And some crafty devils who followed the instructions to a T still ended up with neater, cleaner versions of our prototype. I remember at SB in Jennifer Paganelli's class how she would walk around the room and grab a student's project, hold it up and say,"hey, check this out!"
I think the Flickr group could be a way of doing that from home. Post your photos and say "hey, check this out!"
I hope to put it together soon...it's looking promising. Within the first 45 minutes of listing the kit, two people snatched a couple up! We're very psyched because this is something we really worked hard on. Painted every single bit of it from scratch. Well, I just wanted to show and tell. It was a long, productive Sunday and we gotta get to bed so we can tackle the new work week. Hope yours is fab!!!
xoxo, Jenny