Day 4..and a brand new place to shop!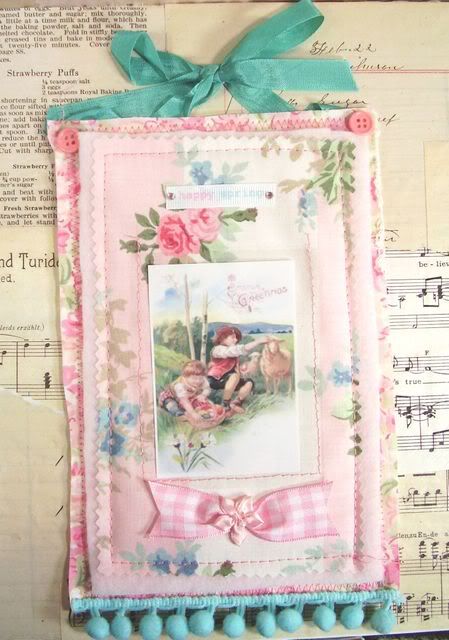 Day 4! How pretty pretty pretty is this collage? It is just perfect! Like sunshine and cupcakes! Handmade/sewn by
Jeanne
. I truly gasped when I peeled away the paper! (which by the way is much prettier than this photo shows) Every single detail is just right. The colors, the patterns, the photo pocket...which allows for a personal photo to be added. I truly adore this piece! It will be hanging in the studio well past Easter. What an amazing group this is!! :)
I was just popping in for a quick hello, and to show you today's gift...but I couldn't possibly go without posting about the Grand Opening of Candice Carpenter's brand new and oh so cheerful site..
Peacoats and Party Hats
!! Is that the greatest name evvvvver? Love it!! I was lucky enough to have met
Candice
and her super sweet mom at Silver Bella, what a treat. Not only is Candice super nice, but her kits totally knock socks off!! I so wish I had pics of Candice's set up on vendor night! It was the pinkest, most sweet and glittery, eye candy filled table ever! I was thrilled to walk away with one of her super fab Silver Bella album kits. I really could go on an on here. I am a BIG Candice Carpenter fan, and her site really is a perfectly executed extension of her red, pink, and polka dotted world. (designed by none other than the TOO DARN TALENTED Hope Wallace of
Paper Relics
fame) Get over there fast! Things are flying out the door. I am hoping to get my hands on one of her Easter kits before they are all gone. I'll let you know if I do! :)
Ok...that's all for now. See ya tomorrow with Day 5!
xoxo Jenny