a little show and tell
My mailbox was like a Springtime Advent calendar this week. Each day I'd open up the little door and a gift would be waiting inside. I entered some giveaways for the One World One Heart event as well as a couple individual giveaways, and I got lucky a handful of times! Check out these tiny tin hearts...all hand painted!...really! Are they the cutest things or what?? The bunny and bird tags were part of the prize as well. I won them from
Sunshine and Ravioli
. (great name huh?) The handiwork is without flaw...very impressive, so much so, that I hold them as if they're delicate snowflakes...love them!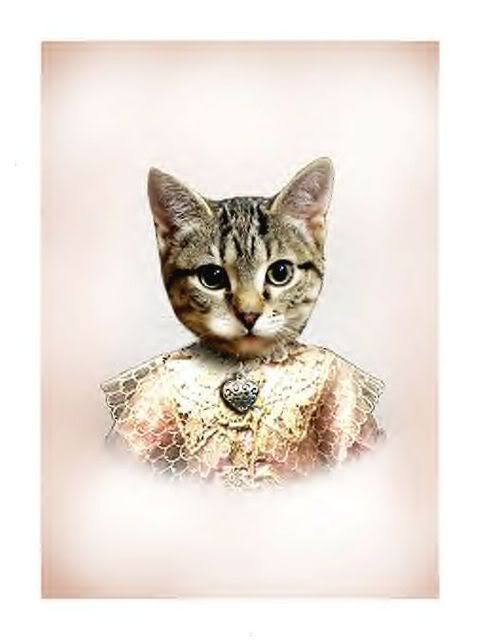 Also won this sweet print from
Donna
. I really really wanted this! The kitty looks just like our late cat Zoe. I know all tabby cats look similar but this one
really
looks like Zoe. She'll hang happily in the living room. We're gonna get a fairly large frame with a mat. Cannot wait! For a "Zoe" of your own or a "Beau Bunny" hop over to Donna's etsy
shop
! Be sure to tell her Jenny sentcha! :)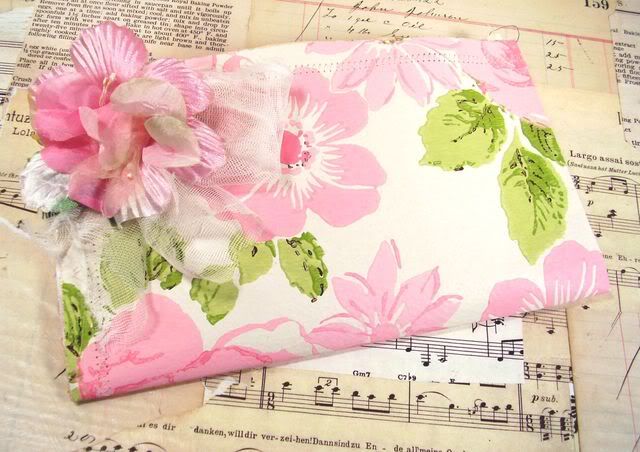 This thing is gorgeous! From the talented and oh so stylish hands of
Lori
, a pocket made from vintage wallpaper (adorned with a vintage millinery flower)...and it was packed with all sorts of ephemera and trim. The stitch work on it is done extremely well. It's amazing how sturdy it feels for being something so delicate. You'd never think it was constructed and filled with goodies NOW. It just has the feel of something you'd find slipped inside of an ancient steamer trunk in the attic. A real treasure.I love love love it!!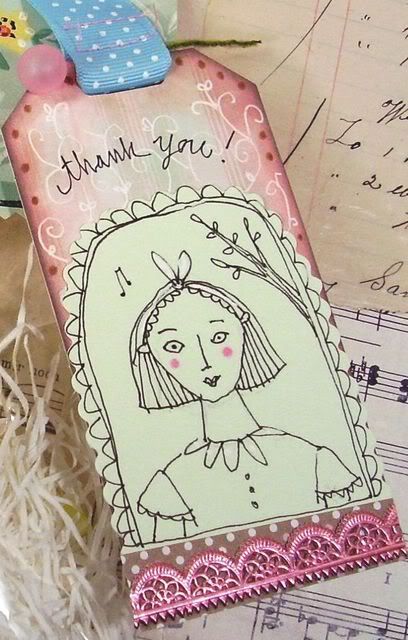 This one isn't a prize, this is a purchase, but when a purchase arrives and it's this cute, it feels like a prize. I got it from Melissa McCobb Hubbell. You might not see my actual purchase hidden in amongst all those fancy bells and whistles, but it's a tiny pink metal chair. The hand drawn tag, the chocolates, the vintage wallpaper, the little birdie pick... those are simply the entourage for the chair. It all looked so good that I couldn't open it up til Aar got home...so he'd see it, and so he could hold the lights for me while I snapped a pic! ( We use Home Depot work lights...very high tech..LOL) For all sorts of pretties, visit Melissa's etsy
shop
!
And this beautiful ATC in it's little sewn felt pocket was another prize from an OWOH giveaway. It is by
C.M.Scanlon
. I really love the heart with wings adornment and the turquoise glow above the gal with bee-stung lips really makes it for me. Love it! OWOH was really such a great time! I had so much fun visiting so many new blogs, and meeting so many new and interesting peeps! such a cool idea!
Ok, so like, wow! What spectacular response to our new Spring
Kit
! They are flying out the door and I'm so so psyched to see some pics of made kits. I started a Flickr
group
specifically for this, and also for anyone who picked up one of our Let Them Eat Cakekits or our Dreaming of a White Christmas kits. Take a photo and post away!
We get custom requests every so oftenand we really try to meet the requests when possible because a lot of times the request is something we shoulda done in the first place but there probably wasn't enough time. So when someone asks us to do something specific it gets our butts in gear and in the end, the customer gets what they want, and we have a new piece of artwork in our catalog. This is our Happy Birthday cupcake, which we originally painted in multi-toned pastels...pink, green, aqua, pale lavender, yellow...but we got a request to do it in
only
pink. I love it this way. I still love it the other way...because like Slinky, "it's fun for a girl or a boy"...but this way is just so pretty. I've got it listed on
Etsy
now...and speaking of Etsy, I just saw the founder on Martha this past week. So very cool! I got a bit teary eyed during his segment. He told the story of it's inception and described the way it works now, and had a table of examples. And on the table I was so thrilled to see Emily Martin's stuff, you know,
The Black Apple
. I'm a collector of her prints and give them as gifts when I can. And if you were listening you'd have heard him say that Emily will be on Martha herself in March...I can't wait to see her on!
I just wanted to show you this sweet lil spring-y collage that I made the other night. It is a kit from
Little Pink Studio
that I had gotten last year, and only crafted the other night. I am sooo ready for Spring, and this super sweet kit has gotten the ball rolling over here. I have been playing around with some favorite Spring/Easter collections and will be sure to snap some pics over the next few days. A little bird told me that Cerri will be offering this kit again along with a new one or two! Hooray! Can't wait!
Well my dears, that is all for now...till next time...here are this week's flickr faves! Could you melt or what? Love them!!
xoxo Jenny