Sunday Show and tell...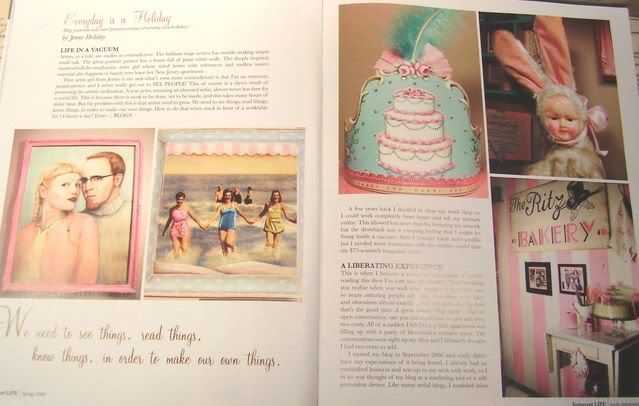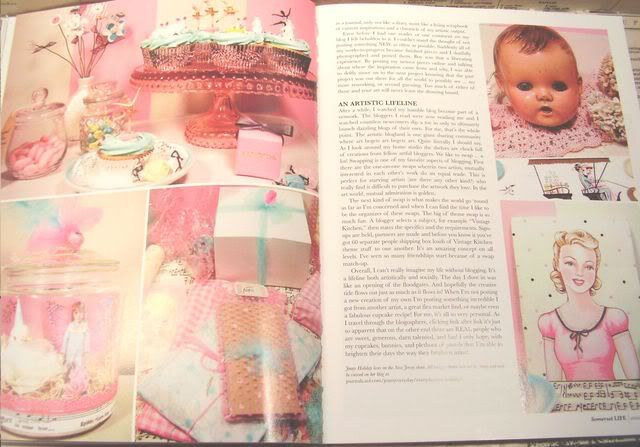 For like a week or two I've been hearing about the new
Somerset Life
but I just couldn't seem to get my hands on a copy. My local Barnes & Noble and Borders both seem to be slow pokes with their magazine replenishment. I'd call each one and get a negative, and as a backup I asked Aaron to stop in both of 'em just to make sure...negative. Then after a week of hearing all about the issue and my article in it... and all congrats from my sweet friends...I finally got my hands on it. I just love all the stuff Somerset puts out so just being in their pages is a thrill. But what's even cooler for me is the whole concept and layout of the article. The text expresses my feelings about blogging but the photos do even more. Nearly every shot has a direct connection to a friend/fellow blogger/artist/collector. The cake crown I made for
Holly
now lives with her. Then to the right of that is my ultimate favorite ebay find...that doll faced bunny, but behind that, up on the shelves are miniature cakes made by the
Amazing Grace
. And in the same shot you can see a little bit of vintage ephemera which was a gift from
Andrea
. The following page features vintage ballerinas from
Amanda
poked into my cupcakes and in the background is a seriously awesome button bouquet from
Jen Duncan
. Then there's a fairy jar I made for a
Melfie
hosted swap...the little fairy now lives with
Michelle
. The photo next to that shows a panoply of pretties from
Cerri
. And finally, on the last page at the upper right corner is a close up of a bunch of stuff from Anna. Seeing the stuff from Anna is especially evocative for me. Anna happens to be the most dedicated snail mailer in the world. Not only is she frequent with her cards and post cards... she's skilled. She can cram a Flat Rate box like no one can!
When I get fab stuff from fab people I love to post it on the blog asap. And now for some of that stuff to be printed in an awesome Somerset publication is just twice as nice. I just love this magazine...well..this and every single publication Somerset puts out! They RULE!!!
A couple blogs ago I raved about the newly launched site
Peacoats and Party Hats
. Well, I just had to place a little order. I wanted tons more stuff, but I don't exactly have the ability to shop til I drop all the time. Anyway, here's some of the stuff I got. All of it was so neatly packaged...and the little pig sticker Candice uses as a closure is the cutest thing ever. Love that girl!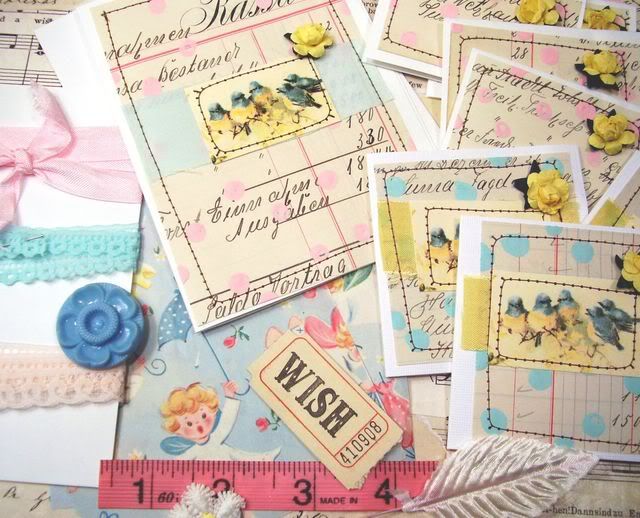 Ellen of
One Ripe Peach
over on etsy, is my "go to gal" ! Season after season I will return to her for utmost in tags. You might remember her tags on my holiday packages...they MADE the packages. They're all hand sewn,adorned with trims, perfectly constructed etc... There is always something in her shop that is a must have. You gotta pop in and tell Ellen that Jenny said she is a
MUST!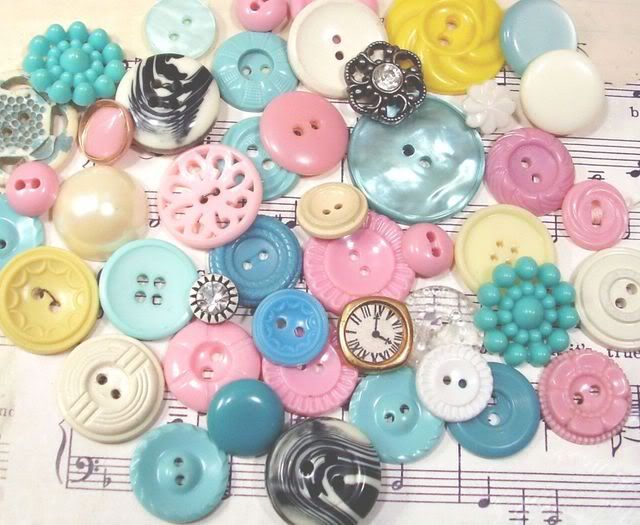 Analise
had the genius idea for all us girls to show our buttons. No, she wasn't holding a casting call for girls gone wild...she meant literal buttons. Aaron joked that maybe I misunderstood and that it was actually "show your butt on sunday"...with a carefully misplaced space in the text. Yeah, sorry, I guess we're a randy bunch over here today. Anyway, buttons...the term eye candy is used a whole lot, but in the case of buttons there just is no better term to use. I can just stare and stare at pile of GOOD buttons.And they are meant for filling up candy dishes, jars, or even the way they sit on vintage button cards much like actual candy dots. Buttons truly are Eye Candy. I can never have enough.This is just a handful of my favorites, in my favorite colors! Pop over to Analise's blog for lnks to all the girls in blogland showing their's!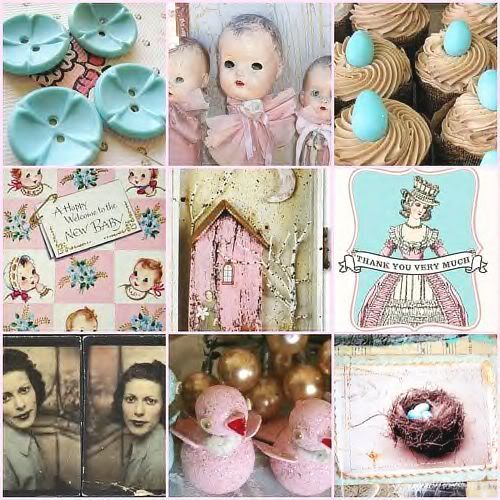 Just wanted to put up my current Flickr faves...no need to explain. Just let the stuff do the talking. Good stuff huh??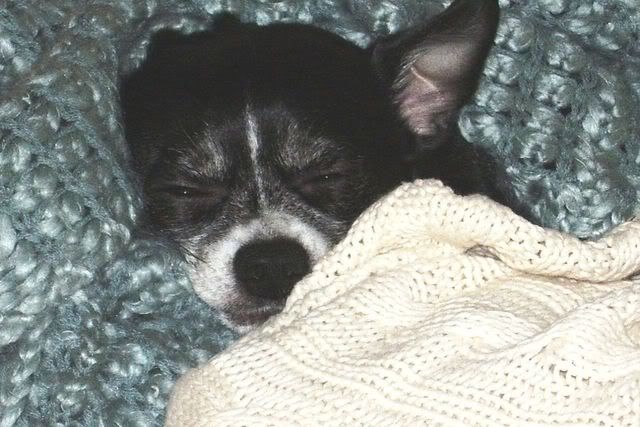 And finally I'll leave you with a pic of Carlos...all sleepy and chilly and bundled in blankets. This is him for like 8 hours a day at least. He is the definition of cuddle bum!
That's all for now...I'll be back soon because I'm looking at some stuff right now that needs to get photographed!
xoxo, Jenny